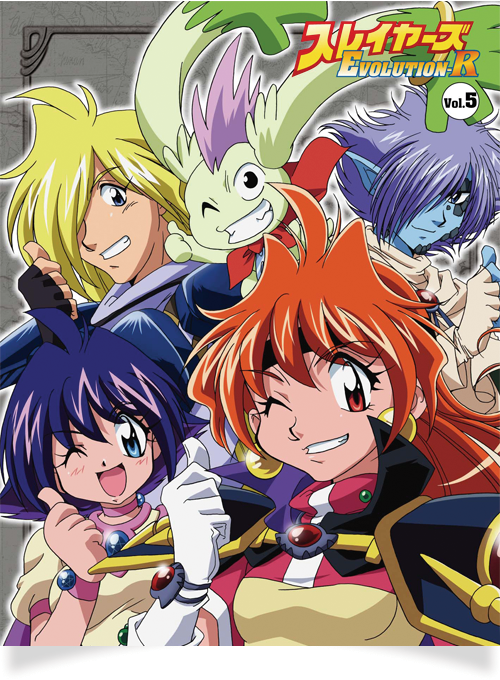 series 5 - Slayers Evolution-R
Introduction
Lina and Gourry set out to find a new sword as Gourry lost his "Sword of Light" in the battle with Fibrizo.
They meet two treasure hunters, Luke and Milina. Lina and Gourry are in a desperate search for the legendary sword. They encounter many challenging adventures while on their journey. Milgazia, the old Master of the Dragon Tribe, tells Lina that Grausheller, the Supremacy King, wants to call upon the demon troops to rage the Devil's War as these troops did 1000 years ago. Lina and her friends struggle to stop this war of the demons, but, then, Shabrani-goodoo, the Demon King who has been sealed in Luke's body, re-awakened! Luke attacks Lina with the power of Shabrani-goodoo. Can Lina and her friends be the legendary heroes known as "the brave ones who destroyed the demon"?
Episode Synopsis
please click episode number to read episode.
Episode 1 - 13

Episode 1: NEW COMER? – A BRAND NEW JOURNEY!

Ever since we met Pokota, we have been tangled up in so many incidents but we are on board with him now! Since we've come this far, we are going to cooperate all the way to help the people of Taforasia! Having that said, I read various books on sorcery to find out anything about the "hellmaster's urn" but there is nothing! So we decide to head over to Giokonda's castle and find a suspicious entrance while searching through the debris.

Episode 2: OH MY HEAD!! – WHERE'S THE HEAD?

We meet a mysterious singing armor Nama at the basement of Giokonda's castle. She is a living armor which moves around like we do but is empty inside. It seems like a human souls has entered the armor but her memories are so iffy that it she doesn't remember much about herself. Therefore, I can't quite trust her when she tells us that she knows where the urn is. But then again, it's not like we have any other clue to guide us so we follow her lead and end up in some village where people end up accusing us of being the evil ghosts. Arrrrg how annoying! According to the villagers, some headless ghost of a knight keeps showing up at night and has been frightening them.

Episode 3: PARTNER! THE TWO ARE LIKE ONE?

According to Nama, the "hellmaster's urn" is in the mountains where the dragons nest. It better be true this time! We've wasted enough time because of you and now we are mountain climbing?! And Amelia and Nama get swept away by the mud slide caused by the rain that suddenly started! Honestly, that idiotic kettle head causes nothing but trouble!!

Episode 4: QUALITY TIME - A LOVING LIFE?

Thanks to Naama's completely inaccurate guide, not only have we figured out any clue about the hellmaster's urn but we have been forced to take some major detours. During all this, we met Kuppy, the Miss Mermaid whom we rescued from the pirates in the Kingdom of Luvinagurd. She has kids and everything. Good to know she's doing well but whaaaaat? The kids are Gourry's? Gourry himself is totally into playing the father role. I mean when did you have children with that half fish thing, Gourry!?!

Episode 5: RAIDER! – A VOICE FROM THE DARKNESS!

Ahhhh~~!! With this pace, we'll never get to the urn! I mean having Namma who has lost her memories, guide us is just pointless. Now that we've established that first thing to do is to bring her memories back! I decide to use some magic to conduct shock treatment and suddenly she begins to chase a butterfly. Have I worsened her condition? But from what she tells us, apparently she has chased the same butterfly even before she lost her memories. Is the butterfly our guide to the urn?

Episode 6: SEEK! – WHO'S THE TARGET!

Zuuma stands in our way of while we search of the "Hellmaster's Urn." He says "Go to Vizendie or someone shall die." Heh, that's some disturbing invitation! It kills me that I'm doing as he says but I just won't feel right if someone dies because we ignored him, so we decide to head to Vizendie. One thing leads to another and we end up being convoys of some guy called Radok… And to top it off, it turns out that he's being targeted by Zuuma too! What's going on here!?

Episode 7: TOWNSCAPE – FOR THE SAKE OF THE REWARD

So we've accepted to be Radok's convoys in exchange to receiving the "hellmaster's urn" as a reward but his son Abel is so obnoxious and rude he keeps telling us how suspicious we are and he just doesn't have the attitude of someone who's asking for a favor! But, who would have thought we'd see Ozel at Radok's mansion, I mean aren't you supposed to be serving Zuuma? And you exist to protect Rezo's soul and the "Hellmaster's Urn" but then you tell us to destroy the urn? You are being totally inconsistent! I have no idea what you are thinking under that blank expression.

Episode 8: UNCOVER – THE DARKNESS UNVEILED!

Radok decides to lure Zuuma using himself as bate during his purchasing trip for business. Oh well. Since hiding out like a coward isn't my style either, let's just get this over with! Along the way, I happened to listen into some private stories about their family past...There's some family drama for ya'. While this sentimental mood is in the air, evil race come to attack us! Can't you read the air?! Honestly!

Episode 9: VOICE – WHAT'S INSIDE THE URN?

The whole convoy chaos ends with a disaster. While unbearable feelings and thoughts roam, Pokota asks Ozel to give him the "Hellmaster's Urn" and Zelgaids who also wants to ask Rezo the method to get his body back begins to tell her to give him the urn. Come on now, not another fight! This urn really causes nothing but trouble. I mean if I think about this calmly, just having this urn in hand doesn't solve the seal to let Rezo free. Even if we ask Ozel, she can't tell us anything crucial…arrrrg Rezo, how can we get you to be revived?!

Episode 10: WISDOM – TRAILING FOR TIMES LOST FOREVER

Rezo's soul that was trapped in the "Hellmaster's Urn" finally awakens but may be because the awakening was incomplete that his answers to all our questions are so incoherent and absurd. So, for the time being we decide to head to Taforasia but Zel decides to run away with the urn along the way! I understand that you have long been searching for a method to get your original body back since Rezo turned you into a chimera but you need to cool off a bit.

Episode 11: XENO – THE COST OF RESURRECTION!

Geokonda's armor is wrapped around in a bright light and at last monster Zanaffar revives.
Gourry and I find Zel and regain the Hellmaster's Urn. We make the sprit of Rezo tell the true reason why the people of Taforassia are contaminated by the epidemic. Astonished by the truth, Pokota runs away with the Urn on his back! Why are the guys around me all hot-blooded!? Then to make the things worse, those Demon Tribesmen pop up in our way. Hey you guys, we are in a hurry!

Episode 12: YESTERDAY'S MEMORY – THE REGAINED DAYS

Ozel who is eager to meet Rezo breaks the Hellmaster's Urn and Rezo the Red Monk is resurrected finally. He listens to Pokota's imploration and awaken the people of Taforassia. Then, he helps them to cure the epidemic. Oh my God! I have a weird feeling because he looks like a real saint! Look at Zel. He is making the medicine prescripted by Rezoloathed Rezo. Everybody knows he hated the Red Monk.
Well, if the things continues like this, it is a happy ending,. But I still susupect that Rezo hides something in his sleeves.

Episode 13: ZERO HOUR – THOSE HEADING FOR DESTRUCTION!

Gourry and I are hammered by the tremendous shock when Rezo told us that the spirit of the Demon Lord Shabranigoodoo was confined in the Hellmaster's Urn with Rezo's. Now the Urn is shattered into piece. That means Shabranigoodoo is on the way to resurrection to this world! Rezo confessed he wanted to see the light just one more time as he saw it when Lina slashed the Sword of Light. He ask Lina and Gourry to destroy him and Shabranigoodoo once and for all so that both evil spirits will never come back. Are you telling me that's why you induced us to this country…?
13 episodes X half-hour approx

© 2009 HAJIME KANZAKA・RUI ARAIZUMI/FUJIMISHOBO/Slayers REVOLUTION COMMITTEE
ALL RIGHTS RESERVED