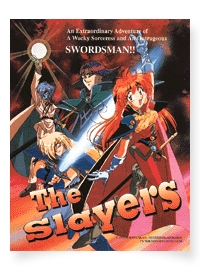 series 2 - Slayers NEXT
An Extraordinary Adventure of A Wacky Sorceress and An Outrageous SWORDSMAN!!

Introduction
THE THRILLING ADVENTURE OF A BEAUTIFUL SORCERESS AND A DASHING SWORDSMAN CAUGHT IN THE LABRINTH OF FEAR AND DARKNESS!!

On a highway in the remote countryside, a young girl named Lina is surrounded by bandits. She chuckles herself, knowing that they are no match for her sorcery and skills with the sword. But before she can even draw her weapon, a brash young swordsman, Gourry, appears and scatters the bandits with his remarkable swordsmanship, causing them to drop their trove of stolen goods. Gourry is disappointed upon realizing that Lina is just merely a girl and not a beautiful maiden, nertheless, the two set off together.

Reaching the nearest town, Lina attempts to sell the bandits' loot at an inflated price and incurs the wrath of a local dealer, Saltandis, who vows to take the treasure by force. His chance to steal the treasure arises when Lina becomes ill and looses her powers of sorcery. Gourry and Lina are cornered by Saltandis' evil soldiers. They are rescued at the last minute by Rezo, the Red Monk. Rezo is one of the legendary "Five Sages."

From Rezo, Gourry and Lina learn that Saltandis is much more than what he seems. He is attempting to revive an ancient evil power known as Satan Shabrani-Goodoo! The power of his ancient necromancer is enormous.

Can Lina and Gourry stop the reign of evil an protect the people of their realm? Don't miss even one exciting episode of THE Slayers!
Episode Synopsis
please click episode number to read episode.
Episode 27 - 39

Episode 27: CRISIS! TERROR OF SATANIC MAN

Lina and Gourry hear of the famous "Zoanna's Evil Book" and go to the kingdom of Zoanna. The kingdom's in the middle of a festival and there they cause a trouble. To their surprise, their former companion, the princess Amelia from Sayloon kingdom, appears. She came as a diplomat to stop Zoanna's plan to invade other countries. She goes in to face the king of Zoanna all by herself. However, her old friend, Zelgadis appears and arrests her. He was working for the king in order to get "Zoanna's Evil Book" for himself. The king and his daughter, Martina, plan to invade Sayloon kingdom with Amelia as their hostage. However, Lina and Gourry save her when they happen to sneak in to steal the book... Being cornered, the king and Martina try to attack them with the Golems which they revived with the power of the book. Of course, they can't be a threat to Lina. With her "Dragon Slay," she blows away the Golems and Zoanna's castle together and destroys the king and Martina's vicious plan.

Episode 28: FUNNY PRIEST. HIS NAME IS ZEROES!

Lina and others continue their journey to help Zelgadis find "a copy of Claire Bible." They meet a priest who calls himself Zerros. He asks them to help him get his Bible back. Being suspicious of his story, they head to the hideout of the bandits who he says stole the Bible. Lina and Gourry slip into the hideout, disguised as bounty hunters. However, the bandits had already known their identities because Zerros had informed them. The bandits surround them, but they're no match for them. Lina and Gourry beat the bandits. They go after the bandit's boss to find Zerros there. He trapped them to find out where the Bible was. Now he's got the Bible and disappears with a mysterious word to them.

Episode 29: ŒCool' BUSINESS! A BODYGUARD MUST BE SUPER-TOUGH!

Lina's party have come to Atlas City. They get into an argument for a trifle and separate into Lina and Gourry, Amelia and Zelgadis groups. Talim and Damia, who are in important positions at the Sorcerer Association, approach each party and ask them to be their bodyguards. They are blinded by the large amount of money they offer and take the job. Soon they start harassing each other. However, neither sides can come up with the decisive blow and they decide to settle by one-on-one duel by the bodyguards. Lina and others show up at the duel to realize what was going on and get stunned. Then, all of sudden, beasts come out of Talim and Damia's house and put the whole city in a panic. Lina and others settle the panic for the time being, but Talim and Damia are put into jail because they caused the panic. As a result, Lina and others do not get paid and get stunned...

Episode 30: THE OLD OATH. A MAN SEEKING IMMORTALITY

To collect the payment, Lina's party request a meeting with Talim and Damia. They insist that they're not responsible for the beasts. Their guess is that the former director of their association, Harsheyfom, was behind this. Unless their innocence is proven, Lina and others will not be paid. They head to Harshyfom's house where they say he was doing an illegal research on immortality. Having lain in wait for them, Harshyfom attacks them for their "Bio-energy." Lina's party fight back, but nothing will work on him since he's made a contract of immortality with evils. To break his contract, they have to either destroy the "Rock of Contract" which proves his contract, or beat the evils. Having found out about it, Lina's party run away, looking for the "Rock of Contract."

Episode 31: TOUCHED! AN ABANDONED LOVE

Lina and others run around the house, looking for the "Rock of Contract." However, such an important thing will not be found easily. Harshyfom and the demon, Saygraham chase them to a corner. Saygraham offers them to make a contract of immortality and be part of the evils. Of course, Lina won't do that. She gives him a blow and runs away. In the meantime, Harshyfom tries to get "Bio-energy" out of Amelia and Zelgadis, so he can revive his dead girlfriend. Lina and Gourry come in to see Harshyfom, protecting Saygraham, and notice that Saygraham's mask is the "Rock of Contract," and they crack it. Harshyfom, now out of the contract, disappears into the burning house with his unrevived girlfriend.

Episode 32: GOT'CHA! MARTINA'S PERSISTENT CHASE!

After Atlas City, Lina's party gets back on the road. However, there's a shadow after them. It's Martina who her country was destroyed by Lina's "Dragon Slay." She's been waiting for a chance to revenge on Lina. She tries to steal one of Lina's belongings, so she can put a curse on it, but in vain. She struggles and finally steals Lina's characteristic bandanna while she's asleep. Not knowing her bandanna's cursed, Lina's active as usual. However, all the damage she gives to others come back to herself because of it. Martina gets smug and attacks Lina with a gang of monsters. However, her own curse affected herself and the damage she gives to others come back to herself. As a result, they fight a poor battle. In the end, Lina uses a spell to blow up herself, which blows up both of them, and they wear themselves out.

Episode 33: AN ASTONISHING CUISINE. FIND THE DRAGON COOKING!

Lina's party continue their journey to Sayloon kingdom. On their way, Lina sees the sign for the "legendary dragon food" and gets excited. However, the food she orders turns out to be horrible and she gets mad. However, the story is that they don't have the hunters to catch fresh dragons any more, and they have no choice but to serve frozen dragons. For greed or an act of mercy, Lina's party goes out to hunt dragons. They think Lina's "Dragon Slay" will catch a dragon easily. However, they're told that they have to catch a dragon without hurting it, which makes it difficult for them. They use a dummy dragon as a decoy and manage to catch a dragon. However, the cook tells them it will take many months to prepare the meal and outrages Lina again.

Episode 34: INFINITY! IS IT THE DAY MR PHIL DIED?

Lina's party gets to Sayloon kingdom. However, what waited for them was the funeral of Amelia's father, the first successor of the kingship of the country, Phil. Amelia's shocked. To make the matter worse, a mysterious monster sneaks into the castle to attack Amelia on the same night. After they manage to chase it away, Amelia finds out that her father was assassinated. Lina's party start trying to find out the truth. They go to the place where Phil was attacked. They expected a clue, but they meet a gang of monsters there. However, the man who saves them is, that mysterious monster, Phil. He was hiding, disguised as a monster. Lina's party regain their spirit and beat the monsters.

Episode 35: A SECRET AMBITION. THIS CONFESSION IS APPALLING!

Lina's party finds out that the evils are after Sayloon kingdom, and go into the castle with Phil. What waited them there were, the second successor of the kingship, Christopher, and Kanzel and Magenta who hang out in the castle. Kanzel and Magenta are apparently suspicious, but since there's no proof, Lina can't do anything about them. Then she receives a letter from Christopher's son, Alfred. Lina and Amelia go to Alfred's house as the letter requested. Alfred confesses to them that Christopher's behind the whole incident. And he asks them to give him the time to persuade Christopher to turn himself in. Then the monsters, which found out about the Christopher's betrayal, come to attack. Lina's party manage to chase them away by widening the barrier around the kingdom. However, as a result, Lina loses her magical power.

Episode 36: FUNNY PARTY! RECOVER THE SORCERY POWER.

Lina decides to visit a magic doctor who resides deep in the mountains in order to regain her magical power. However, on the way, Zerros and Martina, who now is in love with him, forcefully join her. Although Zerros' told Martina not to revenge on Lina, she hasn't forgotten about it and starts harassing her. To make the matter worse, the evils appear to attack her. Zerros chases them away with his strong spell, which the power was increased by his "Talisman." Lina sort of "snatches" it away from him and makes it her own.

Episode 37: THREATENING DARK VOICE! RIP IT OFF WITH THE LAGUNA BLADE!

Lina can't regain her magical power and gets depressed. Then she notices a signal fire going up in Sayloon kingdom. That's a sign for when something should happen there. In Sayloon, the demon, Kanzel, and others are in the castle to kidnap Phil. Gourry and others try to fight back, but Kanzel's spell pulls them into another dimension and forces them a hard battle. Lina struggles to get to Sayloon. Gourry and others cannot help her from another dimension. Lina tries out the "Talisman," which she bought from Zerros, and increases her magical power just for a moment. She uses the spell, which she's never used before, "Laguna Blade", and cuts open the door to another dimension. She helps Gourry and others out of another dimension, but loses Phil to the evils.

Episode 38: SURPRISE! A STUNNING TRUTH!

Lina's party gets depressed for having lost Phil to the evils. In the meantime, Christopher, who they thought would be the next king because of what Alfred told them, declares that he won't be the king. Then what was with Alfred's word which told them that Christopher was behind the whole incident? Lina and others go to Alfred's house in the suburb to find out the truth. Having lain in wait for them, Alfred tells them that he was the one who was behind the incident. He did it because he was going to let his father be the king first and then afterwards himself. However, then, the demon, Magenta, releases an arrow, and it goes through Alfred's body. The evils finally show their true intentions that they were gonna betray Alfred and rule Sayloon.

Episode 39: FALLING DOWN! THE EVIL AMBITION IS CRUSHED.

Lina's party beats Magenta, and are psyched up for beating Kanzel. However, Kanzel's power was incomparable to Magenta's and strong. They struggle, but get thrown out of the air garden. However, Lina's regained her magical power by beating Magenta. She pretends that she still doesn't have the power, and gets Kanzel off guard. However, since Kanzel's spell was gone, the air garden above Sayloon starts descending. There was no time to let the people escape. Lina takes a chance on blowing away the air garden with "Drag Slave," which she increased it's power.
Episode 40 - 52

Episode 40: THE PROHIBITED DANCE. WHAT IS THE STRONGEST INCANTATION?

Lina's party learns about the presence of a high level monster, called evil Dragon Lord, Garp, behind the series of recent evil activity. They hit the road to get "a copy of Claire Bible" to fight him. The first clue they get is a map they bought from a man, named Dio. The map shows the location of a copy which includes the most powerful spell. They go out to get it, and end up fighting with the sisters who got the book first. Finally, they get the book, only to find out it was not the Bible. Lina and Amelia try out the spell which requires a party of two to chant, and find out it is just a dance instruction. Outraged Lina uses "Drag Slave" on Dio, who sold the map to her, and the dance instruction becomes the sisters' possession.

Episode 41: SHOWDOWN! BATTLE OF ARTEME TOWER

Lina's party continues their journey to find the Claire Bible. They get the information from Zerros that one of the copies of the Bible is in the tower, called Arteme, which turns its intruders into a doll. They get to the tower to see dolls just as they were told. Lina's party disguises themselves as teddy bears and go in. They encounter a monster who calls himself, Joe. They survive the battle with the dolls which Joe controls, and face Joe at the highest floor. However, no matter how much spell they use on him, he gets no damage. They struggle, find out the doll beside him is Joe himself, and win the battle. But again, it turned out, they wasted time without finding the Bible..

Episode 42: MALICIOUS BALL VS. MIGHTY SPEED BALL!

Lina's party gets to a town and gets the information that a copy of the Bible is on the trophy which is given to the winner of a magic tennis competition. However, Martina, who also joined the competition, beats Lina to a pulp with her magical service. Outraged Lina starts a hard practice with a coach, named Rude. Lina and Martina reenter the competition and make wins by fast balls and magical services. They face each other at the finals. Martina presses Lina with split magical balls. However, with her guts and sly means to blind Martina with a light, Lina wins. However, the copy of the Bible is fake as was easily anticipated, and again, they wasted their time.

Episode 43: IS A LADY IN QUESTION ZERGADISS?

Lina's party gets the information that a copy of the Bible is in the country where only women live. Of course, the guys are not allowed to go in, so they get into drags. Zelgadis absolutely hates it. Lina's party meets the daughter of the king, Mivan. She escaped from the country because she was forced to be a princess. Zelgadis relates to her, who's having problem with her status as the daughter of the king, and grows sympathetic feelings for her. Then monsters appear and take her hostage. Lina's party fights a hard battle with the monsters that are made of water. Zelgadis lights up himself and hurls himself at the monsters and beats them. But because of this, his identity as a man is revealed. Mivan is encouraged by what he did and reveals her own identity. She tells him she is a boy who's been forced to be in drags to live in the country.

Episode 44: THE SAND SHRINE. THE SECRET OF GIGASLAVE

While Lina's party continues to look for a copy of the Bible, Zerros brings them the information that a perfect copy is at a castle nearby. They get there to be stunned by the volume of the copies. They go through the pile to get the information they want, and they meet the librarian who calls himself Aqua. He tells them that he'd lead them to the information they are looking for, and they go deep into the castle. The same night, when Lina wakes up unexpectedly, Aqua shows her one of the copies of the Bible. It is about what happens if the sealed spell, "Giga Slay" gets out of control. Lina is stunned to learn that the spell has perished the world to end. Then the evil dragon lord, Garp appears..

Episode 45: REVEALED! THE REAL FACE OF ZEROES

The evil Dragon Lord, Garp, presses Lina's party. He came to kill Lina so he can stop the evil's plan to perish the world. He requests Zerros who has been behind the plan to confess it. Zerros, who has been one of Lina's travel companions, turns out to be an evil. However, since Zerros does not give up, Garp attacks them relentlessly and puts Lina's party into a pinch. Aqua stops Garp's attack and have Lina's party warped to outside of the castle. Aqua turns out to be a presence which was created by the remained will by the aqua lord who was perished by Garp. Lina's party barely escapes and, following Aqua's word, leaves to Catart mountain range where the real Claire Bible is.

Episode 46: GO FOR BROKE! HEAD FOR THE VALLEY OF DRAGON.

After barely escaping from Garp, Lina's party heads to Dragon Valley in Catart mountain range to find a copy of Claire Bible. They meet a boy who offers to lead them to the valley. They get to the valley with him to meet the old head of the Dragon tribe, Milgazia. Zerros asks him to take them to the Bible, so he does, but Garp's monsters attack them again.

Episode 47: THE TRUTH OF THOUSAND YEARS! THE TREACHEROUS DRAGON KING

Lina's party gets away from the monsters and go into the cave where the Bible is supposed to be. Deep inside the cave, Lina enters the gate to the other side where the Bible is sealed. Martina rushes in to enter with her. Lina reaches the Bible to hear the truth about the "Lord of Nightmare," which is the power source of "Giga Slay" and "Laguna Blade." On the other hand, Gourry and others fight the monsters outside of the gate. Garp appears, injures Zerros, puts Lina in a pinch when she comes out of the gate.

Episode 48: THE SWORD OF LIGHT IS STOLEN! FALL OF DRAGON KING

Garp puts Lina's party in a pinch. Then appears the most powerful evil Lord, Fiblizo, who came after the traitor Garp. With his power, he beats Garp easily. He tells Lina's party to come to Saylague for another plan. He leaves, taking Gourry hostage for it.

Episode 49: THE AMAZING DEVIL'S SWORDMAN! WHO THE HECK IS HE?!

Lina's party gets depressed for having lost Gourry. Silfeel, who fought with them in Saylague, appears, learns of Gourry, and decides to fight with them. On their way to Saylague, they get attacked by a sorcerer with the Sward of Light. His incredible skill puts them in a pinch, but Zangles, who once was their enemy, appears and helps them. With his help, Lina gives the sorcerer a blow. Under his mask appears brain-washed Gourry's face.

Episode 50: AN EVIL TRAP IN A HAUNTED CITY!

Lina's party gets to Saylague to rescue Gourry. Saylague was destroyed by the battle with clone Rezo, but now it's revived as the town of the dead by Fiblizo's magic. Silfeel and others get angry to find out about it. Lina decides to go into Fiblizo's castle by herself because Fiblizo is powerful and she didn't want to get the others involved. Silfeel notices it and forcefully joins her, and also Zangles..

Episode 51: SPOOKY! THE SOUL OF THE DEAD. RINA'S ULTIMATE DECISION!

Lina's party faces Fiblizo, but none of their magic works on him. Fiblizo intends to have Lina use Giga Slay and let it out of control, so he tries to make her exhausted and press her. Zangles and Martina are beaten, Zelgadis and others are confined into crystals. Fiblizo pushes Lina, who's left alone, to use Giga Slay, saying Gourry will die otherwise. The moment the crystal, which Gourry's in, starts cracking, Lina finally uses Giga Slay.

Episode 52: HAPPY ENDING IS THE BEGINNING OF NEW ADVENTURES!

Giga Slay gets out of control, and the golden evil Lord, the Lord of Nightmare puts Lina unconscious. Fiblizo attacks her without knowing it, and gets destroyed easily. Gourry and others are freed from Fiblizo's magic now, but Lina's about to be swallowed into chaos. Gourry rushes out to rescue Lina.
78 half-hour episodes
Produced By: TV TOKYO/SOFTX
Based on the story and characters created by Hajime Kanzaka and Rui Araizumi

ALL RIGHTS RESERVED