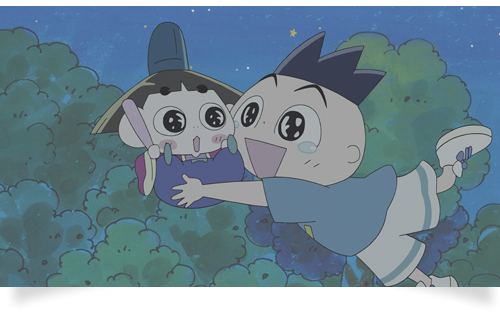 Adventure of Fullmoon Road
Prince Mackaroo a.k.a. Ojaru maru - Special
Story
Prince Mackaroo, the son of noble family in the Fairy Land, found the power scepter of Demon Lord and accidentally slipped down through time from the Heian Era of 1000 years ago to Moonlight Town in the present days.

Prince Mackaroo on Cozmo's back as usual is busy in run-and-chase with three demon Scamps(Scarlet, Khakie and Blue Joe) all over Moonlight Town to Heian Era of 1000 years ago. Then, they are surprised that the 'Fullmoon Road' connecting Moonlight Town and the Heian Era is shrinking. The water level of 'Moonnight Pond' is getting down. Suddenly a girl with big smile appears. The girl, Tsukimi, tells them that the 'Tear Rock of Demon Lord' at the entrance of Heian Era/the Demon World and 'Moonnight Pond' are drying up and the 'Fullmoon Road' will disappear soon. The only way to prevent this disaster is to find and collect divine 10 spheres coming down from the Heian Era before the nest full moon comes. The full moon is tomorrow! They have only 2 days to save the Fullmoon Road. There's no time for run-and-chase. Prince Mackaroo, Cozmo, Cyber-Fly, Scarlet, Khakie and Blue Joe start looking for the spheres together.

Will they find 10 spheres in time. Can they restore the 'Fullmoon Road'?

Thus a hilarious adventure with full of mishaps and touching friendship begins!



Format: 50 minutes

© RIN INUMARU・NHK・NEP
ALL RIGHTS RESERVED