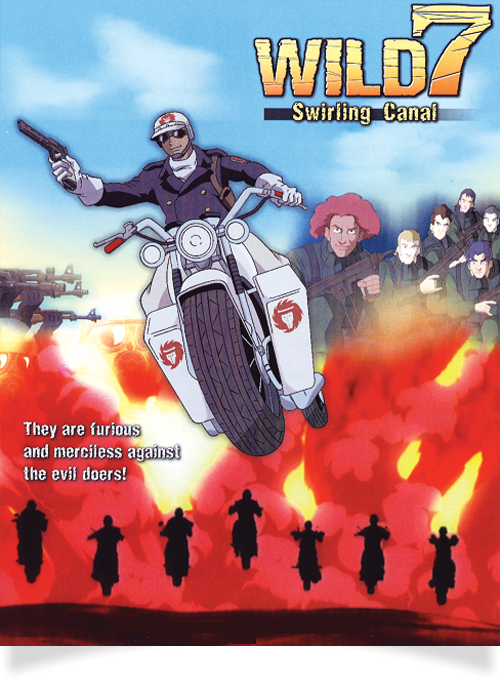 WILD7 - Swirling Canal
Introduction
The first original comic version was released in the weekly magazine, "SHONEN KING" in 1983. Thereafter 40 comic books were published for the period 10 years until 1994. Many of revival versions are sold at the bookshops remarkably today.
The greatest charms of "Wild Seven" are brain-busting thrills and eye-dazzling speed. Its realistic touch is close to the movies like "Die Hard" and "Lethal Weapon." The elaborate development and lightly punching dialogues remind us "007" series.
All the main characters, good guys and villains, are experts of fighting, weaponry, communication, computer and all hi-tech gadgets. The author sticks to realism. It blends with fantasy of animation, creating an outstanding action adventure series!
Members of "Wild Seven" were shuffled and new tough and attractive specialists were recruited.
New members under the leadership of our hero Hiba are all professionals of weaponry, explosives and martiart combat.
New "Wild7 – Swirling Canal" is a hot and sizzling action series that will surely grab the hearts of anime fans with overwhelming excitement!
Episode Synopsis
please click episode number to read episode.
Episode 1 - 13

Episode 1: Sea-Jack

During a luxurious cruiser party to commemorate the opening of the second Panama Canal, a terrorist group spreads an infectious virus. The ship's captain is not aware of the terrorist's attack and fakes a car bomb accident to evacuate VIPs of nations and muti-national companies to minimize panic. However, the terrorists take over and the VIPs are taken hostage. The chief construction company of the canal project designates a negotiator, who turns out to be a local man named Japo, who was found sick with no memories in front of a hotel on the same day.

Episode 2: Japo

Japo has washed hands of mercenary business, so he rejects the construction company's offer to negotiate with the sea-jackers to release the hostages. The construction company sends another negotiator, but he is raided on the way, the ransom is stolen, and the sea-jackers hang some of the hostages on the side of the cruiser and crush them against the canal wall as penalty. Now the mission is changed from negotiation to a rescue operation. The construction company bribes prison to release Japo's mercenary friend, Dantotsu, to make another offer. Dantotsu knows that Japo will not stand seeing more victims. Japo accepts the offer on the condition that he will not just rescue the company's V.I.P. but he will rescue all passengers.

Episode 3: Team Wild

Two negotiators hired by the construction company as back-ups, Looks and 4 Tons, raid Japo and Dantotsu with paint balls to test their skills. They need seven men to perform the rescue operation, and the headquarters give them a code name, Wild. They have an old arm dealer, Hassan, released from prison. Hassan takes Team Wild to his arm storage in a secret location but corrupt cops follow them. Japo has a stomach problem but he proves his skill in the battle against them.

Episode 4: Red Grass Disease

One of the hostages on the cruiser is infected with Red Grass Disease and dies while the sea-jackers are protected by their masks. The construction company's headquarters instructs Team Wild to add a new member who is an expert on the virus. When Japo, Looks and Momoi go to a college in Los Angeles to meet the expert, their car with Momoi inside is stolen by car thieves. A female archeologist on campus joins Japo and Looks' chase to get the car and Momoi back from the thieves. They get the car back, and the archeologist also gets her antitank gun back. The archeologist turns out to be the new member of Team Wild they were looking for.

Episode 5: Hell's Island

Japo, Looks and Momoi go to a mercenary training site, Elkatraz, the Hell's Island, to recruit 2 more members for Team Seven. Japo sets a high standard for the test where applicants have to go around a slippery course filled with banana skins within 5 minutes while hitting over 85 percent of the targets. A Japanese girl, Shuden (= Last Train), does not pass, but surprisingly, an assistant at the training site named Rap passes as the only applicant who passes the test. In the meantime, Nicaraguan Special Force breaks into Double Sea and fails the rescue operation, leaving many victims. Japo decides to enter the rescue operation without the last member for Wild Seven.

Episode 6: Rush

After Nicaraguan Special Force's rescue operation failed, Team Wild enters Double Sea as two separate parties for a feint operation under Looks' command. Japo and other members of Team Wild question Looks' plan and leadership, but they reluctantly follow the headquarters' Director Akagi's instruction to put Looks in charge. The operation fails and Team Wild is ambushed. One hostage is shot to death, and Japo gets shot. Team Wild barely manages to retreat.

Episode 7: Shuden (Last Train)

Japo is taken to a hospital and a doctor finds many bullets in his body. Although they're not fatal, Japo will continue to suffer from nerve pain. Dantotsu finds out that the sea-jackers are possibly a group of pros gathered for a business by a rich sponsor. Hanpen also finds out that the hostages may be immune to Red Grass Disease because they are fine a week after the spread of the virus. Akagi appoints Japo as the new leader of Team Wild. Shuden also joins Team Wild by beating Dantotsu in a poker game. Then Nicaraguan Military arrests Team Wild on a charge of terrorist activities.

Episode 8: Past

Team Wild is arrested and put into prison. Looks executes a risky escape plan and Japo stops him. Dantotsu talks to Looks about how one's arrogance can have his whole team annihilated, which happened in Dantotsu and Japo's last battle field as mercenaries. Hassan listens in on the Nicaraguan Military General and Security Chief's plan to kill Team Wild members as sea-jackers for publicity. When Team Wild tries to escape, a chopper comes down and Akagi announces that Team Wild is a special anti-terrorist force organized by Japanese Government upon the United Nation's request.

Episode 9: Rehearsal

Team Wild rehearses the rescue operation at a hotel the construction company bought. Looks is in charge of other 5 Team Wild members, and Japo is in charge of the sea-jackers played by 20 Nicaraguan Military's elite soldiers. Team Wild led by Looks lose two in a row, but Looks still complains. Japo agrees to switch sides with Looks, and Team Wild led by Japo beats the sea-jackers led by Looks. In the meantime, 70 percent of the ransom has been deposited to the sea-jacker's Swiss Bank account, and the sea-jacker's sponsor takes command of Double Sea.

Episode 10: Sudden Turn

Team Wild plans a rescue operation, however they lack the inside information of Double Sea. Then, a hostage, Matsui, manages to escape, however the US Military shows up to interrogate her claiming that they are in charge of the rescue operation. Akagi shows up with a deal his company made with the U.S. president and manages to redirect the US Military to destroy the sea-jacker's ground troop. Also, 4 Tons' past as a riot police is revealed. Wild Seven now jump onto Double Sea!

Episode 11: Wild Seven

TEAM WILD enters Double Sea to rescue the hostages. In the meantime, the US military destroys the Ancient People's Army's ground troop to make Team Wild's job easier. Sea-jacker's mastermind turns out to be Director Nagashima, the one Team Wild was supposed to rescue. He blows up a bomb in the ship to stop the hostages' escape. 4 Tons gets hurt, catches the enemy's bullets and blows up himself so the hostages can escape.

Episode 12: Wolf

Nagashima also turns out to be Wolf, the leader of Japo's old mercenary team. Nagashima sets off bombs in Double Sea killing his own men to sink the ship so the second Panama Canal will be unusable, which was his main objective. Rap finds a bomb connected to the altimeter which will set off when Double Sea enters block 3. He finds a way to cheat the bomb with the use of the elevator but the doctor who works for Nagashima finds him and kills him. The patrol boat to rescue the hostages cannot enter block 3.

Episode 13: Kusanami

Double Sea does not blow up in block 3 thanks to Rap's last effort to move the bomb before his death. Under the mystery man(= Kusanami from the original Wild Seven)'s command, Team Wild manages to locate a bomb switch Wolf (= Nagashima) planted in Shino's hair piece, and rescue all hostages safely. Looks and Shuden save Japo out of trouble with Wolf and die. Shino (= a former member of original Wild Seven) also saves Japo and manages to escape. However, Japo goes back to Double Sea to settle it with Wolf. Double Sea explodes in the end.
Format: 13 half-hour episodes
Original Story:Mikiya Mochizuki
Produced By: A.T.X, TSUBURAYA EIZO, TV TOKYO MEDIA NET, GROOVE CORPORATION

© 2002 MIKIYA MOCHIZUKI/WILD 7-A PROJECT
ALL RIGHTS RESERVED