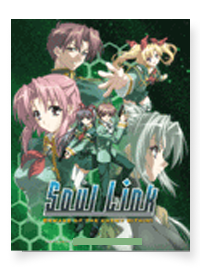 Soul Link
Introduction
The outer space is the new frontier for mankind to expand its power and territory. It still is a mysterious region that is full of unpredictable and dangerous occurrences. Even in the space age, there are rebellious militants and terrorist groups opposing the United Global Government with violence. They are armed with high-tech weapons and even possess their own space shuttles.
"Soul Link" is a sci-fi space adventure, describing the desperate struggle of military cadets sent to a space station to train at the first time. They arrive full of dreams and expectations about the infinite universe, unaware of their cursed fate that they will be involved in a macabre war for survival.
Story
AD 2045, Ryota Aizawa is in the 3rd grade of a Preparatory Course at the Central Military Academy. He goes up to the space station, Aries, for training with a bunch of his classmates; Sayaka Nagase, Kaz (Kazuhiko) Nitta and others. He meets his brother, Shuhei Aizawa, and some of his old buddies there. Everybody is excited with this very special 'field trip.' But, their fun time is abruptly disturbed when their space station is attacked by a terrorist group called Hallarax. Their struggle to survive and to find their way back to earth begins…
Characters
Ryota Aizawa:
A 3rd grader in a preparatory course at the Central Military Academy. Ryota is a gentle and easygoing boy who does everything his own way. He does not like to dispute or fight. He is often pushed around by his classmate, Sayaka, but never gives in on what he thinks is right. He will become the leader of his friends in his older brother Shuhei, absence.
Sayaka Nagase:
Sayaka is Ryota's classmate in the 3rd grade of the Preparatory Course at the Central Military Academy. She is always active and positive. She takes care of her classmates too. She finds out she is the daughter of Shigemichi Nagase, the vice commander of the Space Station Aries. She didn't know because Nagase divorced with mother and Sayaka uses her mother's maiden name.
Shuhei Aizawa:
Shuhei is Ryota's elder brother and a 2nd grader in the Preparatory Course at the Central Military Academy. He is a typical elite cadet with high intelligence and outstanding athletic talent. He likes to take initiative and lead others. He is infected by the Scura in an accident and gradually loses his senses. Scura is a liquid life force with high intelligence. It gets into the human blood stream and controls the mind.
Nao Morisaki:
Nao is in the 4th grade of the Preparatory Course at the Central Military Academy. She is the childhood friend of Ryota and Shuhei. She is in love with Shuhei. She is very maternal. She likes to make cakes and cookies. She belongs to the medical squad.
Aki Nitta:
A 1st grader in the Preparatory Course at the Central Military Academy. Aki is a girl gifted with the brain of a genius. She is a brilliant computer operator. Tough, saucy and outspoken. Aki despises a person who she finds inferior to her, but, plays innocent in front of a person of superior ability. Pretending to be unfriendly to her cousin, Kaz, in fact she has extreme trust in him.
Yu Yamanami:
Yu is a female civilian on the Space Station Aries. She is always calm and self-possessed like a veteran soldier in extraordinary situations, and likes to act alone. Her true identity is a mercenary hired by the terrorist group, Hallarax, although soon she becomes an ally to Ryota and his friends.
Nanami Inatsuki:
A cheerful girl who never forgets to smile. Nanami has a weakness for sweets. Nanami is a quick learner and has sharp senses. In fact, she is the daughter of Shuhei Aizawa and Nao Morisaki; a half-human and a half-Scura. Her hidden ability (implant of cancer cells) will be fatal to Cellaria Markelight.
Aya Sugimoto:
Aya is Sayaka's best friend and a civilian left on Space Station Aries. She is a shy dreamer who wants to be a florist. Although kidnapped by the terrorists, she takes care of wounded men.
Karen Tachibana:
Karen is the vice captain of Hallarax, the terrorist group. She is a self-determined skilled soldier. However, while fighting against Ryota and the other cadets, something strikes her and she decides to join Ryota.
Cellaria Markelight:
Cellaria is a training instructor at the Central Military Academy. She has been invited as the military advisor from abroad. Her true face is that she "controls the strings" of Hallarax and she is the perfect Scura Possessor with eternal life. She looks gentle and faithful at a glance, but, is actually cruel and cold-hearted. She made a temporary partnership with Hallarax to make use of Gail, Aya and the other members. Cellaria plants Scura cells in other humans and creatures to control them. The infected beings are classified into two groups; servants and marionettes. Marionettes are under her complete control at all time.
Kaz (Kazuhiko) Nitta:
Kaz is the brother of Aki Nitta and Ryota's classmate. He is jealous and hard on Ryota sometimes as Nao is close to Ryota. (But, Nao is stuck on Shuhei.) He has a great deal of knowledge and is called "a walking encyclopedia".
Shige (Shigemichi) Morimoto:
Shige is the vice commander of the Space Station Aries. He likes humor and is a self-professed as 'dandy.' He has a daughter, Sayaka Nagase, from his divorced wife. He is good cook after a long bachelorhood. His hobby is playing the violin and magic. He is killed in a battle to save Ryota and Sayaka.
Gale Lantis:
Gale is the leader of the Hallarax terrorist group. He is a professional With vast experience. Coarse and short-tempered. When he realizes that he has been used by Cellaria Markelight, he tries to flee Aya and is shot dead.
Shin Kurosaki:
Shin is a collaborator of Hallarax and Cellaria. He has long blue hair and wears glasses. He joins Ryota's team later on. Shin knows what Cellaria really is.
Masato:
A notorious skirt-flipper. He dashes in, flips a girl's skirt to reveal her shorts and pops out in a flash. Nao Morisaki is his favorite victim.
***************************
What is Scura?
Scura is an accidental bi-product made from a medical reproduction process that Cellaria was studying. The Scura Cell has a couple of mysterious characteristics:
(1) The cells divide endlessly.
(2) The cells multiple endlessly.
(3) The level of electronic fluctuation helps Scura to keep its human form. The information and memories stored and the change of electronic fluctuation bring forth an illusion of afterimage.
therefore, an individual who looses a limb still senses it is there.
Episode Synopsis
please click episode number to read episode.
Episode 1 - 12

Episode 1: Encounter

AD 2045. The cadets in a Preparatory Course at the Central Military Academy get meet at the International Space Port. They are bound to the Space Station Aries on its orbital course around earth. Ryota Aizawa, a 3rd grader in the Preparatory Course, is running around in the vast space port. He is looking for Nanao Morisaki, a senior cadet and the girl in his dreams, Nao. Unfortunately, Nao likes his brother, Shuhei Aizawa. He almost bumps into Sayaka Nagase, the class chairman at the academy, and other friends. He finally finds Nao taking a picture with a family he never met.
It is everyones first time traveling in space. What thrills and excitement! Under the guidance of a tender and charming teacher, Cellaria Merkelight, Ryota's space training begins. A few days later, Ryota receives a letter from his brother, Shuhei. He is coming to the space station for a training session with his grade. Nao jumps with joy at the news!

Episode 2: Contract

Sayaka is shocked to receive a notice that cadets cannot meet civilians while they are engaged in training. She plans to meet her best friend, Aya, in the space station Aries. Ryota has an idea to meet Sayaka and Aya during a battle drill in zero gravity.
In the meantime, in the space shuttle soaring up to Aries, Shuhei meets a girl in the first grade of the Preparatory Course, Aya Sugimoto. When the shuttle docks at Aries, Aya is welcomed by the vice commander, Shige (Shigemichi) Morimoto.
In a mock battle, Ryota diverts the attention of his classmate, Kaz Nitta, to help Sayaka meet her friend. Nao is happy to see Shuhei. Suddenly, the emergency call resounds in the space station!

Episode 3: Outbreak

An unknown space ship approaches! The cadets help the civilians take shelter. The unknown space ship docks at Aries by force and the soldiers of a terrorist group called Hallarax, organized by Gale Latis break into the space station. The storm troopers led by Karen Tachibana charge forward and occupy the station's control center and major facilities in a blink of an eye! Only a handful of people can flee and hide from the terrorist group – the brothers of Ryota and Shuhei, Nao, Sayaka, Kaz, Cellaria and a mysterious civilian called Yu Yamanami. They have to stop the terrorists from capturing the entire ship. A fierce battle begins!

Episode 4: Breathing Space

Ryota and his buddies narrowly fight off the attack of Karen and her troops, but Shuhei gets injured in the battle. When Shuhei is treated by Nao in the medical room, a badly wounded terrorist attacks him. Shuhei knocks the enemy hard. Sayaka worries if Aya can escape from the terrorists. No. In the main control room, Aya is captured by Hallarax.
Gale Lantis, Captain of Hallarax, organizes a new operation to capture the entire space station. Defeated Karen swears revenge on Ryota and the survivors.
Yu notices strange behavior among the survivors. It makes Sayaka suspicious. Then, they pick up distress signals from an empty block. Shuhei decides to enter the block alone despite the dangerous situation. Is it a trap, or a survivor? Shuhei is stunned at what he sees there!

Episode 5: Watershed

Aki, joining the resistance party with Shige, starts quarreling with Kaz. Kaz is her brother. Teacher Cellaria Markelight interrupts their quarrel and Shige calms them down, saying he's prepared a nice feast for everybody. Then, Shige and others are surprised when they find Aki is a computer genius much better than her brother, Kaz. Aki begins to recapture the control systems of the space station, section by section. Hallarax comes back to assault the resistance group. Gale's attack is so fierce that Shuhei and his friends have to retreat. Kaz suspects Karen might invade their secured zone from another direction and tries to stop her commando. Then, Cellaria changes suddenly in the middle of battle.

Episode 6: Farewell

The resistance party narrowly drives back the terrorists. Shuhei is injured badly and Cellaria is captured by the enemy. Everybody is irritated. Ryota stops Yu's squabbling with Sayaka. Shuhei is roaming in a strange dream --- He attacks Nao and Ryota…. When he wakes up, he finds something is happening to his body… something extraordinary. He decides to go to the sector occupied by the terrorists. He demands Yu to reveal what she is as he suspects her identity. Yu finally gives in and begins to disclose information.
Shuhei heads for the enemy sector after he tells Nao that he loves her.

Episode 7: Flux

Now Shuhei is gone. Ryota becomes the new leader though he is a little bit nervous. Kaz assures him that everybody trusts him as he always cares about other people.
Shuhei's voice comes out of the loud speaker. Suddenly, a gunshot is heard! Nao starts running toward the enemy sector. Then, the partition explodes and the enemy attack begins. Nao is badly wounded. And again an incredible thing happens! The suspicion among the resistance party is increased. Ryota finds a little girl hiding in the storage. The girl's name is Nanami Inatsuki. She says she strayed from her parents and failed to get out in time.

Episode 8: Desire

A work-machine vehicle drives into Ryota's sector from the enemy zone. Everybody expected Shuhei would come out. No, it is Karen who jumps out. She tells Ryota and the others that the terrorist group are in a total mess and that Aya is still alive somewhere. Ryota, and the others, even Yu are shocked to hear it. Yu begins to talk about her past.
Yu decides to go into the enemy sector alone. Sayaka tries to drive out in Karen's vehicle but Ryota stops her. Yu slaps yelling Sayaka's cheek and makes the angry girl shut up. Then she goes out, saying "I'll be back. I swear."

Episode 9: Rouse

Yu battles through the enemy zone to their headquarters. In the meantime, Ryota and his friends are getting edgy and frustrated in the constrained situation. Nanami amazes her exhausted comrads with her incredible speed of learning. When Yu finally reaches the headquarters of the terrorist group, her brain is overwhelmed at the horrible scenes and by the true identity of the enemy. Shocked and paralyzed, Yu is captured by the terrorists.
A young girl, Nanami, poses a simple question to everybody. "What is happiness?" Nobody can answer except Nao who at least makes a try at a good explanation…

Episode 10: Stray

Yu and Shin try to escape, but in vain. And Shin's 'Scuralization' begins. He is morphing! But, they are saved in the nick of time. Then, Yu learns the shocking past of Shin and Cellaria. She finds the secret of 'Scura cell,' too --- Scura is a liquid living force. It was accidently produced during Callaria's Medical Reproduction Process experiments.
Aki notices horrified things when she checks the computer monitor. Aries, the space station, begins thumbling! How can they get out of the ship?
Meanwhile, Gale is fighting to protect Aya. Karen fears if Gale is safe. Sayaka worries about Aya. Noa wants to see Shuhei. Then, they find the only way to escape from the falling space station. Now, Ryota has to make up his mind.

Episode 11: Mourning

Ryota knows Sayaka wants to rescue Aya before they get out of the space station. So, he drives out to the enemy zone in the work-machine.
Aya is running for her life with Gale who covers her from the 'Scura soldiers.' They are in a desperate situation. Gale makes up his mind to find a way out.
Ryota and his friends are bewildered as Nanami is missing. But, they have no time to search for her. Ryota gets in the work-machine vehicle with Sayaka.
Cellaria orders an all-out attack and begins hacking the computer system. Holding various thoughts in their hearts, everybody is engaged in a fierce battle. It is the war for survival.

Episode 12: Journey

Ryota and Sayaka manage to rescue Aya in their last desperate attempt. But there's no time to celebrate as a troop of Scura soldiers jumps upon them. Then, a braveheart is lost to save Sayaka…
The space Station, Aries, increases its speed down to earth. Cellaria laughs as if she is completely insane. Just before Aries plunges into the atmosphere, everyone is ready to escape. But, Nao insists to stay as Shuhei has not come back. Ryota can not wait for her.
Aries, carrying the lives of many people and an enormous amount of uranium, falls into earth's atmosphere…
Format: 12 episodes X 25 minutes approx.
Produced By: SOUL LINK MEDIA PROJECT

© Omegavision, Inc./Soul Link Media Project 2006
ALL RIGHTS RESERVED