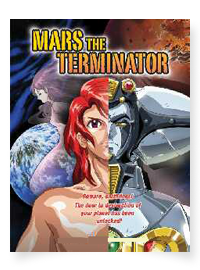 MARS THE TERMINATOR
By Mitsuteru Yokoyama
Introduction
"MARS THE TERMINATOR" created by Yokoyama Mitsuteru was a huge success when the writer, Keisuke Fujikawa, added courageous changes to the original comic story and produced an animated TV series entitled "6 Guardian Deities and Mars" some time ago. The same writer makes up the series setting and writes the scripts once again for thes new series with full of action and adventures. Main concept is the survival of our planet earth through the chaotic situations including pollution, destruction of nature, ever-lasting conflicts among the races and nuclear weapons.
Story
When a new island pops out due to the pressure of moving ocean plate in the Pacific Ocean a reporter's plane finds a boy "Mars," whose true identity is unknown. Mars has a secret mission called "Ozma Project." He is a perfectly created android to watch and makes a judgment of humankind 100 years later. However, the undersea volcanic activity awakens him much earlier. He is saved by the humans and while living with a family, he gets to feel and think like humans.

For a inter-stellar existence possessing high civilization it is important to watch the aggressive humans on earth. The earthlings dream traveling in space, but it means invasion to the other planets. This existence hid 6 guardian deities in the historical sites on earth to destroy this planet when the earth develops nuclear weapon and attains to space travel for colonization.

6 Guardian Deities get to the conclusion that earth should be destroyed. Now Mars stands on their way to protect the humans, not knowing he is the ultimate terminator of this planet….
Key Staff
Original Author:
Mitsuteru Yokoyama ( "Ninja Akakage" "Giant Robo")
Producer:
Kazuhito Imanishi, Akira Tsuburaya
Writer/ Series Setting:
Keisuke Fujikawa = "Star Blazer Yamato" "Maginger-Z" "God Mars "
Director:
Yoshitaka Fujimoto = "Macross-7" "Akihabara Den-No Team"
Writer/ Series Setting:
Keisuke Fujikawa
Character Design:
Chaki
Mechanical Design:
Koji Ito
Format: 13 episodes X half-hour approx.
Produced By: AT-X, MEDIANET, NEW SELECT, TSUBURAYA EIZO

© 2002 MITSUTERU YOKAYAMA · HIKARI PRODUCTIONS/MARS PROJECT
ALL RIGHTS RESERVED