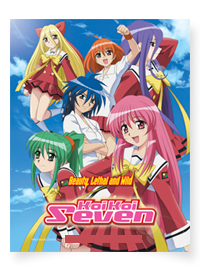 KOIKOI 7
His safety is the ultimate delight of his angelic protectors!!
Introduction
"Koi Koi Seven" is a hilarious action comedy of a young boy and seven minus one girls (We don't know why one girl is missing) It takes place in and around the school where all the students are bubbly girls, except Tetsuro! This animation series is based on the sizzling Manga-comic published in the monthly magazine; Champion Red.
Story
Tetsuro Tanaka is transferred to Gokoh Academy full of high expectations. However, expectations fade with a bad premonition the moment he steps onto the campus and finds all the students except him are girls! Wow! It's Heaven! He's a prince surrounded by pretty maidens! Wrong! A series of weird and frightening incidents fall upon him. Then, 6 charming girls who are called Koi Koi Seven appear as his guardians. Army combat helicopters and anti-tank guns attack Tetsuro for no particular reason. This school is far from a paradise. It is a hell he desperately tries to survive day to day.
Format:13 episodes X 25 minutes approx.
Produced By: TRINET ENT ERTAINMENT, STUDIO FLAG

© 2005 MORISHIGE• AKITA SHOTEN/KOI KOI 7 PRODUCTION COMMITTEE
ALL RIGHTS RESERVED