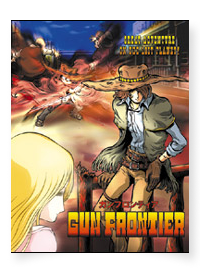 GUN FRONTIER Illusive Targets
Introduction
"Gun Frontier" is regarded as the start point of Leiji Matsumoto's 'World Ring.' It is a hilarious, thrilling and outrageous story that takes place on a lawless planet in deep space. In a wild land where the dust of sand swirls, two totally different men, Harlock 'the Quick Draw' and Tochiro 'the Master Swordsman,' meet a mysterious woman called Sinunora and travel together. "This odd threesome get involved in thrilling and outrageous brawls and seem to attract one fight after another!"
The planet is called "Gun Frontier." There is no law and order on this dry and barren star.

To live and to die, it depends on your own aptitude. It depends how smart you are.

This is the rule of the men's world - "Gun Frontier!"

The bullet carries a man's dreams and a bullet blows his dreams away.

There's a time for a man to go for it even if he knows he's going to die.

There's a time for a man to fight even if he knows he's going to lose.

Can our heroes survive in this harsh frontier full of danger and traps...? And what is the true purpose of Sinunora?
Episode Synopsis
please click episode number to read episode.
Episode 1 - 13

It is a hard and barren wasteland where the weak aren't even allowed to dream. It is also a sacred planet for true men, for there is no place a man can feel more alive. This is the planet called Gun Frontier.

Episode 1: Departure to Gun Frontier

Young Harlock and Samurai Tochiro are traveling on the wild and lawless planet. They arrive at a rundown town and are hired as the guardsmen of a pawnshop. But, they killed an unarmed man and fired less than a day. Then, they meet a mysterious woman called Sinunora.

Episode 2: Fall of a non-alcoholic town

Sinunora joins Harlock and Tochiro and threesome keep on going. Suddenly the ferocious bandits attack them. In the nick of time, the Indians save them and reach a quiet town. It is too calm here because there's no saloon, nor a gun shop in this town.

Episode 3: 'Hanging' song in the sand storm.

Harlock and Tochiro are traveling for a special reason. Their next destination is Samurai Creek. Two guys and Sinunora are stuck in the desert by \sand storm. When the storm is gone, a gunman called Murigson comes up on their way.

Episode 4: Killing in the rain.

Tochiro goes to Bourbon Town with a woman called Hedelnoya. She says she will set up to meet Maya who Tochiro is looking for. After some struggles in town, Tochiro finally meets Maya and makes sure she is the woman he was looking for. Will he uncover the secret of his kinsmen?

Episode 5: Praise for the short-legged!

Flint Town – you can do anything you like anywhere in this town. Tochiro becomes a victim of this law and is badly beaten by drunken cowboys. He is brought to Dr. Sulski. Coincidentally, he is the person who helped to escape the survivors of Samurai Creek. His real name is Dr. Madarvic.

Episode 6: Samurai in the wild

Tochiro visits a newspaper company in Westerners Town when he sees the column of missing persons. It is the trap set up by Nogson, the owner of Newspaper Company and his brother, Masterson to induce the survivors of Samurai Creek. They are the watchers of the 'Organization.'

Episode 7: A bedroom in a mirage

Tochiro receives a request of assassination from a man like his kindred. He goes to a clean and elegant town. There, he is arrested when he urinates on the street. He is thrown into the jail and sentenced 'hang to death.' His sword cane is taken and there's no hope to escape. Then, a mysterious beauty called Asaka comes to see him.

Episode 8: Wild Utamaro

Harlock, Tochiro and Sinunora get on the train for Doji City . They are to find the Wild Utamaro who betrayed Tochiro's kinsmen at Samurai Creek. Utamaro is a fierce warrior with the Samurai blade. Sneaking into Utamaro's house, Tochiro asks him why he betrayed his people. Utamaro says, "The Darkmister is the ruler of the world." The two swordsmen duel in the rain. Behind Utamaro, the 'Organization' still lurks over Tochiro.

Episode 9: Battle in Grand City

Hurrying to the next town, threesome; Harlock, Tochiro and Sinunora, find the body of a woman. When Tochiro dashes to it, town people shoot at him. Toshiro gets unconscious and is taken away for the execution by hanging. Can Harlock help him out?

Episode 10: Rage of a short guy.

Threesome head for Strobe Town to search Tochiro's sister, Shizuku. But, in front of the town, Tochiro is blocked by the sheriff saying that no adult less than 5 feet high is allowed to enter the town. Tochiro is outraged but the Sheriff is strict with the law. Harlock and Sinunora go in for gathering information of missing people of Samurai Creek. While waiting for them, Tochiro prepares for sleeping out. He, then meet two young kids; brother and sister.

Episode 11: Secret Weapon Factory in Jamacity

threesome arrives Jamacity controlled by Sitarunen, one of the officers of 'Organization.' They try to find the hideout of Sitarunen but can not move around under the persistent watch of 'Organization.' Meanwhile, in the secret factory of Sitarunen, Sizuku, Tochiro's sister, and people of Samurai Creek are forced to work for developing new weapon.

Episode 12: Sitarunen and Gatling Gun

Sinunora confesses to Harlock and Tochiro that she deserted from the 'Organization.' and goes away from them. But our two heroes tell her to stay with them as a true comrade. Them threesome haed for Sitarunen's hideout. On the way, Tochiro sees a woman looking like his kinswoman entering a strip joint.

Episode 13: Footprints to future

When threesome finds Sitarunen's hideout, the train carrying the new weapons made by Sizuku and people of Samurai Creek approaches. Our heroes can not get to the train because of enemy's firing. Sirarunen depart the train with Sizuku and people on board. Tochiro dashes out to run after it. He has to save his sister and his people at all cost!
Format:13 episodes X 25 minutes approx.
Produced By: AT-X/TV Tokyo Medianet/Pronto/Maczam/Tuburaya Eizo/Vega Entertainment

© 2002 LEIJI MATSUMOTO/GUN FRONTIER PRODUCTION COMMITTEE
ALL RIGHTS RESERVED