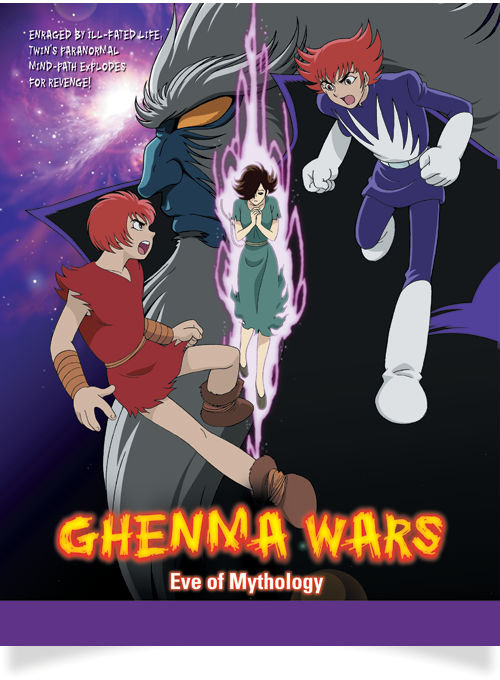 GHENMA WARS Eve of Mythology
Story
In a world beyond time, a demoniac race, called "Ghenmas", control the degenerated humans.

A beautiful young village girl is kidnapped by the Consul of Ghenmas and gives birth to twin boys, Rufu and Jin. The jealous wife of the Consul expels her from the castle. The villagers who suspect that she has Ghenma babies shun her. Knowing it is impossible to raise two children on her own, she gives Rufu to the Consul and keeps Jin in her arms. Rufu grows up as a prince in the castle. Consul's wife, detesting Rufu, is hard on him in every way. Rufu is hurt and worries, as he believes she is his mother.

Jin grows up under the tender care of his mother and Nuu, the wolf who was sent by the Consul to watch and protect him. One day Ghenma soldiers hurt his mother and Jin smashes them to pieces out of rage! Nuu, the wolf, is shocked to see that the demon power in Jin's body has awakened. At the same time in the castle, Rufu's body emits flares and he becomes a possessor of the supernatural powers of the demon gene as well. He leaves the castle, fleeing from the plot of Consul's wife to kill him.

After many struggles and adventures, Rufu and Jin are finally united in a desperate situation. The twins set out for a final battle with the Great Ghenma in order to save the world from destruction.
Characters
Rufu:
Elder brother of twin brother Jin. Born with mixed blood between the Ghenmas and the human race.
Jin:
Younger brother of Rufu. When his mother died in the Ghenmas assault, his true power was awakened. He swears revenge on the Ghenmas.
Nuu:
The servant wolf of the Ghenma Consul. He is ordered to watch and protect Jin as he grows up in a village of humans.
Mother (Nohn):
Mother of the twin brothers, Rufu and Jin. Expelled from the castle and shunned by the villagers, she lives with Jin in a cavern.
Wife of Consul:
A Ghenma woman with a merciless mind. Born from a human female, she detests Rufu.
Consul:
The ruler of earth. Bored with controlling a tiny planet, he creates anger and hatred among the humans and enjoys destroying them as a game.
Format:13 episodes X 25 minutes approx.
Produced By: TSUBURAYA EIZO

© 2002 ISHIMORI PRO./ GHENMA WARS-EVE OF MYTHOLOGY PRODUCTION COMMITTEE
ALL RIGHTS RESERVED