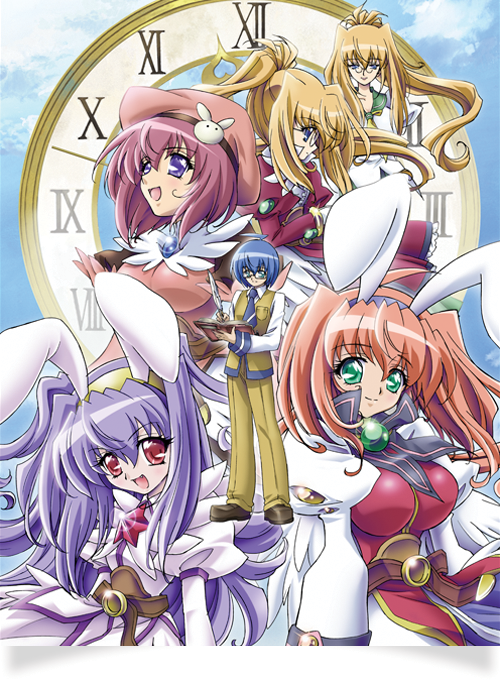 ETERNAL ALICE
Kagihime Monogatari
Story
Lewis Caroll wrote two volumes about the adventures of Alice in Wonderland, but there's a rumor of a mystical third volume. In order to compile the last book, magical bunny-girl warriors do battle with each other, stripping the defeated of pages locked inside them.

Aruto Kirihara, age 14, is a gentle-hearted bookworm who's favorite book is "Alice's Story." He likes to create his own stories of Alice. One moon-lit night, Aruto meets a girl who looks like the Alice in his book. To his surprise, the girl's name is Alisu Arusugawa. The pronunciation is exactly the same as Alice from the Wonderland books. Aruto learns there are so-called Alice-powered girls fighting for possession of the stories written in a mysterious book. Dreams will come true for a person who collects and reads all the stories in this book. Aruto realizes he also possesses the power to link with this imaginary world of fighting girls.
Characters
Aruto Kirihara:
A gentle eighth grader who has a hard time saying no to people. He is intelligent and is a book worm. He is observant and has an acute sense of analyzing different situations and comprehending them. He is a likable character (could also be perceived as a little pathetic).
Alisu Arisugawa:
An eighth grader with Alice ability. She is a curious girl who likes to meddle in other people's business. Alisu is at a disadvantage since she isn't always able to be true to her feelings but she is self-sacrificing and has a kind heart.
Kirika Kagarigi:
A senior at the school that the main characters go to. She is composed and calm. Nothing else interests her other than her research to seek her ideal. People think of her as being cold but it is just that she's not interested. She doesn't have much to do with boys either but in order to fulfill her curiosity for her research, she becomes interested in Aruto.
Kisa Misaki:
Aruto and Alisu's classmate. She is very feminine and graceful. She is also clumsy and a little spacey. However, no one notices that behind her actions is her own unwritten law. She has always loved pretty things since she was little, especially Kiraha and she has always wished to be more than friends with her but everyone else around her, including Kiraha, assumes that she likes Aruto and no one is aware of the truth.
Kiraha Kirihara:
A big fan of her brother Aruto. Kiraha is the type to express her emotion without hesitation and is true to her desires. She is smart and is talented at everything. However, when it comes to her brother she is not able to control her feelings and tends to make mistakes. She is popular because she is pretty. But, she is not interested in anyone other than her brother.
Episode Synopsis
please click episode number to read episode.
Episode 1 - 13

Episode 1: A Rabbit Hole

Aruto Kirihara is an imaginative boy who is fond of a book entitled "The Story of Alice." His recent obsession is to spin the true story of Alice out of her lost story. His sister, Kiraha, is jealous of his imaginative Alice as she likes her brother very much. One day, Aruto runs across a girl looking like Alice. Coincidentally the name of this girl is Alisu Arisugawa. He follows her and strays into a mysterious zone where girls are battling each other…!

Episode 2: Tears

Aruto receives a strange letter for "Alice's Tea Party" from Alisu Arisugawa. It is an invitation for the battle and the admission to the fight zone. Kiraha, the sister of Aruto, who is interested in the relationship between her brother and Alisu, jumps into the battle, too. When a fight between the "Alice Story" girls begins, Aruto's very special talent is revealed.
While the girls are growing up, Saki who is in love with Kiraha, faces a difficult choice.

Episode 3: Caucus - Race

A girl named Kirika Kagarigi is in the spotlight of the girl students. Although she still belongs to the senior class of high school, she attends at a graduate school as well. She is a very talented lady. One day, Kirika invites Aturo to her study room. Aruto and his female friends are surprised when they find out the secret of Kirika. Kirika in return wants to know Aruto's secret. A battle for Aruto is about to begin.

Episode 4: Little Bill

Aruto and the girls meet a new Kagihime, Akane Akatsuki. Akane is a strange girl. She has no sense of direction. She sleeps well and has a healthy appetite. The girls are upset as Akane snuggles Aruto too closely. Aruto tries to soothe them. To his surprise, Akane declares that she is going to 'clean' Alice. She handles strong fire skillfully and battles to burn down the entire 'Merveille Space.' Is it hopeless for all the Kagihimes to get along?

Episode 5: A Caterpillar

Feeling tired and fed up with all the battles and a series of extraordinary incidents, Aruto finds brief contentment when he meets Delilah. She gets, by turn, happy and sad as Aruto tells her stories. Delilah calls Aruto as "Takion," the original author of Alice. Kirika and the Kagihime girls perceive Aruto's change and begin an investigation.
"Aruto attracts Alice-powered girls like a magnet."The words produce one more reality and sadness.

Episode 6: A Pig

Aruto and Alisu study the documents of the creator of Alice, Alternate L. Takion. Suddenly a mysterious 'Merveille Space' is released. The reversed world is just like "The World in the Mirror." Then, Takion appears. What would he ask Aruto? While helping each other in this adventure, the hearts of Aruto and Alisu get closer and Aruto feels the affection of his sister, Kiraha, fading away.

Episode 7: A Tea Party

Aruto kisses Alisu unexpectedly. Kiraha is perplexed and heart-broken when she finds out the change of relationship between Aruto and Alisu. She can not cope with what's going on. Kisa tries to console Kiraha but Kiraha's heart is deeply wounded. Sympathizing with her over this cruel reality, Kisa confronts Aruto and Alisu with her righteous indignation.

Episode 8: Croquet Ground

There is a big barrier between two parties, Aruto-Alisu and Kisa-Kiraha. It looks hopeless for them to get along together any longer. Then, a new Alice-Powered girl appears. Her name is Asuka. Kirika senses Asuka's dangerous intention and chases her away from the group. When the group is invited for a meeting, Mika jumps in and attacks Aruto with murderous intent. She possesses strong Alice-Power. Alisu tries to protect Aruto but is stunned as Kiraha gets in her way.

Episode 9: Turtle's Story

Kirika has a dream of Lolina who she played with happily in her childhood. Suddenly the dream changes and the world is engulfed with fire. Kirika wakes up. It is the dark past she has sealed deeply in her heart. She does not want anyone to find out.
Aruto finally gets back the bond of brother-sister feeling with Kiraha. The girls of Alice Circle and Aruto face a hard battle with vigorous Touko. Thanks to Asuka's help, they discover another story of Alice. Then, Kirika declares that she will leave the circle.

Episode 10: The Quadrille

"Asuka who stabs Alisu. Alisu who is stabbed by Asuka." – Alisu runs away when she hears Aruto and Kiraha reminiscencing. Asuka understands the reason why she felt something weird when she battled Alisu. Aruto goes to the place where Alisu used to live during her childhood. She looks happy visiting stores. Then, he notices that what Alisu remembers does not match what he sees now. After Alisu and Aruto part, Asuka comes up to see her and whispers a malignant plot.

Episode 11: Tarts

Aruto and girls of The Alice Circle are surprised to see Alisu confined in the huge translucent case. Then, Takion and Ridell appear. Takion explains how he wants to pull the things of "Eternal Alice" together and how trapped Alisu can be released. When Kisa realizes she can save Alisu if all the stories were to be combined, she challenges Kiraha.

Episode 12: The Evidence

Ridell reveals her true self and threatens Takion with cruel eyes. She spits out the truth about "Eternal Alice" to Aruto and the girls. Knowing everything, Kiraha takes on Ridell in a final battle. Will Aruto and Kiraha be able to rescue Alisu and determine the ultimate conflict?

Episode 13: A Golden Afternoon

Life returns to normal for Aruto, Kiraha, Alisu and the other girls.
However, a new story is waiting for them….
Format: 13 X 25 minutes approx.
Produced By: KAGIHIME MONOGATARI PRODUCTION COMMITTEE

© 2006 KAISHAKU/KAGIHIME MONOGATARI PRODUCTION COMMITTEE
ALL RIGHTS RESERVED