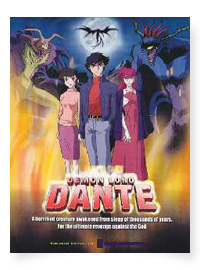 DEMON LORD DANTE
Introduction
"Demon Lord Dante" is the most brilliant work of Mr. Go Nagai and its concept and story possess explosive power. Its surging force is enchanting and almost frightening. In this story, the demons are not real satanic and cruel creatures. They are the metamorphosis of hatred and deep-seated grudge bursting out from good humans by an extraordinary incident. Although the demons are ugly and hideous they are not violent and carnivorous against people. They are destined to fight the supreme existence called "Dadan, the Lord of Heavens" that perished their own people and civilization in the long past.

In the course of history, demons and their descendent are called "Satanists" and the folks who are hostile and worship Dadan are called "Dadanians." Dadanians formed the secret organization "D" that has been hunting and killing Satanists under Dadan's control deeply planted in their subconscious.

"Demon Lord Dante" is a drama of destruction and restoration. Dante is the leaders of demons surviving thousand years beyond time and space. The mysterious existence, Dadan,

toils his overwhelming power for his pleasure – gives the wisdom and skill to humans and destroy when human's civilization reaches to the highest revel. Dante has to stop Dadan for the protection of people and for his revenge. In the darkness of night, Dante and his fellow demons prepare their ultimate battle…
Episode Synopsis
please click episode number to read episode.
Episode 1 - 13

Episode 1: Nightmare

Ryo Utsugi has been disturbed by nightmares. The gigantic and demoniac creature jumps at him. He can not look at its horrifying face. The blood is dripping from its teeth. Ryo runs for life desperately. "Brother! Brother!" His sister, Saori, wakes him up. His parents, Kousuke and Tamiko are watching him with worrying faces. All Ryo can do is just shivering under the blanket. Next morning, Saori screams when she sees a terrible murder in the newspaper. The victim's heart was hollowed. Kousuke looks annoyed, not frightened. Ryo finds a new motorbike at the entrance when he gets up late. It is Kousuke's present. Excited, Ryo dashes out to the street. He is driving up to the mountain on the long winding road when he has an accident. A car coming on the opposite side veers toward him suddenly and pushes Ryo over the cliff into the ravine. He suffers only slight injury and is taken care of at his father's hospital. Kousuke is a famous doctor and the director of big hospital.

After this accident, Ryo feels mysterious power growing inside him. He hears voices and sees images flashing in his mind. And one clear image is a dying face of a young girl. Who is she? Where is she? He realizes happily that he has no nightmare after the accident.

Ryo meets Sosuke Oshiba a junior of University and the captain of Kendo club. He is

Ryo is a freshman. Sosuke tells Ryo that the 'Madonna' of their school is missing and she might have killed after her heart is chopped out. Sosuke's cell phone rings. The girl is found dead on the bank of river. As Sosuke predicted, her heart is missing. Ryo is surprised when he sees the image of killing scene on the bank. That night, Ryo follows his images to a forest. A monster assaults him. He tries to run away on motorbike, but he returns to the same place wherever he drives to. He falls down on the ground at last. He is scared for death. Then, more monstrous figures come out of forest and look at him. Piccolos the beast like disfigured elephant, Adramelec with peacock feathers, Azazel the demon face with horns and other hideous figures start dancing around him. Seeing them laughing, Ryo loses his consciousness. When Ryo wakes up at midnight, the monsters are gone. He is not sure it was a nightmare or real. He thinks he has vague memory of such scene somewhere in the long past.

That night a policeman witnesses a young man driving his motorbike on the water. He scrubs his eyes and murmurs; "I had a dream while walking. Maybe I'm exhausted."

Episode 2: Awakening

Sensational incidents happen in many places in the world - New York , London , Paris , Bonn , New Delhi , Moscow and Beijing . All the cases are identical. Victims are young girls and their hearts were taken out. Then, a sacred silver goblet and a gorgeous candlestick with a long history are stolen in Rome . In Cairo , Egypt , the mummy of a Pharaoh disappears.

A few days later, in a port of Japan , a container is unloaded from a ship to a truck. Couple of custom officers spots it and goes to check the content. The men working there suddenly attack the officers and take away the container swiftly. The officers' necks are slashed.

A famous theologian, Alastor, is shot by machine guns when he gets into a car at Tokyo International Airport . He is rushed to an emergency hospital, but too late. Then, officials of Romanian Embassy come up to take back the body. But, it has disappeared. The monitor TV shows some unknown men carry the body out of the hospital. It is still missing.

Kousuke is shocked at morning news. He flurries out by car, leaving Saori who asks a ride to the school. Ryo sees Saori riding bicycle from the window upstairs.

In a secret room somewhere, The boy of Alastor is laying on the bed. Men and women with black hoods are watching him. A young and handsome buy is Picco and ugly middle-aged man is Zenon. The body of Alastor jerks a little and the bullets are spit out from it. The wounds are covered instantly. The 'dead' Alastor gets up slowly. "Oh, Alastor, the messenger of hell!" Zenon kneels down to him and others follow him.

A few hours later, in front of Saori's school, Picco shoots a dart to Saori coming out on bicycle. Before she falls down to the ground, Picco grabs and kidnaps her.

At the hospital, Kousuke goes down to the basement and open the secret door. He walks into a big conference room where members of secret organization "D" including Sosuke, Ryo's friend, are sitting. Kousuke talks about the recent activity of Satanists, the descendants of Demon clan. The demons are preparing a black Mass to call Demon Lord Dante. Kousuke knows the hideout of Satanists from his spy and orders members to perish them tonight. Going back to his room, he is shocked to hear that Saori was kidnapped.

Ryo hears a voice asking for help in the wind. It sounds like Saori's. Tamiko, his mother, tells that Saori was kidnapped. Ryo knows what to do instantly. He dashes out on his motorbike.

In the basement of a big mansion, Satanists begin the black Mass. Saori is laying on the board in the center. Alastor prays for Demon Lord. He squeezes blood out of a hen onto naked Saori. Suddenly, several gunshots echoed. Members of "D" raid the ceremony. Zenon casts down his eyes. Nobody knows he is the spy for "D." Kousuke and other "D" members rush in, but no one is seen inside. Even Saori disappeared. He kicks the rear wall and reveals a secret passage to the forest.

On the riverbank, Saori washes her body. Ryo gives his leather jacket to her. Saori thanks him for saving her life.

Episode 3: Call of two thousand years

On the wintry mountain, Ryo hears Demon Lord's voice and runs out of the cottage. At this moment, he jumps thousands of kilometers to a Himalayan mountain. Demon Lord Dante in his nightmare is waiting for him there. Dante orders him to break the seal that confined him two thousand years. Then, he eats up Ryo!

Back in the city, Ryo is listed as a missing person in the mountain. Only Saori believes he is alive.

Episode 4: Madness of Demon Lord

Ryo was eaten by Demon Lord to resurrect the demon. Dante unites him completely and Ryo is destined to live with Dante. He is tormented with a guilty conscience of living as a demon. He comes back to town, totally distressed and in Demon's figure. Police and Army attack him ferociously. Outraged, Demon Lord Dante destroys the city. He is too strong to defeat. Army decides to use new type of weapon, 'ZZ.' It has tremendously destructive power as it is called the 'ultimate weapon.' When it blasts on Dante, Demon Lord screams and vanishes in a second…

Episode 5: Satanist

Most people of the present world are given registered numbers. They are the descendants of human beings evolved under the program prepared by Dadan, the Lord of Heavens. They are called Dadanian-Humans. They are not the same species survived from the destruction of Sodom and Gomora. Those who survived with rage are called Satanist-Humans as they turned into demons to live on until they revenge merciless Dadan and restore a peaceful world with harmony of technology and nature. In the long history, many people of mixed blood – Dadanian and Satanist – were born. Sometimes demons were born from Dadanians. However, Satanist-Humans have been always treated and persecuted as heretic especially by the secret organization "D." "D" praises Dadan as the almighty God for thousands of years.

Staunch Satanists like Alastor, Zenon and Picco believe the resurrection of Demon Lord Dante. Dadanians constantly carry out their mission – eradication of Satanists. Kousuke is the leader of "D." He is waiting for the return of Dadan. It is said that Dadan comes back with the comets. He tries to contact the lord secretly.

One day, exhausted Ryo comes home. He says he was waiting for rescue in a cave of the mountain. Parents believe his story. But, Saori knows he went to Himalayas and something happened there.

Episode 6: Three Faces

Dr. Kousuke Utsugi is the director of his hospital officially and the leader of the secret organization "D" behind the fame. And he has another face. He is involved in bio-chemical industry. He is hired by the government for the study and production of virus and poisonous gas and also for the development of bionic weapon by controlling DNA. Ryo finds out Kousuke's secrets by accident. He suspects that the artificial organs produced in Kousuke's institute might be used at his hospital. However, Ryo has no idea what horrible experiment has been conducted there until he will be a victim almost.

Episode 7: Mysterious woman – Saeko

When Ryo is waiting for the signal on his bike at the intersection, an open car stops beside him. The driver is Saeko Kodai, one of the world class fashion models. Then, a voice is heard from nowhere. "Your social window is open." The signal changes and Saeko drives off. Ryo looks down and pulls up the zipper of his pants. Ryo suspects that lady might have 'telepathy' to communicate with him.

That night, Ryo is attacked by a bunch of motorcycle gangs. They take his motorbike, leather jacket and even pants. Suddenly a sport car stops and a women wearing sunglasses

Comes out. Before gangs surround and touch her, she moves like a flash. All the men are knocked down on the ground. Ryo member her. She is Saeko Kodai. Then, he hears the same voice again. "Make up your mind quickly. Everybody is waiting for you." Ryo knows what it means, but he has no desire and no reason at all to be a demon.

Episode 8: Monster Factory

Hideous creatures attack people night after night. After examine the bodies of victims Kousuke tells the reporters that the attackers are Satanists and they are a group of demons. All the media accuses Satanists and people get raged.

One night, Ryo is attacked by a monster. Medossa rescues him with snake hairs. She tells Ryo to close his eyes. When her eyes flashes, the monster turns into a stone. Medossa says, "it is not our member." Ryo thinks Medossa is Saeko.

Ryo sneaks into his father's bionic weapon institute. To his astonishment, bionic monsters are produced there! The monsters that attacked 'Madonna' of his university and other people are all bionic creatures. A series of murders are plotted by the secret organization "D" for entrapping Satanists. Ryo realizes that the creatures he met in the forest are not these monsters.

Episode 9: Secret of Ryo

Ryo is not a real child of Dr. Utsugi and his wife. His parent fell down to the sea while driving seaside road. They were killed by this accident but a boy in mother's womb was alive miraculously and Kousuke took him out. He decided to take charge of Ryo as a first child of the family. After that, Soari was born. He loves the family, but what his father is involved is wrong. Something cracks in his mind.

Episode 10: Dante's Love

Ryo visits Sosuke Oshiba's Kendo Dojo. One of the club members is hammered by Sosuke and killed. He shows his true identity – a demon. It is disgusting for Ryo as he feels pity for the demon. Why? "Why don't you save him, Dante?" He sees Saeko behind him. Saeko turns into Medossa and takes him back to a long past – one million years ago – to the city of Sodom and Gomora. It is a beautiful place and people are living peacefully. His memory comes back. All the people in this city possess supernatural power. But, one day, catastrophe falls upon them. Dadan, the Lord of Heavens, burned the city and people by the red-hot beam. This is the hell. Dante and Medossa are burned by the hellfire. "I don't die," cries Dante and he changes into Demon Dante. Medossa transforms herself into a sorceress, too…Dante remembers everything clearly and says,

"I know everything now. I'll fight against Dadan and the human race Dadan created!"

Episode 11: Beast – Demon – Monster

Dante turns back to Ryo and comes home to reveal his father, Dr. Kousuke Utsugi's conspiracy. In the middle of night, he changes into Dante again and destroys Kousuke's bionic weapon factory. Demon Lord Dante possesses incredible ability to dissolve his body into the atomic particles. He can change his form into anything. It was acquired in the horrible experience when he was burned by the hellfire sputtered by Dadan. He disappears like the fog dissipates and comes back to him from the mist.

At the Utsugi Family, Ryo becomes antagonistic to Kousuke and has disputes on anything with Kousuke. Saori laments harsh air in the family.

Kousuke tells at the meeting of "D" that the ultimate war is getting close. He begins to contact Dadan in the capsule hidden in the basement of his hospital.

Episode 12: The unbreakable weapon

The true identity of Dadan the Lord of Heavens is the aggregate of space dust drifting in the universe. During the long travel in space, it acquired intelligence and knowledge. If it get together densely, it becomes the side of small planet. Earth will be a planet of death if such clustered lump collides. No living thing will survive. This is not what Dadan wants. Dadan asks Kousuke to give Saori to him. He knows Dante still shares his emotion with Ryo. He figures Dante can not destroy Saori as Ryo loves her. Dadan's order is irresistible to Kousuke. He agrees. Dadan possesses Saori who is only Dante's weak point

Episode 13: Ultimate War

Monsters, beasts and hideous creatures spring out from the depth of the earth, forests and even from space. Satanists -- Alastor, Piccolos, Zenon and others, turn into demoniac creatures one after another. Member of "D" transforms themselves into beasts.

The decisive battle between Demon Dante and Dadan begins. Dadan's face is Saori who grins to Dante. Dante's face is Ryo who looks shrinking back at a moment. The Defense Army starts shooting the Ultimate weapon "ZZ" at Dante. Dante believes there would be a chance to retaliate as he used to be a scientist. Dante remembers what exactly happened to Sodom and Gomora and he learns the red-hot beam that burned the cities is given off from the gigantic lens made of assembled space dust. He has already studied how to defend him from this beam. The question is how he can defeat Dadan without hurting Saori. Holding on under Soari's fierce attacks, Dante seeks after the best plan to turn the situation in his favor desperately. Can he save Saori and destroy powerful Dadan…?
Format:13 episodes X 25 minutes approx.
Produced By: DEMON LORD DANTE PRODUCTION COMMITTEE

© 2002 GO NAGAI/D ynamic · D ante Project
ALL RIGHTS RESERVED