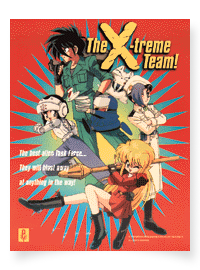 THE X-TREME TEAM!
The best alien Task Force... They will blast away at anything in the way!
Introduction
In the near future... An unsettling rumor jolts the inhabitants of earth -- "Alien invaders are preparing to attack!!" Panic spreads all over the world! National and private defense foces are quickly organized in many countries. Our heroes' troop, from The Sutton Swat Acadmey (SSA) is soon recognized as one of the most powerful troops in the "United Earth Defense Forces." The SSA members are exceptionally strong, cagey, competive and just a little bit zany... they become known as the "The X-treme Team."

Days pass, but there is no sign of an alien invasion. The troops are getting bored and frustrated. Some of the troops want to show off their combat skills by challenging other troops. However, the troops who challenge "The X-treme Team" are always defeated. Nobody can ever get the best of this wacky 'Team'!

A young man named Isaac joins "The X-treme Team." He is surprised at the outrageous welcome reception he receives by the Team members... Rachel, Naomi, Cherry, May, and Captain Love.

More time passes and still no aliens! So to pass the time, The X-treme Team jumps at any job that is offered... they fight crime, terrorists, make rescues, escort VIP's, deliver cash and valuables... and create chaos throughout the whole nation of the Sutton Repuplic!!
Characters
Isaac:
A young trooper with almost invincible physical strength thanks to his father's rigorous training. Physically, he is real tough guy, but mentally he is innocent and naive. The other members of the Team take advantage of Isaac's innocence.
Rachel:
The idol of "The X-treme Team." Rachel is an infamous bomb expert. She sets up time-bombs, grenades and other explosive traps all around... causing panic among her enemies as well as her fellow members!! She falls in love with Isaac. Her father is the most powerful man in the country.
Naomi:
Vice captain of "The X-treme Team." Naomi has the power of teleportation, but she seldom uses it as it requires too much energy. She is a bit odd... she likes to dress Isaac like a girl.
Cherry:
Cherry is the most advanced android- she has a laser beam, an IQ of 300 and runs on 100,000 horse power. She is awakened by the lightning after 50 years sleep. She joins The X-treme Team after Isaac, who happens to look just like Dr. Sierra, Cherry's creator. When excited, Cherry flashes her laser beam.
May:
The nurse of the Team. May takes care of friends and foes equally when they are injured. She likes to collect strange animals like an Iguana.
Captain Love:
Captain of The X-treme Team. Love is a perfect soldier - a big macho guy with great fighting spirit. However, he loves reading girl's comic books and writing melodramas.
Ninpow:
He is a ninja, alright. His real name and other ID are unknown. Ninpow can transform himself into a huge monster, a pretty butterfly - almost anything he likes. He is a real joker who likes teasing his enemies and friends as well.
Bingo:
Ninpow's pet dog. Bingo understands human languages. He is a super dog capable of transformation, stake-outs and other missions.
Miranda:
Miranda is Princess of the "Republic of Schubort," a neighbor and a foe of the Sutton Republic. She falls in love with Isaac at first glance. She plots commando attacks on the X-treme Team just so she can see Isaac!
Mathew:
A young military commandant of the Republic of Schubort. Mathew loves Miranda and with sly ambushes, tries to destroy his rival in love, Isaac, but to no avail.
Episode Synopsis
please click episode number to read episode.
Episode 1 - 13

Episode 1: Send an Explosive Love Message to that Invincible Chap!

Earth. In the near future. Fear of alien attacks is widespread and in many countries national and private defense forces are quickly preparing. The Sutton Swat Academy known as "The X-Treme Team" is soon recognized as the most powerful troop of all. One day, new recruit, Isaac, comes to join the team. He is extremely naïve and quite an honest guy. He is shocked to find out that all of the members of the X-Treme Team are outrageous beyond your wildest imagination. At first glance Rachel, the idol of the team, falls in love with Isaac and pressures him for a date.

Episode 2: A Sweet Trap For the mobsters!

A special training day is planned and Isaac is happy. This is a chance to get away from Rachel's excessive love calls and the pranks of Ninpow and the other members. However, his hope is shattered when Captain Love suddenly suspends the training and declares it a day-off. Rachel pulls reluctant Isaac onto the battle tank and makes him go shopping in the town. Ninpow, his dog, Bingo and May the nurse join them only create commotion in town. Suddenly, they encounter mobsters robbing a bank.

Episode 3: A Rival of Love - Captain of the Special Forces.

Another special training day turns into a camping excursion on a mountain. Suddenly a helicopter of SAS, Strategic Assault Squadron, falls to a crash landing. SAS is searching for "Megant," a new bomber, which was stolen by a neighboring country. SAS's Captain Naomi likes Isaac's incredible power and appoints him as her partner in the search for the Megant. This puts Rachel in a bad mood and she furiously protests to Naomi. Meanwhile, they receive news that the Megant has been found. Naomi and Isaac climb into a two-seater auto-gyro. Rachel squeezes in and other members of the Team want to as well After the turmoil dies down, Isaac finally gets into the Megant. But then, he is stunned by an unbelievable scene!

Episode 4: General Gironi's Secret Desire.

The X-Treme Team arrives at a beach resort on a secret mission. There are reports that a The beaches of this area were attacked by a recently. Their mission to guard the beaches. But, everybody except Isaac are busy to enjoy a beach holiday. The commander of the mysterious submarine (which comes from Raivol) is General Alm Magiro. He loves beautiful girls. General starts courting Rachel, May and Naomi, only to be knocked down by Isaac. But, General never gives up. He invites three ladies for a party. Naomi sense something odd about this invitation. She orders Isaac to dress up like a woman and join the party. Then, Ninpow and Bingo jumps in. The party goes into pandemonium!

Episode 5: A beauty with one hundred horse power

On a stormy day, a robot comes back to life in the ground near the base of The X-Treme Team. The name of robot is Cherry. She is a battle robot in the high-school uniform. She is a secret weapon made by the Sutton Army 50 years ago. It is another unlucky day for General Alm Magiro who sneaks into the base and comes across to Cherry. General tries to invite her for a date, but, he is blown away with his entire troop by Cherry's tremendous power. Cherry judges the X-Treme Team is an enemy force and devastates the base. And she kidnaps Isaac as with her distorted memory cells she judges he is the scientist who created her. Upset Rachel chases her with remote controlled battle tanks. An incredible women's battle begins!

Episode 6: Armageddon of Women's War

An android Cherry settles down in the base of The X-Treme Team and starts taking care of Isaac. Soon, she becomes an idol of the Team. Isaac feels like she is his sister. Only Rachel hates Cherry who tags along with Isaac always. Rachel sets up nasty traps on Cherry, but no success. When Isaac goes to town with Cherry, Rachel follows them on a battle tank. Then, Naomi flies over by a fighter jet. The result is a never-ending women's war on the handsome young guy.

Episode 7: A cruel trap! Dragnet is the messenger of death.

Dragnet, the team of five destruction specialists wants to take over the leadership of Allied Earth Defense Force. It has already destroyed several defense troops and this time, its target is The X-Treme Team. SAS's Naomi warns the Team that Dragnet has already sneaked in the base. But, nobody except Isaac seems on alert. The base goes into tremendous turmoil by Dragnet's weird tricks. Rachel was focused on Camera while taking shower. She frantically chases Dragnet soldiers, putting the entire base into utter pandemonium.

Episode 8: Beautiful sister is a frightening visitor.

One day, Isaac's older sister, Akiko, visits the base. She is stunningly beautiful. Strangely, Isaac looks feared of something. Akiko is completely possessed by the spirits of their father who still wants to train Isaac. Isaac avoids and hides from Akiko. Akiko runs after him. Surprised and embarrassed, Rachel and other member of the team tries to get rid of the spirits of Isaac's father.

Episode 9: Ninpow's true face + Captain Love's dream

Ninpow is never in one place and he is everywhere at once. He covers his face with a mask and nobody ever sees his real face. Whimsical Rachel jumps at an idea to reveal Ninpow's true face. She has no hesitation to take any drastic methods to catch and reveal him. Instantly the base turns into chaos. Nobody knows a part of Ninpow's body connected to the half spatial zone between the dimensions. Rachel, Isaac, all others and the entire base itself are sucked into the half zone. While they are drifting there, Captain Love visits a book publishing company to realize his dream - a writer of comic books.

Episode 10: Rachel's going home

It is the anniversary of Earth Defense Force and a holiday for all the troopers. Rachel drags reluctant Isaac to her home. Isaac is astonished when he sees Rachel huge and gorgeous mansion. Rachel's father is the very wealthy guy who possesses power to control the nation behind the curtain. Rachel is his only daughter and the most precious treasure to him. Rachel introduces Isaac to her father, saying he is her sweetheart. It is tremendous shock to Rachel's father. Upset, he chases Isaac all around house and challenge a duel to our hero!

Episode 11: Return of Dragnet. A presentiment of terror at the festival?

Dragnet, defeated by Isaac before, comes back for revenge. The specialists sneak into the base while our heroes are enjoying the festival. The highlight of this festival is the costume competition. Naomi tricks Isaac to dress up as a young girl. Gill, one of Dragnet members, puts on a fancy dress and challenges Isaac in the competition.

Episode 12: A happy date for the eyes of sick father.

X-mas eve is the birthday of Isaac. Before celebration starts, the sad news comes in that Rachel's father is seriously ill and he wishes to see Rachel and Isaac dating as a happy couple. Isaac accepts this request from the dying man. But, it is a plot Rachel's father makes up. Rachel jumps up with the excitement and twists her ankle. She hides this incident and goes out to town in Christmas decoration with Isaac.

Episode 13: Isaac is a pretty woman!

Naomi is so impressed at Isaac as a girl. She drags him to the beauty salon run by the genius aesthete Smiley. Smiley changes Isaac into a stunning beauty. He escapes from the salon and runs into the dormitory of Judo team. Isaac as a girl is enthusiastically welcomed by all the Judo students. He is forced to do laundry and cooking. Then, the students of this small and weak Judo team beg him to give them special training.
Episode 14 - 25

Episode 14: A princess is an invader of outer space?

New year begins. A shocking news wakes up our heroes. UN decides to dissolve the Earth Defense Force because there is no evidence, nor fear of the alien invasion. Isaac is distressed as he knows nothing but to battle. He roams in town and save a girl chased by the thugs. She is Miranda, the princess of Schubort, one of super powers of the world. Miranda falls in love with Isaac. She wants to encourage the young guy who loses a reason to live. So, she selects the best troops pf Schubort Empire and disguised as the aliens, attacks The Sutton Republic.

Episode 15: Triangle date is full of boiling jealousy.

Princess Miranda of Empire Schubort secretly goes out of her Flying Fortress and heads for the base of the X-Treme Team. The commander Mathew loves Miranda. He finds out Miranda's new boy friend is Isaac. Mathew sends a spy, Chameleon-Smiov to the base. Rachel is raged at Miranda asking a date to Isaac. A guy and two girls decide to have a triangle date: one to two.

Episode 16: A horror story in winter - Have a chilling night at a haunted house.

The member of the X-Treme Team and Naomi come to an old dormitory off the Earth Defense Force. There is a rumor that this place is full of ghosts. Naomi expects Isaac will destroy the ghosts with no problem, but, to her disappointment, Isaac fears the ghosts. Night falls. The rumor proves true as the ghosts attacks our heroes one by one!

Episode 17: The Final mission of Dragnet - The hunted bride

Trooper Miyamoto is in trouble as his parents are coming to see him. He lied to them that he is the captain of the team and he has a fiancée. Isaac and other colleagues agree to make him one-day captain so that his parents would be pleased. Then, who would be his fiancée? They unanimously choose Isaac dressed up like a girl. In the mean time, Dragnet comes back to revenge once again. Gill the leader disguises himself into a girl again and takes over the role of Miyamoto's fiancée from Isaac as a girl. A fierce battle between two pretty girl-warriors begins.

Episode 18: Labyrinth of love is a power-sucking trap.

Isaac and Rachel received free tickets of an amusement park. They go to the park with all other members. Suddenly Miranda shows up in front of them and tells that she sent the tickets to them. Miranda wants to enjoy triangle date with Isaac and Rachel again. Commander Mathew is jealous of Isaac and plans to suck Isaac's power into himself by using a new invention of Dr. Silvy. Mathew starts the device when Isaac goes into the Labyrinth of Love in the park. He succeeds to snatch Isaac's invincible power, but, something unexpected happens!

Episode 19: Countdown of love - Saint Valentine's day is the time of chaos.

It is Saint Valentine's day, today. When Rachel rushes back to the base with a special chocolate made in Paris for Isaac, she comes across Naomi who also hurries to the base with a special chocolate for Isaac. They races to reach Isaac first, battling through the snow mountains, desert and ocean. Then, their chocolates stick to each other completely become one inseparable lump.

Episode 20: Nightmare of the deep - Rescue the mermaids

The X-treme Team goes to beach on a holiday. Rachel and Naomi are competing with a rivalry in love over Isaac as usual. Their fight escalates on the sea and everybody drops in water and sinks down before crying for help. When they wake up at the bottom of the sea, they aare astonished at their body. All the men turn into aqua-humanoids and females change into mermaids. They meet real mermaids hiding from the evil aqua-beasts. The X-Treme Team and Naomi promise the real mermaids that they are going to destroy the beasts.

Episode 21: Women's war - Love is sizzling up on a remote island.

The X-Treme Team and Naomi are still enjoying beach holidays. Miranda joins in love battle between Rachel and Naomi. With her superb eloquence, Miranda induces everybody to sail out to ocean on a cruiser. Then, Ninpow and his dog, Bingo, screw up ship's navigation system. Our heroes are shipwrecked and drifted to an uninhabited island. Yet rivalry in love never subsides. Three women crazed in love engage endless battle to capture Isaac's heart. Mathew is enraged at Miranda flirting with Isaac. He dashes to the island to destroy Isaac with newly invented battle robot.

Episode 22: Farewell to May!? - Micro-commando is Virus busters.

Rei Makino, A genius doctor, comes up to the base of The X-Treme Team to take back her daughter, May, the nurse of the Team. The X-Treme Team is suffering strong flu virus. Rei cures them from it with the anti-virus beam. But, Rachel's flu-virus is exceptionally strong and they have same personality as Rachel's. So, they moves into Isaac's body, knocking him down for massive virus attack. The only way to save Isaac is to destroy the virus inside of his body. Rachel and other members turn themselves into micro-size with Rei's new technology and dive into Isaac's body.

Episode 23: A beauty in the hot spar - Kiss-kiss, bang-bang

The X-Treme Team makes up "a special mission" again and comes to a hot spar resort. Coincidentally Naomi is there also and usual commotion begins instantly. Isaac escapes from it and enjoys an open-air hot bath alone. He is shocked to realize that he change into a girl. The hot bath he took last night has magical power to change the sexes opposite. To get back to the original sex, he need to be kissed by the person he loves. Rachel and Naomi are enthusiastic to kiss him hard. Then, other members are excited at an opportunity to kiss a beautiful girl. Thus fierce survival game to grab a chance of life time begins!

Episode 24: Rachel vs. Isaac - An ultimate battle of love and tear.

Mathew, Commander of Schubort Empire Army, plots to pull Miranda's heart away from Isaac. He has got a weapon firing the beam that makes Miranda hate Isaac. Unfortunately Mathew hits Rachel with the beam by mistake and he has to take her as a hostage. Then, he lures Isaac and other members of The X-Treme Team to the Antarctica. Mathew prepares the ultimate weapon - The Substance Converter to wipe out Isaac from this world. When Isaac and other members reach the Antarctica, they are assaulted by Rachel who is controlled by the beam. Rachel seizes Isaac's fellow members and attacks Isaac. Isaac can not counter attack her. He is cornered. There's no way out!

Episode 25: Earth disappears? - Countdown to farewell of love

Isaac narrowly succeeds to make Rachel regain her memories. However, Mathew fires the Substance Converter into the ground by mistake. If the device goes down toward the earth's core, tremendous energy reaction occurs and earth will explode! They have 24 hours to stop the machine. Somebody dives into the depth of ground, goes into the devise and destroy the key system. Even if he succeeds it, there's only a slim chance to come back. It is almost one way ticket to the hell. Isaac takes it. When he gets in a special submarine and dives into the sea of lava, he is surprised to meet Rachel and other follow members. Will they succeed? Or is it the end of world?
FORMAT: 25 half-hour episodes
PRODUCED BY: SOFTX/ MAGIC BUSS
WORLDWIDE DISTRIBUTION: ENOKI FILMS USA, INC.

© 2001 YOICHI TAKAHASHI/SHUEISHA · avex · TV TOKYO
ALL RIGHTS RESERVED