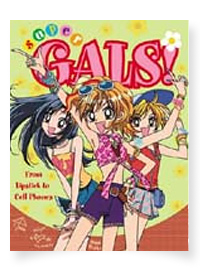 SuperGals
Introduction
"SuperGALS!" is a hilarious and touching tale of teenage girls living in a big city.

Shibuya is a 'trendy' and busy district in downtown Tokyo. It is a popular gathering spot for teenagers. Many cute girls called "Ko-Gals" (Adorable little teenage girls) meet here to chat, plan a shopping spree, watch the boys and just spend time together after school.

The most talked-about and respected group of girls are known as "The Super Gals." Its leader is Ran, the daughter of a policeman, who is darling and also daring. She is extremely charismatic and it is easy for her to bring several teenage girls together under her leadership. She is always high-spirited and physically strong, too. Each of the 'gals' in the group has their own distinctive personality and outstanding charms. They are often rivals for the attention of a handsome boy, but if anyone in the group is in trouble, they all rally to her aid.

Our pretty gals are flourishing youths full of dreams of excitement and handsome boyfriends. However, as is true in real life, unexpected mishaps and embarrassing incidents often disturb their romantic imaginations.

Life in downtown Shibuya is never boring. Not a day goes by without some kind of excitement. There are always stories to tell as the Gals chat about fashion, boyfriends, quarrels, campus life, movies and so on. How thrilling to discover new friends, nice-looking boys, first loves, bargain sales etc. The Super Gals are rich in life's most precious possessions - kindness, friendship, love and trust.

This new series is based on the very popular serial comic books of the same title "Super Gals!" All the adorable characters and exhilarating stories come alive on the screen.
Characters
Ran:
A first year student at high school. Her parents and her brother are policemen. Even her sister wishes to follow her family's choice of profession. But Ran has no desire to be a policewoman. She just wants to have fun everyday. Ran is one of the most talked-about, popular 'gal' in Shibuya, one of the most trendy districts of downtown Tokyo. She is always honest and straightforward. She detests lying and deception. She is considerate and thoughtful of her friends. When anyone is in trouble, Ran will stop everything to help out. When she is really upset, she shows tremendous courage. Ran is enjoying the 'trendy' life of downtown day to day.
Miyu:
Miyu is Ran's classmate and her long time friend since their middle school days. She is a cheerful and boisterous gal. She was a little unsettled during her middle school days, but recovered herself thanks to the help of Ran's brother, Yamato. Miyu is now in love with Yamato.
Aya:
Ran's classmate. Aya is a very honest gal with excellent grades at school. However, the pressure to pretend to be a 'good girl' drives her to foolish and desperate behavior. Ran extends her friendship to Aya, leading her away from the misdeeds her former actions caused.
Rei:
A first year student. Rei is a good-looking boy who won 'The High School Grand-Prix for the Most Handsome Student.' He is an idle among the high school girls. A teenage magazine says "He has a refreshing smile and He is profoundly gentle to Gals." But, in actually, he is a rather cool and down-to-earth kind of guy.
Yuuya:
Also a first year student. As Yuhya was 2nd at the Grand-Prix he is called "The 2nd" by the Gals. He likes Ran but is a bit too shy to tell her how he feels about her.
Mami:
A trendy Gal from downtown Ikebukuro. She wants to take over Ran's territory and challenges her whenever she has a chance. Mami has two faces - one as the leading Gal of a group in Ikebukuro and the other is a nice and sweet lady at home. She is raised up to be a refined and amiable young girl at the rich family.
Harue:
Mami's close friend. Harue assits Mami to control other downtown called Ikebukuro. She has a grudge on Miyu and plans to revenge as she thinks her boy friend leaves her because of her.
Sayo:
Ran's sister. Unlike her sister, she wishes to be a policewoman. Her personality is similar to Ran's - tough and aggressive.
Sanae:
An enthusiastic fan of Tsubasa and the leader of the cheering party at their primary school. She loves Tsubasa and keeps supporting him all through Middle School and Jr. College. Later she marries Tsubasa and they have two children.
Tatsuki:
Ran's boyfriend. A bright and openhearted guy. His friends call him "Tatsukichi."
Yamato:
Ran's brother and a policeman. Yamato is working at the police station in Shibuya where Ran and her friends meet everyday. He seriously worries about Ran's after school adventures as if often means trouble for him.
Mr.Nakanishi:
The teacher of Ran's class. Slightly simple-minded but honestteacher who is devoting his entire year desperately to shape up Ran into a good student.
Episode Synopsis
please click episode number to read episode.
Episode 1 - 13

Episode 1: SuperGAL! - Get Going! -- Ran!

Ran, a first year high school student, is as cute as can be. The young hooligans have no idea how reckless and fearless she and that she is a really good fighter! As her daily exercise, she proves she skills on some of good-for-nothing students on the streets of downtown.

This kind of incident is what her brother, Yamato, is most afraid of. He is a policeman stationed in the same district where Ran and the other 'Gals' go everyday after school.

One day, Ran is surprised to hear that her classmate, Aya, is dating a stranger who is quite unbecoming to a girl like Aya. She is a honest and bright girl with fabulous grades in her subjects at school. She has never had a boyfriend. Soon Ran learns that Aya is desperate -- she is so lonely and wants to rebel against her stubborn parents. Ran scolds her for feeling this way and at the same time welcomes her as a new friend. Aya joins Ran's group, "The Strongest Ko-Gals" in downtown. (Note ­ 'Ko-Gals' is the slang meaning for 'the young girls.')

Episode 2: Downtown Shibuya - Nerve Shaking! - A Drag Net!

Ran's father also a policeman, scolds for her happy-go-round life style.He tells she must try to seek out "good deeds" in her community. Ran tries to catch a shoplifter, but loses her in the street. This shoplifter turns out to be Yukie, another girl at Ran's high school. Using her cellular phone and Ran's name, Yukie extends an invitation to a man. When the man arrives Yukie's boyfriend, Takeru blackmails him. Consequently Ran is suspected of this blackmail. Then, Yuya, also a first year boy at Ran's school, helps her to corner Yukie and Takeru. Ran proves her innocence.

Episode 3: Gal's Heart - Beating! - Red Mesh Hair!

Ran's best friend, Miyu, receives a love letter. It is from a boy named Kenji Yoshida who has a bad reputation of being short-tempered and quarrelsome. When Kenji realizes Miyu has a boyfriend, he starts stalking her. Kenji thinks Yuya is Miyu's boyfriend and finding himself in the wrong place at the wrong time, Kenji attaches Yuya, and Yuya fights back but soon realizes he is no match for this muscular guy. Fortunately Ran rescues Yuya and her brother Yamato ­ Kenji has a chance to do too much damage.

Episode 4: Good! Good! - Bad! Bad! - Luck with Boys!

Ran gets a bad prediction by the fortune-telling machine. She does no care about it. But, in downtown Shibuya, Ran pushes away a boy who keeps asking her for a date. He is the type of boy who Ran dislikes most. Ran meets a nice-looking boy named Tsukasa. Tsukasa tells her that he has liked her since the moment he saw her. Ran agrees to go on a date with him. Finding himself falling in love with Ran, Then, Tsukasa, falling in love with Ran confesses that the girl friend of the boy Ran pushed asked Tsukasa to approach Ran for revenge. This makes Ran furious and she vows to teach this wicked girl a hard lesson. Ran laments her bad luck with boys.

Episode 5: Aya's Heart - Falling Apart! - Breaking Off with Ran!

The exam is over. Ran and her group of Gals run out of school to the downtown gathering place. They come face to face with Mami and her group coming from another busy district in the city. It is an explosive situation! The worst outcome is avoided thanks to Ran's clever tactics, but only for the time being. Aya is shocked to learn her exam scores have fallen. She gets so angry about the disappointing results that she takes it out on everyone. Ran tries to consoles her but Aya threatens to break off their friendship. Aya then bumps into Mami's group! She is surrounded by the hostile gals from Ikebukuro, the other part of town. Suddenly Ran comes to her rescue and Aya apologizes for her foolish attitudes towards Ran.

Episode 6: Let's go to Pool! - Heart Bubbling! - Mini-Detectives!

Ran goes to the covered pool with Rei, the handsome boy from Eps.1, Yuya and her brother Yamato. While Ran is away, Mami tries to take over the leadership of 'Ko-Gals' in downtown. Upon returning to her territory, Ran challenges Mami to take back the leadership. Not one of the other girls is match for Ran. She is fearless and courageous,

Episode 7: Dark Shadow - Haunting! - Target is Miyu!

Miyu receives a letter threatening to reveal her past. Miyu was naughty and wild when she was in her middle school days. She was the leader of rebellious group. Dark memories come back to Miyu. This letter has been sent to her high school, too. Miyu is shocked and hurt. Ran and Aya comfort Miyu, but things seem to just get worse. One day, a girl from her past attacks Miyu.

Episode 8: Frightened Heart - Stinging! - Miyu's Past!

Harassment to Miyu is escalating through e-mails and Internet. Searching a culprit the best they can, Ran, Aya, Yuuya and Rei have a glimpse of a girl who belonged to the opposite 'ko-gal' group to Miyu's at the middle school. They learns that the group was crashed by Miyu. They guess the attacker would be one of the members of the group. Bingo! Finally the gal cursing on Miyu is spotted!

Episode 9: Memories - Tearing! - Sayo's kidnapped!

Sayo's free-choosing homework subject in summer is the experiencing study of a day with a policeman in downtown Shibuya. When Sayo is talking to her brother, Yamato at the police box, an armed robbery happens. Sayo and Yamato following the suspect and capture him. They tell him to surrender himself. The man refuses and tells a reason why he doesn't want. Sayo and her boy friend Masato make up a planŠ

Episode 10: Dear Yuuya! - Restless! - A Rival in Love appears!

Ran has got a boyfriend!? A surprising news that Tatsuki Kuroi alias 'Machida Sunboy,' won the honor of being Ran's boyfriend easily, spreads out quickly. Yuuya's shock is tremendous. Painted Gals and Mami and her group of gals in down town Ikebukuro also catch the news. Everybody is coming up to Shibuya!

Episode 11: Cross Shibuya - Tiki-Tiki! - Grand Prix Race!

Yuuya can not stand the fact Tatsuki is Ran's boyfirend. He challenge a race to him. Then, lots of boys want to join in this race. Thus, the race becomes an enourmous event in down town Shibuya! Who's going to win this rase, Yuuya or Tatsuki, or someone elseŠ?

Episode 12: Promise - Bye-Bye - "Kendo" Girl!

One of Ran's classmate at the supplemental lessons os Shiori Asai who is devoted her life for 'Kendo.' (Japanese sword skills) Her dream is to win the Inter-High School Championship. Ran is touched by her detemination and promise her that she will present a one-piece dress Shiori wants. Byt then, Shiori says she has to move to other school. Ran makes up her mind to do a big favor for ShioriŠ..

Episode 13: Super Young Lady! - Fuming! - Ran Herself!

After school, Ran and her friends go to a game center. When they finish games, Ran's changes suddenly into a perfect young lady with polite attitude and refined way of speaking. The exam is perfect 100 -- No fooling around ­ Never going in downtownŠ! Aya and other pals are panicked. They don't know how they pull her back to the way she used to be. What on the earth happens to her?
Episode 14 - 26

Episode 14: Maki - Shining! -- Fresh Gal, First Grade!

"Please take me as your disciple, Ran!" Maki kneels down in front of Ran. She says she come up to Shibuya as she has been longing for Ran. Ran refuses Maki's request. "I want to be a super Gal like you whatever it takes!" Maki's praise get Ran's head. So, Ran ends up to accept Maki as a discipleŠ!

Episode 15: Revenge! - Blazing! - Snowboard Race!

Ran hits a jackpot. At the lottery she won the first prize ­ a snowboard. Ran invites all friends and go to the indoor ski slope. Yuuya has something in his mind. He wants to beat Tatsuki in snowboarding to make Ran more interested in him. However, this snowboarding race will bring an unexpected outcome!

Episode 16: Sunbeams through the trees -Tinkering! - Anniversary of Love!

Ran and Miyu became close friends to each other when Miyu appeared in front of Ran two years ago. Miyu was the worst trouble maker at her middle school. The teacher of class asked Ran to take care of Miyu, but Miyu was taken into protective custody by the police. The policeman who talked to Miyu at that time was Yamato, Ran's brother. Her stubborn and rebellious mind was getting softer while Yomato talks to her in the honest and tenderhearted way.

Episode 17: Loving Heart - Flickering! - Aya's Confession!

Ran and friends are excited at summer vacation. Yuuya invites Ran to the sea front park though he is afraid to get her bitter refusal. No bad luck. Ran Oks quite happily and calls Miyu and Aya to join them. Aya is in low spirits as she can not tell Rei how she feels on him. She goes to the sea front park halfheartedly Š

Episode 18: Sea Front - Crucking! - Great Battle!

Ran and her friends are in high mood in the sea front park. Sayo and her boyfriend Masato are also excited. Only Aya looks downhearted. Ran tactfully leave Aya and Rei alone together. At the terrace, Aya pulls up her courage to confess her love to Rei. But, Rei says he can not take her love for his own reasonŠ

Episode 19: Shining! - A Gal of Summer!

Miyu and Yamato decide to go to sea alone. But, when they arrive, they meet Tatsuki and Yuuya. And Ran is working at the resort hotel. When Ran says "an important day will come in a week," Tatsuki's heart thumps! His birthday is coming in a week. He is happy , anticipating something special from Ran. What does Ran have in her mind reallyŠ?

Episode 20: Miss Mami!? -- Melting! - The boy of her First Love.

Mami is the daughter of rich parents and the limousine drives her to and back from school everyday. Ran has no idea of it. Mami faces a big problem as the guy of her first love returns home form abroad and wants to go to Shibuya. Mami is afraid to see Ran and her friend there. They don't know her birth. But, whenever she takes her boyfriend, they come across with Ran unfortunately. She loathes her bad luck today!

Episode 21: Certain Victory! - Go! Go! - The Athletic Meet!

The second semester starts. Ran is struck by the teacher's thundering yell as she has done nothing of homework during summer. Mr. Gunjo, the teacher of physical education looks at Ran and Mr. Nakanishi with a sneer. His class won at the interclass physical game for four consecutive years. He is confident to win this year, too. Mr. Nakanishi sees Mr. Gunjo passing by and mutters "I'd be happy if my class would win at the interclass physical game just for once." Suddenly a brilliant idea flashes in Ran's head.

Episode 22: School Festival - Scattering! - Beauty Contest!

Ran, Miyu and Aya are invited to the school festival of Rei and Yuuya's high school. Ran likes the prize of main attraction ­ "Queen Contest" and applies herself for it. Her strong competitor is Mami, the gal of Ikebukuro. Both gals go into a dead-heat in the contest. Meanwhile Aya goes up to see Rei in the broadcasting room. She wishes Rei's heart is coming to her now.

Episode 23: Peel Off! - Ripping! - Pretense of Teacher!

Ran rescues a girl named Takazawa from the bullies. Takazawa is a student of Mr. Gunjo's class. Mr. Gunjo thought his class was defeated by Rans class because of Takazawa's failure. Then, her classmates begin harassing her. Ran gets angry at Mr. Gunjo's arrogance to treat the students the way he likes. She plans to peel of his pretense!

Episode 24: To Machida City - Going! Gone! - Tatsukichi loses Love!?

Miyu and Aya are happy as they get good fortune-telling at " the fortune-telling by grilled meat" that is famed for giving precise prediction. Although Ran does not believe the fortune-telling, she is shocked to know the things told to her really happened ­ She is scolded by the teacher again ­ she will is involved in a car accident Š

Today's fortune-telling to her is 'Not going out for a date.' It is untimely enough that Tatsuki calls her for a dateŠ

Episode 25: Yamato - Serious! - Proposing Miyu!?

Ran and Aya accepts to helpto find a part-time job for Miyu. However, it is not easy find one with her distinctive appearance of colored & mesh hair. Miyu is serious on this job hunt as she wants to live alone without her mother's help. She does not like to put a slightest burden on Yomato's shoulders. After refused at several shops, they finally get a job at the confectionery shop. But, there is something behind her employment.

Episode 26: Super Cop - Happening! - Ran Kotobuki!

Ran wins a weird lottery and gets a sleeping study pillow. Possibly because of this, one morning, she wakes up as a neat & polite student. She even claims to be a detective in the future. Everyone thinks Ran is no longer a "gal" and panics. Then a series of office theft takes place, and Ran tries to catch the thief....
Episode 27 - 39

Episode 27: Brother Monkey! - Naoki Is Here!

It's another Tatsuki. He's an easy-going boy on a skateboard in Shibuya, and he resembles someone... Naoki Kuroi, Tatsuki's brother. He falls in love with Ran, and has a big fight with Tatsuki. They settle it by a ramen noodle battle. Let's see who will win.

Episode 28: Yuuya - Cry! Cry! - Talks About Manhood!

Naoki falls in love with Miyu this time but bursts into tears when he finds out she's in love with Yamato. Yuuya tells Naoki what it takes to be a man. "A man's gotta do what's best for the woman he loves." However Tatsuki makes Yuuya jealous. When Ran loses her wallet and panics, Yuuya declares to Tatsuki "if you can't find her wallet, you don't deserve to be her boyfriend" and sets out to find her wallet.

Episode 29: Mami-rin - Love! Love! - Falls In Love With Yuuya

Mami gets mad at her boyfriend for cheating. Yuuya shows up and consoles her, and Mami falls in love with him. However when she finds out Yuuya is in love with Ran, she gets outraged. Mami challenges Ran to a fight.

Episode 30: Running Around in Bukuro! - Mysterious Hair Extention!

Mami is feeling great today because Yuuya got her a hair extension. Because Mami's family is rich, it's easy for Mami to get a hair extension but she liked that Yuuya got it for her. However, mysterious men show up to take it away!

Episode 31: Welcome! - Exciting Opening of Palm Tree!

There was a legendary idol woman all gals in Shibuya looked up to in the past. Her name is Towa Himejima. Towa opens a café restaurant, Palm Tree, but someone tries to disturb her business! Ran takes it personal and looks for the criminal.

Episode 32: Frustrated Ran-pyon! - New Rival?!

Miyu loses her cell phone with a doll given by Yamato strapped to it. Then Ran gets an anonymous call, telling her to stop being a gal right away or Miyu's cell phone will be broken. Ran gets angry. Then Aya has her train pass stolen. Who's doing this?

Episode 33: Kasumi Is Mad! - Her Revenge Strategy!

Kasumi TsukinoŠ She is responsible for Miyu's and Aya's trouble last time. Kasumi sees Ran as her rival and tries to be the number gal in Shibuya, but Ran doesn't take her seriously. Kasumi tries to revenge herself on Ran and sets up traps in Shibuya.

Episode 34: Aya-ppe Cries! - Otohata Sick!

Aya has a problem with her relationship with Otohata. Otohata's indifference hurts her too much. A boy named Katase comes to her. He's very nice unlike Otohata and he listens to her. Aya starts to have second thoughts.

Episode 35: Fuzzy Romance In the Air! - Katase After Otohata?!

Aya is feeling closer to Katase. Otohata thinks Aya is a burden. Aya can't let go of Otohata but Katase says he'll be there for her. Aya is caught between Otohata and Katase. Katase confesses his feelings to Aya. "I would never hurt you."

Episode 36: Hot Spring! Viva! Viva! - Gal Crime in Northern Bath Steam!

Maki Komine sends Ran a postcard and invites her to her family's hotel in her home town. Ran takes Sayo, Masato and Naoki to the hot spring! "Odaiba Shark", detective Kudo happens to be there for a shoot, too, but the whole town focuses attention on Ran. Then a big crime is committed, and Ran is the suspect!

Episode 37: Secrets Revealed! - Mami-rin's Crisis!

There is a secret that Ran, or even Yuuya doesn't know - Mami is the daughter of a rich family. But the secret is revealed. Mami lives in a huge house, and her elegant and gorgeous lifestyle astound Ran and others. Mami gets worried when Yuuya is shocked about her status. This may screw up her relationship with him!

Episode 38: Heat-Felt! Otohata's Word!

Katase is getting really close to Aya now. They study for the final that's coming up. Ran respects Aya's decision to be with Katase but Miyu feels uneasy about it. Also, Naka-sen asks Ran a weird favor. He wants her to make rounds with him on his night duty at school because he saw a ghost. What is the ghost?

Episode 39: Holy Night! - Ring! Ring! - Emergency Bell of Love!

It's Christmas time. Tatsuki wants to get romantic with Ran but she's indifferent. Tatsuki starts wondering if Ran really loves him. Yuuya senses a change in their relationship and asks Rei (Otohata) who he likes. Also, Ran and Tatsuki get involved in an incident where their relationship is tested!
Episode 40 - 52

Episode 40: Ran-pyon Faints! - She Turns Into Sayo?!

Sayo is not happy on the New Year's day at Kotobuki's house because she got less cash than Ran for the New Year's gift from her parents, and she can't buy Odaiba Cop's DVD. Sayo wishes she was the older sister. She buys a good luck bag and it switches Sayo and Ran!

Episode 41: Mysterious Shibuya Fighter, Maru-Kyu-Moon!

When Shibuya is in trouble, Maru-Kyu-Moon comes to rescue! She's in a party heroine costume and not strong, but somehow beats bad guys. The whole town is talking about her. The town even sets a bounty. Maru-Kyu-Moon turns out to be Kasumi Tsukino. She used the heroine costume as a disguise to hide from the Gunguro gals, and became a heroine by a series of accidents.

Episode 42: Taizo Is Excited! - Cop Training Project!

Taizo remembers the days when Ran was in elementary school. Ran was a good(?) child who longed to be a cop. She committed to Taizo's Cop Training Program everyday. Taizo gave Ran the last test to beat the bad animals. Taizo and his junior officers put on animal costumes. If Ran had passed the test, she would've been a cop, but things happened and....

Episode 43: So Pure! So Shy! - Rie's *Koibana! *love story

There's a boy Rie secretly admires. His name is Junichi Ota. Junichi saved Rie when bullies picked on her in elementary school. Rie runs into Junichi at work. Rie has trouble confessing her feelings to Junichi. Junichi also seems to be avoiding her.

Episode 44: Killed In Duties! Cry! Cry! - Last Day of Odaiba Shark

Sayo cries hard! The Odaiba Cop's Detective Kudo dies on duties. But Sayo's not the only one crying. Matsuda who plays the role of Detective Kudo doesn't get an acting job and spends his days feeling empty. He goes back to Shibuya where he used to hang out in his youth, and runs into an old friend, Towa. She takes him back to Palm Tree, and he meets Sayo. Sayo reminds Matsuda of a pure heart he used to have.

Episode 45: Different Romantic Forecasts! - Valentine's Day!

It's Valentine's Day! Tatsuki wants chocolate from Ran badly, but Ran doesn't seem prepared. Ran acts so cool for a girlfriend and Tatsuki gets nervous and starts wondering if she's really his girlfriend. Aya and Rei's relationship also gets shaky. Aya asks Rei if he likes Ran, and he answers yes. What does Rei really mean by that?

Episode 46: Crash! Slurp! Slurp! - Ramen Battle!

Kuroi family is in the biggest crisis ever?! A ramen noodle restaurant chain opens up near Kuroi's noodle house, and they spread bad rumors about them! Tatsuki and others challenge the chain on the TV show, Ramen Battle. But the chain's owner plays tricks to outsmart them!

Episode 47: Kasumi Is Cozy! - Dream Coat!

Kasumi is taken by a coat she found at a store. It resembles the coat Kasumi's role model in her distant memory, the charismatic gal, was wearing. However, Ran is also after the coat. Out of desperation, Kasumi decides to make money at a flea market to buy the coat. But she can't find anything to sell. Besides Ran is also doing business at the flea market.

Episode 48: Gal Battle! Tough! - Mami-rin Breaks Up?!

It's been half a year since Yuuya started dating Mami. Yuuya realizes his feelings have changed. He's not jealous of Tatsuki being with Ran anymore, and decides to tell Mami how he feels. Mami thinks Yuuya still likes Ran and challenges Ran to the last battle at the Girls' Festival hosted by Honda family!

Episode 49: Broken Heart! Ouch! - Miyu's Home

When Miyu needs to be studying for the final, she's busy working. Her mother didn't pay rent for her apartment, and she would be evicted . Miyu struggles to cover the rent so she can protect the place where she grew up almost alone. Then, her mother comes back to pick up her stuff.

Episode 50: Love Suspicion! Rustling! - Cold Spring Wind

The finals have started. If Ran fails one exam, she'll repeat the freshman. But she studies hard and passes it easily. Miyu gets relived after finding a place to rent at Palm Tree. Aya tells Mr. Nakanishi that she's not going to honor class although she has good grades. Aya chose friendship with Ran but it collapses after she hears a rumor about Ran and Rei secretly dating.

Episode 51: Friendship! Smile! - ID Plate From The Heart

Aya is concerned about the rumor about Ran and Rei. Aya begins to suspect Ran because she's not confident of herself. She gathers up courage to ask Rei the truth. What will he say? What about her friendship with Ran? Once Aya makes up her mind, she decides to go to honor class for herself in the new grade.

Episode 52: Good-Bye, Ran-Ran! - Shibuya's Sky Stays the Same

One year later. Ran and Tatsuki are still a 'bakapple.' What about Rei and Aya? Yamato and Miyu are still in love. Yuuya and Mami? Sayo and Masato enter Honan High School and become High School Detectives. Towa is hitting the road again. Naoki is heart-broken but finds new love, etc. All are still smiling!
Format: 52 episodes X 1/2H
Story: Mihona Fujii
Original Design: Mihona Fujii
Scripts: Masashi Kubota
Character Design: Yuhko Kusomoto and Hiroto Tanaka
Director: Kazuyoshi Yokota
Produced by: TV Tokyo & Studio Pierrot

© 2001 MIHONA FUJII·SHUEI-SHA·TV TOKYO·GALS!PROJECT
ALL RIGHTS RESERVED