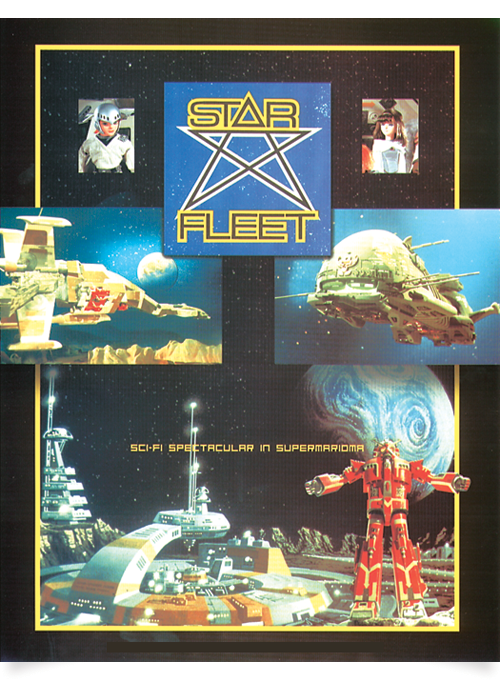 STAR FLEET
Introduction
The series begins with the evil Imperial Alliance's impressive spaceship destroying an Earth spaceship as it enters the solar system. In an attempt to counter this attack, Earth launches an experimental spaceship, the X Bomber. It is the last hope of all mankinds.
The series follows the adventures of the X Bomber and its young crew as they engage the
Imperial Alliance while trying to uncover the secret of a powerful being known as the 'F Zero One' (F-01). Along the way they meet the mysterious space sailing ship The Skull which holds the key to unlocking the secret of F-01, and in the final episodes The Skull and X Bomber race back to Earth to face the Imperial Master who is on the verge of destroying the planet.
Characters
Briefly, the X Bomber was manned by Dr Benn, Shiro Hagen, Barry Hercules, John Lee, Lamia, a robot called PPA and Lamia's furry bodyguard Kirara. Dr Benn is in charge, and, surprisingly, was killed off late on in the series. Shiro, Barry and John (also known as Fatty!) are cadets assigned to help Dr Benn. Lamia came on board from Moonbase as a communications specialist but is actually central to the plot because she is the F-01! Up against the X Bomber crew was Commander Makara of the evil Imperial Alliance with her second in command Captain Orion. The Imperial Alliance officers were striking to look at as they were cyborgs, and had symbiotic eye patches that sometimes spoke for them, particularly when the Imperial Master appeared as a hologram. The Imperial Master was seen only briefly for most of the series, but then took matters into his own hands in the final episodes and appeared more often as he made his final assault on the Earth. Other characters included Captain Carter, an Earth officer captured, interrogated and turned into a cyborg by the Imperial Alliance. He helps the Imperial Alliance fight the X Bomber and is finally killed in a duel to the death with Shiro Hagen having regained his humanity. Also around from time to time were Captain Halley of The Skull and Caliban, the Imperial Alliance's silver skinned inventor
Episode Synopsis
please click episode number to read episode.
Episode 1 - 13

Episode 1: SCRAMBLE X-BOMBER!

2999: a gigantic Imperial Alliance battle cruiser wipes out the EDF's Pluto Alpha Base and heads for Earth. General Kyle orders X-Bomber to intercept it but the craft is only 90% complete and not up to the task. Badly damaged in the ensuing battle, it crashes on the Moon.

Episode 2: SUPER POWERFUL GELMA FLEET

Captain Carter is interrogated by Commander Makara, but reveals nothing. Meanwhile Lamia and Kirara take a buggy from Moonbase and head for the stricken X-Bomber. They come under Alliance attack but are saved by covering fire from Shiro and Barry. X-Bomber manages to fend off the Alliance with the 'Brest Cannon' but hasn't enough power to lift off. Makara reaches Earth and demands Star Fleet hand over F-01 or be destroyed.

Episode 3: FIND F-01!

No-one on earth knows what F-01 is, but Lamia fears it may be her. She begs Dr. Benn to reveal her mysterious past and Shiro, overhearing, is shocked to discover she's an alien. Lamia contacts Makara intending to give herself up, and the battlecruiser heads back to the Moon , only to be met by an X-Impulse blast from the partially recharged X-Bomber.

Episode 4: WIPE OUT THE TRANSPORT FLEET!

Star Fleet sends transport carriers to rebuild Pluto Alpha Base but they mysteriously disappear. Kyle orders the repaired X-Bomber to escort the next group, and it wards off an Alliance ambush near Jupiter, where Dr.Benn surmises the Alliance have a secret base. Attempting to destroy it, X-Bomber falls into a trap set by Makara, but using the Dai-X robot for the first time they escape and smash the base.

Episode 5: THE MYSTERIOUS SHIP 'SKULL'

Reaching Pluto, the crew search for Carter's body without success. Shiro refuses to believe his old Academy instructor is dead. Lamia intercepts a message for her to meet a mysterious caller. Instinctively feeling he will shed light on her origins, she leaves in a shuttlecraft, pursued by the worried X-Bomber crew. At the rendezvous is the intergalactic sailing ship 'Skull', which fails to answer her calls and is attacked by Makara's forces. X-Bomber comes to the rescue but the 'Skull' flies off without making contact.

Episode 6: X-BOMBER GOES FORTH

General Kyle decides the 'Skull' holds the key to the F-01 mystery, and orders X-Bomber to track it down. Makara appears again, demanding they hand over Lamia. Seeming to retreat when faced with X-Bomber, she follows secretly as it goes after the 'Skull', attacking to lure the 'Skull' to X-Bomber's rescue. Sucked into the vortex of a black hole, which drains its power, X-Bomber crashes into an asteroid.

Episode 7: MORTAL COMBAT IN THE GRAVITY GRAVEYARD

Trapped in Sargasso, the graveyard of space, X-Bomber uses the last of its power on an X-Impulse blast to ward off Makara, who has followed them into the vortex. Lamia sends out an SOS to the 'Skull', which uses a tractor beam to pull X-Bomber clear of the vortex before disappearing again.

Episode 8: AN ATTACK BEYOND TEARS

X-Bomber lands on the volcanic planet Alareah (Planet M) for repairs and is swiftly overrun by its friendly, furry inhabitants, the Mon-Mons. Tracking them to the planet, Makara uses laser missiles to set off a nearby volcano and Shiro is forced to shoot the Mon-Mons off the hull so X-Bomber can lift off and avoid the lava flow.

Episode 9: TARGET: THE CAPTAIN

Recalled to the Alliance fortress base, Makara and Orion face the death sentence for their repeated failure to capture F-01. The Imperial Master reviews their performance via stock footage fromepisodes1-4, but Makara persuades her master to give her one last chance.

Episode 10: GALAXY ADRIFT

With 6 months to the new Millenium, Captain Carter, brainwashed by the Alliance, replaces Orion as Commander of Operations and lures X-Bomber to the arboreal planet Zenon (Planet S) with a fake signal from the 'Skull'. Landing on "the sea of trees" X-Bomber is trapped by their creeping vines. When the crew refuse to hand over Lamia, Carter's attack damages the vines, helping X-Bomber break free. The real 'Skull' turns up to help them drive off the Alliance, but then disappears yet again!

Episode 11: FAREWELL THE ETERNAL BATTLEFIELD

X-Bomber answers a distress call from Princess Keeli of Planet D. The Alliance tried to conquer her people years before and left behind robot war machines which nightly replay the terrible battle. Carter arrives and reactivates the robot tanks and fighters, but Dai-X makes short work of them. Princess Keeli, her planet free at last, thanks them before fading away, leaving only a rose.

Episode 12: OUR MORTAL ENEMY IS CAPTAIN CARTER

X-Bomber picks up a defecting Alliance Termoid soldier, but it's really another of Carter's schemes. It takes Lamia hostage and plants a bomb in the engine room before being jumped by a furious Kirara. Enraged at Carter's betrayal, Shiro challenges him to a duel. Following a space battle Carter's fighter crashes onto an asteroid, and Shiro finds him not only alive but free of Alliance control. Carter, in self-disgust, forces Shiro to shoot him and dies in his former pupil's arms.

Episode 13: BATTLE TO THE DEATH: X-BOMBER VERSES THE GELMA EMPIRE

A sort of recap covering all the previous episodes, as a brooding Shiro recalls events leading to Carter's death.
Episode 14 - 24

Episode 14: LAMIA: GIRL OF DESTINY

Lee manages to contact the 'Skull'. Halley, its captain, asks Lamia to go alone to his ship. Dr. Benn refuses, but Lamia persuades Shiro to take her in a space chopper. As she tries to board the 'Skull' the Alliance attacks, and she is hurled into space and captured. Shiro rescues her and thanks to Legtrack they make it back to X-Bomber, where Hercules, losing his cool, decks Shiro for endangering her. The 'Skull', needless to say, is gone.

Episode 15: X-BOMBER: DEATH ON PLANET M

Since her contact with the 'Skull' Lamia has begun to manifest strange powers she claims to communicate telepathically with Halley and be able to detect the whereabouts of the Alliance ship. Hercules' skepticism of her new powers lands them in trouble when Makara attacks, destroying X-Bomber's oxygen supply. With the crew unconscious, an unaffected Lamia and PPA make an emergency landing on the planet Morphane (planet M) but Alliance soldiers get aboard.

Episode 16: LAMIA KIDNAPPED

Lamia grabs a gun and holds off the Alliance forces. The crew revive but fail to prevent her capture. While they repair X-Bomber, the 'Skull'arrives and Halley reveals that Lamia is F-01, who, come the new millenium, will inherit power capable of bringing peace or destruction to the Galaxy. Arranging to meet on Callinean, the 'Planet of Peace' (Planet M13), X-Bomber takes off after Makara, but runs into space mines left by her and is forced to land once more for repairs.

Episode 17: ASLEEP IN THE ICE PRISON

Makara takes Lamia to the Glacier Planet in the Aurean cluster (the Rainbow Star Alliance's ice prison planet). There she reveals Lamia's destiny before sealing her in a capsule underground. Lamia tries to contact Halley telepathically. Since X-Bomber has been unable to pickup Makara's trail, this is her only hope of seeing in the year 3000.

Episode 18: DESTROY THE PRISON PLANET!

Lamia finally contacts Halley, who pinpoints the prison planet's location. Dai-X rescues Lamia from her capsule, but sets off a chain reaction of explosions through the underground prison. X-Bomber and Dai-X get clear in time, but the returning Makara is caught in the blast and her ship set alight.

Episode 19: F-01: ASSASSINATION PLOT

Her ship repaired, Makara is now obsessed with Lamia's destruction. She orders Caliban to construct a mantis-like cyborg assassin which stows away on Legtrack after Dai-X investigates a planted derelict spaceship. On X-Bomber the mantis attacks Lamia but she is saved by Dr. Benn. However, he is cut by its poisoned scythe, and dies peacefully within sight of Callinean (M13).

Episode 20: M13: FULL FRONTAL ATTACK BEGINS!

X-Bomber lands on Callinean (M13) and finds Professor Hagen has been there since his disappearance, secretly constructing a laser cannon to protect its peace loving people from the Alliance, though their King has vowed never to use it. Dr. Benn is buried but they have no time to mourn as the Alliance launches a twin attack from Makara's battleship and Caliban's latest invention the Death Ball!

Episode 21: M13: A BATTLE WITH NO TOMORROW!

X-Bomber, Prof. Hagen at the helm, tackles Makara's ship while Dai-X takes on the Death Ball, with almost disastrous results. Eventually X-tracers blow up Caliban's creation and the King relents, firing Hagen's laser cannon at Makara's ship, which retreats. With only one month to the Millenium, the outraged Imperial Master strips Makara and Orion of their command and decides to attack Earth himself with his fortress base. Intercepting this news, X-Bomber and the 'Skull' race for Earth.

Episode 22: BOARD THE GELMA EMPIRE FLAGSHIP!

Orion, injured by a falling girder during the laser cannon attack, attempts to regain his honour with a suicide attack on X-Bomber. He rams his Drone ship into her, disabling the X-Impulse. Makara follows this with a strike that takes out the 'Brest Cannon'. In a last desperate bid for survival, Dai-X manages to break through the Alliance ship's new force field and destroys the ship from within. Caliban and Makara are killed and X-Bomber resumes the race to Earth.

Episode 23: THE END OF EARTH

As X-Bomber heads Earthwards and the new year approaches, Lamia's powers continue to grow. The Alliance fortress tries to stop X-Bomber with laser torpedoes and a solar net which shorts out their electronics, but X-Bomber breaks free. On Earth the EDF defenses go into action, but prove hopelessly ineffectual against the Alliance's weaponry.

Episode 24: A NEW BEGINNING FOR THE GALAXY

Dai-X and the 'Skull' attack the fortress which has wiped out two thirds of Star Fleet, but the battle turns against them; Kirara is killed and Dai-X badly damaged. However they have delayed the Imperial Master long enough; the planets align, the new millennium dawns, and Halley and Lamia merge. Transformed into an ethereal child of peace, Lamia nonetheless destroys the Imperial Master and his fortress. She thanks her friends before disappearing to bring peace to the Galaxy, while X-Bomber and Dai-X head for a ravaged, but safe, Earth.
Format: 24 episodes X half-hour approx.
Produced By: COSMO PRODUCTIONS / JIN PRODUCTIONS

© 2002 DYNAMIC/ENOKI FILMS
ALL RIGHTS RESERVED