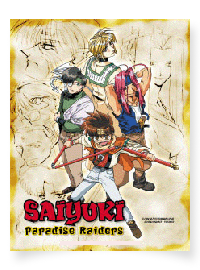 SAIYUKI
Paradise Raiders
Introduction
A place called Paradise. It is the origin of civilization and faith. It is a peaceful garden where humans and monstrous creatures have coexisted in peaceful harmony throughout all time. Suddenly, the monsters become violent and begin to attack the humans.

This vicious change is the result of an experiment to revive the great monster, Gyumao (Bull Satan). Bull Satan has been confined for five hundred years. By mixing science and sorcery, someone started the forbidden experiment that brings this monster back to this world. Bull Satan's revival is imminent. His negative power begins to spread throughout Paradise. The monsters and beasts become wild and the entire world suffers pending disaster.

The resurrection of Gyumao/Bull Satan must be stopped. An apostle of the Celestial Heavens, Sanzo, is summoned to take on the mission of restoring peace and order in Paradise. Sanzo recruits his old comrades, Son Goku, Sha Gojyo Jo and Cho Hackai. The foursome has shared much joy and sorrow and together they have faced many challenging missions. Thus, the outrageous young warriors set out for a journey toward "Indara", a country in the distant west where Bull Satan is close to re-awakening.

It will be a journey filled with danger and difficulties. Hideous monsters and evil sorcerers await our heroes in the narrow trek of jagged mountains, behind the sand of barren lands and in the misty and eerie swamps. In order to save Paradise from destruction, they have to emerge victoriously through all obstacles and ultimately prevent the revival of Bull Satan.
Characters
Son Goku:
He is born from a rock emerging from the earth, glowing with a full aura. His major preoccupation is 'eating' and 'fooling around.' He never thinks of anything else seriously. Goku was imprisoned in a stone jail for 500 years without getting old because of a mistake he made when he was young. He is agile and tenacious in battle, using his elastic pole skillfully. Age 16. Goku is an impersonate creature. He looks like a perfect boy, but he actually is a kin to monsters and evil spirits.
Sanzo : (Missionary of the Celestial Heavens):
Sanzo is a typical depraved priest. He never hesitates to exercise anything prohibited to the priesthood. Yet, he has a great sense of leadership and a cool and thoughtful mind. He is looking for a keepsake of his foster father, Sanzo Senior, who lost his life in a great battle with the monsters. Sanzo is the only human among our four heroes. He wants to find the lost memories of the former Master Sanzo, who looked after him in the past and was killed by a demon. He possesses the Sutra of Dark Power to protect himself from the enemies of the world of darkness.
Sha Gojyo:
Sha Gojyo is an extreme feminist - always too nice and sweet to girls. Although he looks rather sloppy and loose like a jerk, he is actually a reliable guy who cares for his friends. Age 22. Sha Gojyo is an impersonate creature like Goku. He uses a stick with chains attached to it.
Cho Hakkai:
He is a gentle and soft-looking guy. Nobody knows whether he was born a "nerd" or whether he pretends to be one. It seems he has a secret past that he never reveals to anyone. He uses the martial art, "Power of the Spirit" when he is engaged in battle. He hammers his opponent with the spurring power of his condensed spirit. Hakkai is also an impersonate creature.
Other Characters
Kogaiji:
Son of Bull Satan-Gyumao and his wife Rasetsu. Although he is a creature of evil spirits, he tends to live and fight like a man of honor. He is devoted to the mission to destroy our hero warriors not only for his soon-to-be awakened father but also his own pride.
Yaone:
A young attractive girl. She is one of the loyal followers of Kogaiji While selling medicines, she was kidnapped and offered as a concubine to The Demon King of 100 Eyes. A young guy named Kogaiji rescued her from the misery.
Dokkakuji:
A loyal follower of Kogaiji. He was recruited by Kogaiji when he drifted into Castle Houto. He is Kogaiji's most reliable bodyguard/ assassin.
Lilin:
Kogaiji's younger sister. She is the daughter of Gyumao-Bull Satan and Gyokumen Koshu. A real tomboy. Lilin likes Goku's pure fighting spirits.
Chin-Ih-So:
A dubious fortune-teller manipulating Mahjong pies. He astonishes our heroes by guessing Hakkai's past correctly.
Rikudo (Shukett):
An ex-fellow priest of Sanzo. He is possessed by tarot cards and intends to destroy our heroes.
Bosatsu:
KanZenon Bosatsu - Goddess of Mercy. One of the five Gods of the Celestial Heaven.
Trinity Gods:
Threesome of Gods.
Jiro-Shin:
One of the mighty Gods in the Celestial Heavens who captured Gyumao-Bull Satan.
Bull Satan Gyamao:
The super demon who was destroyed and buried in Tenjiku - Indara by Nataku Taishi some five hundred years ago.
Rasetsu:
Bull Satan-Gyumao's wife.
Koshu:
Gyokumen Koshu. The concubine of Gyumao-Bull Satan. She is an evil sorceress charmed by the strength of Bull Satan and possessed by his evil power.
Characters appearing after #27:
Prince Homura:
He was born between the humans and the warriors of the Celestial heavens. Although he succeeded Nataku Taishi who destroyed Gyumao-Bull Satan 500 years ago, he is fed up with utter tranquility and lazy life in the Celestial Heavens. He had some relationship with Sanzo and his comrades. He calls them in the names of a previous existence. He is eager to get Sanzo's Sutra of Dark Power. However, his true ambition is not yet revealed. His weapon is a long sword possessing tremendous power. He can wipe out a troop of monsters at one swing. He uses the Power of Spirit like Cho Hakkai.
Zenon:
Zenon comes down with Prince Homura only because he dislikes the evil monsters and spirits. His revolving 'Demon Blaster' destroys dozen of monsters. His right eye is covered by the patch.
Shien:
He comes down with Prince Homura for exciting adventures. He never harms anyone unless he has to defend himself. However, once getting in a battle, he is fierce, slaying the opponent with his twin 'Light Whips.'
Episode Synopsis
please click episode number to read episode.
Episode 1 - 13

Episode 1: Go to the West

A long, long time ago, in the Far West, there was a world called Paradise. This was the origin of civilization and faith, where humans and evil spirits coexisted in peaceful harmony. Suddenly, by a negative spiritual wave spreading over this world, the evil spirits and monsters become violent and begin attacking the humans. Ordered by the Celestial Heavens, a priest named Sanzo recruits his old comrades and sets out for the journey toward Indara in the faraway West to find the culprit behind this disaster.

Episode 2: First Game - A Guide to the Land of the Dead

In a small town, our heroes meet a wounded girl called Ho-May whose friend was killed by an evil creature. Goku can not tell her he is a creature in human disguise. Our heroes are ambushed by a spider-women disguised as traveling entertainers. Goku fights with all his strength for the kindness of the girl and her father who prepared a tasty meal.

Episode 3: His God, My God - The Divine Platform

The quartet visits a huge temple on a rocky mountain. All the priests and apprentices live a strict life of studying the sacred scrolls and purifying their souls under the principles of 'no-drinking', 'no-smoking' and 'all tangible things are vain.' They are surprised to see Sanzo partaking in all of these forbidden things. Then, assassins sent by the evil monster Kogaiji attack the temple. Our heroes have to save the priests from the assassins' ghastly violence as the priests are prohibited from killing.

Episode 4: Crimson Tears

Our outrageous heroes drop by the house of a young girl, Shun-Rey. She is waiting for the return of her boy friend - the young apparition of a spirit. Sha Gojyo is surprised when he hears the name of this monster - Gee-Yen. It is the same as his missing brother-in-law. Then, the town folks come to tell them that the monster that attacked the humans in the forest looked like Gee-Yen. Shun-Rey dashes out to the forest.

Episode 5: A Beautiful Assassin

Cheer-Rat (Yaone), one of Kogaiji's followers, wants to please her master. She asks him to issue an order to destroy Sanzo's party. Cheer-Rat feels indebted to Kogaiji who saved her from the mean and insane monster, the 'Demon with One Hundred Eyes'. Cheer-Rat plans to poison our heroes at a restaurant, but she hesitates as they save her from a couple of drunken thugs. However, she still wants to be of some help to her master... so, she makes up a plan.

Episode 6: Shower of Bullets

Dropping by a small temple, our heroes hear rumor of Rick-Do, a savior who destroys evil spirits and monsters. Soon they find out that this person is actually Sanzo's senior fellow disciple Rikudo (Shukett), the fortuneteller. Rikudo is possessed by a fetish talisman. In the pouring rain, he attacks Goku, Sha Gojyo and Hakkai.

Episode 7: Farewell at Dusk

When Sanzo is severely injured, the head ring of Goku's head ring comes off. It controls the balance of his magic. Now, Goku can deliver devastating blows at the extreme. Rikudo realizes his disadvantage and flees. Goku loses control and become delirious. He attacks Sha Gojyo and Hakkai!

Episode 8: The Man Who Foretells Death.

Our heroes come to a town where a bazaar market is underway. They meet a dubious fortuneteller, Chin-Ih-So who uses the mahjong tiles to tell one's fortune. Chin Ihso reveals Hakkai's past precisely. Suddenly a giant crab, apparently a ghastly apparition, appears to attack our heroes. Then, before they engage in battle, a tiny girl destroys the monster crab. She is Lilin, the younger sister of Kogaiji. Soon Kogaiji and his followers arrive to help Lilin.

Episode 9: Lethal Trap - A Party of Battle

Our heroes and the band of Kogaiji engage in a fierce battle. Kogaiji realizes the secret of Goku and his comrades' infinite strength in battle. It is the power of spirits - to fight for one's own is the best way to help others. The monster crab controlled by an evil sorcerer appears again. Friend and foes agree to have a truce in order to get rid of this unwelcome intruder.

Episode 10: A False Savior

Sanzo and his comrades arrive in a village where the folks believe the story that their village was saved by the priest Sanzo. Thanks to this story, our heroes enjoy an enthusiastic welcome. However, a false party of Sanzo appears and our heroes are mistaken as the imposters. The villagers throw our heroes in jail, believing the bogus priest is the real Sanzo. That night, a monster assassin appears and the village is in a panic.

Episode 11: Tragic Revenge. - The Death Laughs.

Awakened from a nightmare, Hakkai thinks about the girl he loved. When Sha Gojyo talks to Hakkai, a puppet controlled by the fortuneteller, Chin Iso, attacks him. It injects Sha Gojyo with the seed from a blood-sucking plant. The seed cannot be removed as it is too close to his heart. Sanzo takes a chance to save Sha Gojyo by shooting the seed out of Sha Gojyo's body with a spirit-blasting gun. Sha Gojyo survives narrowly. In the meantime, Goku and White Dragon go out to fetch water and are now missing.

Episode 12: Wandering Destiny - Struggle in the Darkness.

Chin-Ih-So, the fortune-teller, has a reason to approach our heroes. Hakkai destroyed his family. He plots to cause Hakkai to go insane. Sha Gojyo and Goku are injured. Sanzo supports Hakkai in a silent battle of the dark psychic world. Hakkai looks to shake off a twisted illusion, but, he is trapped by Chin-Ih-So's trick and suddenly attacks Sanzo. Sanzo is wounded. If Hakkai reverts back to himself, our heroes will perish in no time.

Episode 13: Crude Counterfeit - A Fruit of Death

Our heroes visit a temple where they grow a strange shape of fruit. Two young disciples say that they are taking care of the temple as the chief priest and all other monks walked away one-month ago. Goku is hungry as usual and reaches to the weird fruit. Sanzo senses something evil in the temple and the foursome decide to get out. But, Goku turns back to prove that nothing is wrong with the fruit and the temple. No. 'He' is wrong. Goku slips into a horrendous nightmare!
Episode 14 - 26

Episode 14: A Sweet Client - I keep My Promise.

Sanzo and 3 boys arrive in a small village in the remote countryside. When Sha Gojyo skips out to find pretty ladies he meets a mall girl who tags along with him. She asks Sha Gojyo earnestly and tries to persuade him to destroy a monster, which killed her parents. Sha Gojyo is led to the Monster's hideout. He soon senses something weird is going on inside. But, it is too late for him to realize it is a trap to induce him.

Episode 15: The Ill-fated Guy - Spell of Red

Our heroes have to sleep in the rain in the outfield. Looking up in the rain, Sha Gojyo remembers what happened to him three years ago. - He helped a young man named Chogo-Noh lying down on the roadside. He suspected what this poor guy is, but did not ask anything. Meanwhile, Sanzo is ordered by the Trinity Gods to arrest the man who massacred many monsters. This man was Chogo-Noh himself!

Episode 16: Be There! - A Praise for Staying Alive

Chogo-Noh flees into the woods to carry out his self-imposed mission. Suddenly, he is attacked by Crow-Man whose family perished at the hand of Chogo-Noh. In the fierce battle, Crow-Man is shocked by Chogo-Noh's incredible fighting spirit - no hesitation to stop at skin and flesh if he could crash his opponent's bones! Then, Sanzo and Goku who were tailing him arrive followed by Sha Gojyo.

Episode 17: Garden of Eden - A Eternal Paradise

Sanzo and his comrades are stunned to find numerous stoned monsters in a monster's town called "Tofu-Gai" at the bottom of steep ravines. Just then, Goku, Sha-Gojyo and Cho Hakkai turn into stone statues, as they are monsters too. Left alone, Sanzo asks a monster woman named Koran how he can save his friends. Koran introduces him to an old man, Muhan, who governs this town. Sanzo has to find a way to save his friends at any cost.

Episode 18: Vice or Justice - The Truth of Justice

Quite a few monsters are missing recently. Yaone, a female warrior of Kogaiji, begins to investigate what is happening. Meanwhile, Sanzo and his three comrades come across Tonpoo, an old friend of Sha Gojyo and Hakkai. Tonpoo tells them that he volunteered a militia called Fanron Troop assembled of only human beings for hunting down evil monsters. In the same night, Yaone is captured by the captain of Fanron Troop when she sneaks into the camp.

Episode 19: Don't go Alone. - Desperate Girls

Our heroes meet four beautiful sisters. Only Sanzo looks reluctant to befriend them. Soon after they part from the sisters, our heroes become the targets of an assassination. The reason becomes apparent soon when they discover that the sisters want to destroy them for saving the life of the eldest sister who was possessed by the parasite monster.

Episode 20: Sandstorm. - Trap of Quicksand

A monster that ate the priest Sanzo Senior hides in the desert. When our heroes venture into the desert, they fall into quick sand. It is a trap set up by the desert monster who believes that he will get eternal life if he eats a priest of great virtue. But, the monster becomes enraged by Sanzo's arrogant and disgraceful manner. In an underground jail, Goku, Sha Gojyo and Hakkai are engaged in a desperate battle with incessant scorpions.

Episode 21: Selfish Dream - Reckless Run to Ruin

Five Sutras possessed by Sanzo and his comrades are needed for reviving Gyumao the Bull Satan. Trailing the Sutras, Kogaiji, Son of Bull Satan crosses the desert and meets our heroes. Goku wants to help Sanzo who is seriously weakened by scorpion's poison, but Kogaiji challenges him to a duel. The opponent is an extraordinary warrior. Goku fears that he could not defeat Kogaiji with his normal power. So, he takes the ultimate measure...

Episode 22: Devastation - The Outcome of a Deadly Duel

Goku takes out his head ring, which controls his infinite power. In a moment, his senses of judgment have gone. He can not recognize his friends and his enemies. With frightening cruelty and violence he begins to attack whoever he catches in his sight. No one can stop his devastating power. Just then, Sanzo manages to get up in front of Goku.

Episode 23: Scapegoat - Reward of Subordination

Our heroes come to a Village with big canons sticking out in the sky. They are surprised by a ceremony that offers a sacrifice to the evil monster ruling the folks. What an anachronism it is! Hakkai is stunned by the girl of sacrifice. She is exactly like his late girl friend, Kanan! The monster has to be destroyed before the girl is destroyed.

Episode 24: Mother - Crimson Bond

When Goku and Sha Gojyo enter a village in search of food, they meet a young mother named Yan-Min, who is hugging a new born baby. The eyes and hair of the baby are red like Goku's. Yan-Min's husband is a human-looking monster. The villagers despise her for having a monster's baby. A man called Nijenye is interested in the sadness and hatred spawned in her heart in this miserable situation. He plans to use her secret feeling for his own purpose.

Episode 25: Tomboy - Frightening Assassins!

Once again Lilin, the young sister of Kogaiji, appears to challenge our heroes. Her trick is "Operation - Meat Bums on the Road" this time. It is an instant failure to induce our heroes, but surprisingly it works on three stupid monsters. They are defeated by Lilin and become her followers. Ordered by their new boss, they keep meddling in our heroes way.

Episode 26: Calling - No One Hears Your Cry.

One of Kogaiji's troops called "Iron Demon Troop" assaults Sanzo and his comrades. The troop is completely destroyed by our heroes' overwhelming power. Rashu, the leader of the troop and a few soldiers narrowly survive. Rashu sets a trap to capture Sanzo and Goku in their armors. No one hears how hard Goku and Sanzo cry inside the armors until ...
Episode 27 - 39

Episode 27: Advent - The Evil God of War

Our heroes encounter new enemies from the heavens. They are Prince Homura, Zenon and Shien. They are not human, nor are they monsters. They call themselves 'Gods.' Prince Homura is after Sanzo's Sutra of Dark Power. They say they know the previous existence of our heroes. What do they come down for?

Episode 28: Lonely - The Signal of Rebellion

Abandoning the Celestial Heavens, Prince Homura, Zenon and Shien decide to build a new world. They choose the tower and castle made by Monster King Gailu and his warriors as their headquarters. The army of the Celestial Heavens led by three self-professed 'Gods' begins to attack to seize the tower. Leaving the battle field, Prince Homura goes to see King Gairu with an offer.

Episode 29: Unexpected Defeat - Fall of Castle Houto

The Celestial army destroys the monster-warriors and soldiers in Castle Houto. Kogaiji and his followers are surprised by this defeat. He then realizes the three self-professed ŒGods' are his father, Gyumao-Bull Satan and dashes to the underground laboratory where the experiment of resurrection is underway. With Dokkakuji's help, Kogaiji fights back against the Celestial army like a real devil.

Episode 30: Undertaker - An Invitation to Hell

Our heroes walk into a desolate village. They wonder what had happened here. Suddenly 4 coffins of equal size to each of our heroes are pushed out and the illusion of the creature called "The Undertaker" appears. The undertaker shows excessive courtesy to Sanzo and his comrades. Sha Gojyo is upset and Goku is about to burst out with rage. The undertaker keeps telling disgusting stories on and on. He rubs our heroes the wrong way and pushes their minds to the extreme gradually.

Episode 31: Ambition - Arrogance of the 'Gods

A platoon of five skilled warriors who scored high points at the military drill come to see Prince Homura. They want to join the army of the Celestial Heavens. Prince Homura orders the warriors to destroy Sanzo's party and get the magic sutra. The platoon marches out triumphantly. Sanzo's party suffers a hard fight to defeat the platoon of great teamwork.

Episode 32: Fake Star Strikes Back - Pride of the Impostors

Our heroes meet the party of the bogus Sanzo again. After the incident some time ago, bogus Sanzo never introduces himself as the priest Sanzo. He and the impostors clatter in fear for a moment. Then the party of bogus heroes remembers their pride as the best impostors of the world. As a matter of fact they are sly and mean guys. They devise a plot to revenge the true heroes.

Episode 33: Faraway Dream - Tears Dry Soon

While our heroes are struggling in a snow storm, they meet a young monster, Shoryu, who manipulates snow, ice and water skillfully. Shoryu waits for them to get Sanzo's sutra by the order of Prince Homura. Sanzo and three warriors are made a fool of by Shoryu's attack which is empowered by an evil forbidden spell. Meanwhile, Shoryu's older sister, Shoen is heading to Prince Homura's castle. She is ordered to get the Hallowed Sutra from Prince Homura by Koshu, the Lady Darkness who wants to revive Gyumao-Bull Satan.

Episode 34: Second Contact - Warriors come back.

Five skilled warriors of the Celestial Heavens pop up in front of our heroes again. They want to take the Sutra (of Dark Power) from Sanzo and force Son Goku to come to their side. The warrior incessantly attack Goku and put him in constant struggle. All Goku can do is to dodge , leap and run out of deadly assaults. Soon He will have to be prepared for the worstŠ

Episode 35: Solitude - The lonely heart

Kogaiji visits the tomb of the girl he loved profoundly. She was reincarnated into a human. Kogaiji swears the revenge to Son Goku and his teammates who defeated him severely in the battle of Hoto Castle. He summons and awakens the Demon of Recollection for a war of nerve. It is a perilous plan that might eat at his own heart.

Episode 36: Brotherhood - A Crimson Flower

Lost into deep woods in the fog and rain, Sanzo and his comrades have to sleep in the open. Sha-Gojyo hates this idea and walks on for a way-out of the woods. He finds a cave and goes in to explore the inside. Soon he realizes he lost his way completely. Then, another man who lost in the cave appears. It is Dokkakuji, the right hand man of Kogaiji. They glares each other for a moment. Should they fight, or should they help each other to find a way out?

Episode 37: Taciturnity - A Smile of reticence

Sanzo and his party walk into a village where Cho-Hakkai grew up in the orphanage. Hakkai has mixed feeling of nostalgia and bitterness. In those days, he was a desperate child who never had smiled. He meets Sister Shaohei who spent childhood in the same orphanage. She tells her there's a boy who never smiles just like little Hakkai. Curious, Hakkai wants to see the boy.

Episode 38: Fleeting Vision - An unfilled promise.

Our heroes defeat the monsters in the wood and get a good drink. They begin to taste it. While drinking, Sanzo recalls the incident involving his master, Kohmyo-Sanzo and himself long time ago. Soon after Zanzo and his comrades arrive a village where they join the drinking competition. They win thanks to unexpected contribution! But, the prize is much more unexpected oneŠ!

Episode 39: Misty Rain - Watering Sky

Sanzo is gloomy and depressed in the never-ending rain. Goku worries Sanzo and tries to cheer him up. But it is no use. Sanzo get more irritated and throws thorny words at Goku. Upset, Goku runs out of the inn. Suddenly, Konzen appears in fron of him. Konzen was Goku's guardian in the Celestial Heavens.
Episode 40 - 50

Episode 40: Twilight - The Gloomy Sun

500 years ago. In the Celestial Heavens. Born from a stone, Goku was brought to Goddess of Mercy - Kanzeon Bosatsu. He was introduced to his guardian - Konzen Doji who is a handsome young man with beautiful blond hair. (Konzen is the previous existence of Sanzo.) He takes care of Goku just like his younger brother. Then, Goku meets a boy called Nataku. Even a small boy at Goku's age, Nataku is the Lord of War and is the only person in the Celestial Heavens, who is allowed to kill. He receives an order to subjugate the great monster, Bull Satan - Gyumao.

Episode 41: Collage - A Silent tripple

One day Goku wants to see Nataku and sneaks into the Great Palace. He meets Kenren, the Commander General of the Army of Celestial Heavens. General Kenren is the previous existence of Sha-Gojyo. General Kenren is surprised to see Goku chained with weights on both hands and legs. Then, Nataku returns from the hunt of Gyumao. His body is covered with wounds. Goku worries Nataku. General Kenren suspects why all the soldiers who went for subjugation have no injuries.....

Episode 42: Festival - Unforgettable Scenes

Sanzo's party drop in a town called Saika on the day of Festival of God. They notice that the God the folks worship here is Shien. They do not know why, but Shien comes down to this place today every year. Lilin, a loyal follower of Kogaiji, learns from Ni-Jen-Yi that Shien and tow other Gods took the Hallowed Sutra from Gyokumen-Koshu. Lilin comes up to Saika and wages battle to Shien for the Hallowed SutraŠ

Episode 43: Tears - A Village of Illusion

Zeon hears that One of the Sutras of World Commencement was found in a village. He visits the village to find if this news is true. Soon after he arrives there, Zeon helps a boy attacked by the monsters. He sees his own son's visage on this boy. Meanwhile in a neighboring village our heroes hear a rumor of a monster devouring human's spirits.

Episode 44: Plunderer - Seizure of the Sutra of Dark Power

God Homura and his two fellow-Gods are ready to begin the Creation of New World. However, they need Sanzo's Sutra of Dark Power to accomplish their plan. Homura tells Sanzo to bestow the Sutra by the next morning. Sanzo has no intention to give it out. Our heroes know they will have hard battle against Gods. So, they have only shallow sleep. And the battle begins ....!

Episode 45: Glorious Days - Before Dawn

500years ago. In the Celestial Heavens. One day Konzen (the previous existence of Sanzo) takes Goku to Tenpoh, Grand General of the entire force of the Celestial Heavens. Tenpo is the previous existence of Cho-Hakkai. Nataku receives new order of subjugation from Li-Tohten, the minister of the Celestial Heavens, again. His wounds have not healed yet. General Kenren wants to take this order, but he gets refusal and punishment to his indecent behavior. Tenpoh is surprised at Kenren's reckless manner. At the same time he gets raged at Li-Tohten's selfish conducts.

Episode 46: Chaos - Shaking Land

The Creation of New World" of Homura, Shien and Zeon has begun. Sanzo and his comrades go to the Tower of Konran where Homura's party are supposed to wait for them. Instead, our heroes are attacked by the force of monsters lead by Gairu. The monsters are so weak as the battle ends instantly. When our heroes walk in further, they know they just passed only a first easy barrier. More enemies are waiting.

Episode 47: Guilty of Not Guilty

Goku resists to the attack of Homura's Royal Guards single handedly so that his comrades can go into the Tower to find Homura. The enemy uses an artifice called "Work of Repentance" forcing a person to remember the old wounds in the heart. Goku is stunned when he sees his mother-in-law crying in front of him.

Episode 48: Absolutely Heaven! - Door to Freedom

Sanzo's party and Kogaiji's group finally confront Homura, Shien and Zeon. Sanzo wants to take back his Sutra of Dark Power. Kogaiji has to get the Hallowed Sutra. Shien and Zeon decide to engage in battle side-by-side and send Homura to New World first. When the battle begins, Shien releases his true power over to our heroes and Kogaiji Group!

Episode 49: Missing Desire - Shining Paradise

Zeon follows Shien's performance and releases his true power, too. Combined gigantic power of two Gods overwhelms everybody in the battle field. Sanzo quickly slips out of the Tower and follows Homura. But, he is ambushed by Goku controlled by the "Work of Repentance." Without his head ring, Goku is wild and merciless. He attacks anyone in his way. Homura is about to step in the nearly completed New World.

Episode 50: Alone - To the West

Goku comes back to himself finally and jumps at Homura. Goku's power is increased tremendously by his rage. Everybody think he finishes Homura by a explosive blow. But, Homura gets up again and takes off the chains from his hands to release his true power. Homura's strength is devastating. Goku's comrades wants to help him but, he says he is going to defeat the God by himself....
Format: 50 episodes X 25 minutes approx
Genre: Fantasy-Adventure Produced By: TV TOKYO/ STUDIO PIERROT

© 2000 K. MINEKURA · ENIX · SAIYUKI PROJECT · TV TOKYIO
ALL RIGHTS RESERVED