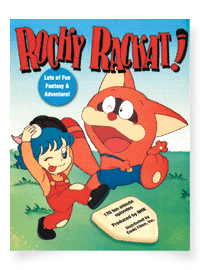 ROCKY RACKAT!
Lots of Fun Fantasy & Adventure!
Introduction
Rocky Rackat is a funny little creature that's a bit of a cross between a cat and a raccoon. There are rumors that he may be a lunar cat, however this is not a documented fact, he may be a bit looney at times, yet his origin remains a mystery.

Rocky is quite innocent and unaware of the value of his special powers. He has the ability to turn children's fantasies into realities. The sky is the limit in the adventures he can create!

Our story begins when AMY, a spirited young girl, joins her family on a camping trip. To her surprise, Amy discovers ROCKY in her backpack among her camping gear. Rocky thinks Amy is his sister and he follows her everywhere.

Amy is active and curious, yet she has a tendency to become frustrated and fed-up with the world around her. With Rocky's arrival, Amy's world changes drastically. Rocky uses his powers to turn Amy's dreams into real life adventures. Although Rocky's efforts are well intended, his efforts are not always successful. Occasionally these adventures "short-circuit" and become near disasters!

Through "thick and thin" Rocky and Amy become quite a pair and develop a long lasting friendship, experiencing a wide assortment of fun-filled escapades.
Format: 170 ten minute episodes
Produced By: NHK

ALL RIGHTS RESERVED