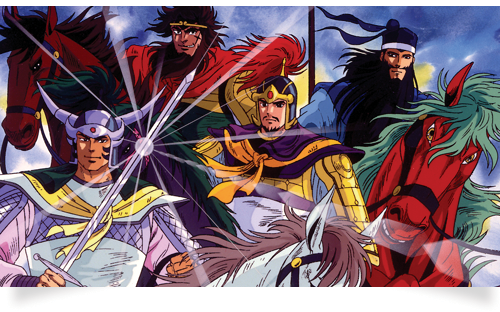 QUEST OF THREE KINGDOMS, THE
Introduction
Out of a war-torn land, rose the Great Warriors, with the indomitable spirit of Creation and Justice. Shining legendary heroes revive in this exciting new animated series. A great historical epic based on the most turbulent era in Chinese history.
Story
This series is set in China in the year AD 169, during the end of the 400 year reign of the Han Dynasty. It is based on a great Historical epic, when many natural disasters fell upon China and its people. Struck by famine, disease, and the alarming upset among the people, this was a time of widespread suffering.
With no assistance or leadership from the declining Chinese Government, the "Yellow Flag Army" (Wang Chin Tang) was formed, consisting of 500,000 rebel farmers and peasants. This army was led by the spiritual leader Chang Chao, with the primary purpose of overthrowing the Han Dynasty.
As the war progressed, the army became hordes of ferocious bandits, looting and destroying cities and towns throughout the land.
The Government took it upon itself to recruit volunteers to suppress the Yellow Flag Army. Three great warriors took charge and became Heroes of the People. These men were Liu Bei, Chang Fee and Kwan Yeu, taking The Oath of Brotherhood and Commitment to achieve peace and restore tranquility to China and its people.
Through the entertainment of animation, this true epic will excite and inspire viewers with its message that the only true path is the path of honor.
Episode Synopsis
please click episode number to read episode.
Episode 1 - 13

Episode 1: Vows at Peach Garden

Episode 2: The First Fight

Episode 3: Fall of the Yellow Turbans

Episode 4: Imperial Envoy

Episode 5: Signs of Chaotic Times

Episode 6: Ch'ih Tü Ma

Episode 7: Tyrant Tung Cho

Episode 8: Cunning Hero

Episode 9: Internal Trouble

Episode 10: New Close Band

Episode 11: Magical Power of Imperial Seal

Episode 12: Young Warrior on White Horse

Episode 13: Lions in Turbulence
Episode 14 - 26

Episode 14: Beauty Chaotic Times

Episode 15: Beautiful Lady Soldier

Episode 16: Two Old Enemies of Destiny

Episode 17: Two Plots of Ts'ao Ts'ao

Episode 18: Cry of Drunken Tiger

Episode 19: Arrow of Heaven's Voice

Episode 20: Trick of Father and Son

Episode 21: Internal Squabble on Moonlit Night

Episode 22: Lü Pu Falls in snowy Field

Episode 23: Tiger is set Free

Episode 24: Chang Fei's Strategy

Episode 25: Isolated Tiger

Episode 26: Che Ke Liang Kung Ming
Episode 27 - 39

Episode 27: Separated Master and Vassal

Episode 28: Farewell of Heroes

Episode 29: Renewal of Liu Pei's Army

Episode 30: Battle at Kuan Tu

Episode 31: Desperate Escape with Ti Lu

Episode 32: Strategist Tan Fu

Episode 33: Mother of Hsu Shu

Episode 34: Strategist, Kung Ming

Episode 35: The First Battle

Episode 36: Fire and Water

Episode 37: Ts'ao Ts'ao's Counterattack

Episode 38: Lullaby of Swordsman

Episode 39: Eloquent Talker
Episode 40 - 47

Episode 40: Murderous Design of Chou Yu

Episode 41: Assassination Plot

Episode 42: Large Fortress on the Water

Episode 43: A Hundred Thousand Arrows

Episode 44: The Last Resort

Episode 45: Art of Links

Episode 46: Fight at Ch'ih Pi – Part 1

Episode 47: Fight at Ch'ih Pi – Part 2
Format: 47 episodes X half-hour approx.
Produced By: DAI-NIPPON PRINTING COMPANY IN ASSOCIATION WITH ENOKI FILMS CO., LTD.

© M. YOKOYAMA/DNPC 1991
ALL RIGHTS RESERVED