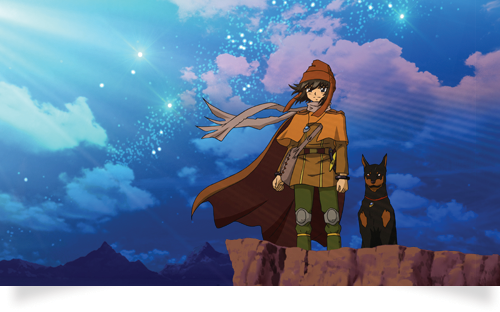 Pilgrim of Arcana -Secret of the Tarot-
Introduction
"Unless someone sets out for a journey with this scroll in hand, the great story that would help many people, will not Begin."

long, long time ago, in the scorching barren land by river Nile, Egypt, Taro finds a red scroll on top a rock in the cave of a Frankincense tree by (an inexplicable power that his grandmother foretold.) A mysterious old man appears and tells him that whoever holds the scroll in his hand, has to set out to a journey of transmigration of the soul and rebirth. Before the boy has the chance to ask a question, the old man disappears.

Taro feels this is his destiny summoned by the superior power and decides to step out to the unknown world.

There's no such thing as coincidence in this world. (Everything is prearranged ….) The voice of the old man echoes.

Thus, being lead by the unseen strings of destiny. Taro takes off for a journey of pilgrimage.
Format: 26 episodes X 3 minutes
PRODUCED BY: ENOKI FILMS CO., LTD.
DISTRIBUTED BY: ENOKI FILMS CO., LTD.

© 2009 ENOKI FILMS CO., LTD.
ALL RIGHTS RESERVED