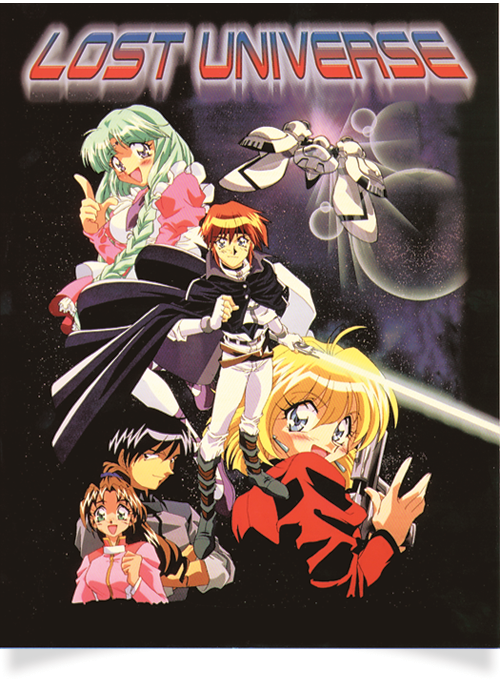 LOST UNIVERSE
Introduction
Join Kain, Canary and Millie as they each use their individual strengths to battle the evil forces of the universe. Watch...Kain use his PSYCHO BLADE against Carla, the head of the killing troop "Nightmare"... Canary uses her calculating mind and powers to fight Roy Glenn, who tries to double cross the trio at the weapons factory... the powers of SWORD BREAKER aid the group as they bring down the evil bio monsters in the galactic crime organization.

Can they save a major witness in a crime trial? Can Kain stop a mammoth runaway space cruiser on a collision course with the Space Dock? Will Millie's cooking destroy SWORD BREAKER? Find out in twenty six action packed episodes of LOST UNIVERSE!!!

Kain Blueriver: Intergalactic Trouble Shooter, whose motto is 'to carry out any difficult assignment to the end'. Commands SWORD BREAKER, the legendary 'lost spaceship' from an ancient civilization. Is master of PSYCHOBLADE, a weapon of psycho energy requiring tremendous mental strength.

Canary Volfield: The computer terminal of the SWORD BREAKER. She appears in android form, usually as a teenage girl but she can morph into other beings or can project holographic images. Canary's motto is 'to carry out any difficult assignment to the end... as long as it shows a profit'. Her computer mind sometimes shows emotion as she is fond of Kain and quarrels with Millie.

Millie Farrier: Assistant to Kain, jealous of Canary, Millie's a happy-go-lucky girl who is an amateur and self professed private detective. At work, she is very adept at shooting all weapons... but, at home on SWORD BREAKER, she is very inept in the kitchen... providing a bit of comedy, she routinely ruins the meals, the kitchen and the dishes on a regular basis.
Characters
Kain Blueriver:
Kain is an intergalactic trouble-shooter . He is a tough and reckless adventurer who captains Sword-Breaker, the legendary lost space ship from an ancient civilization. Kain, a free spirit, keeps an open mind whatever the situation. Ever the optimist, he is always confident he will prevail over whatever troubles await him. His motto is "carry out any difficult assignment to the end!" Kain is the master of the Psycho-Blade, a weapon of psycho energy, requiring tremendous mental strength.
Canary Volfield:
Canary, who appears in android form, is the computer terminal of the Sword-Breaker. She has a distinctive personality, emotions and reasoning abilities. Her usual form is a teenage girl, but if necessary, she can morph her form into a baby, a noble lady or other objects, whatever is needed to help Kain in his missions. Her motto is "carry out any difficult assignment to the end, as long as it shows a profit!" Canary's mind functions as a computer...she is very practical, analytical and logical. On the other hand, she sometimes shows her emotions when she teases Kain for his mistakes or has a quarrel with Millie Farrier.
Millie Farrier:
An uninvited assistant to Kain, jealous of Canary, Millie is a happy-go-lucky girl who is a self-professed, but amateur private detective. She has very basic Œdetecting' skills like opening a locked door with her hair pin! At work, she is very skilled at shooting all weapons...but at home on Sword-Breaker, she is very clumsy in the kitchen. Providing a bit of comedy, she routinely ruins the meals, the kitchen and the dishes on a regular basis. Her dream is to be Œthe best in the universe' at everything she does.
Raily Claymore:
A handsome and smart police inspector of Interstellar Police. Kain has a sort of inescapable "give-and-take" relationship with this young inspector of age appor.27. Nobody knows why Raily is so absorbed in o destroying Kain's Sword Breaker. Raily steals another space ship built by the Old Civilization, but, the ship refused to obey his command and he has to abandon it.
Nina Mercury:
The secretary of Raily Claymore. Nina is so deeply in love with Raily that she is fascinated by his gaze and forgets what she is doing. Nina is in trouble always when she touches any electric tools.
Stargazer:
The master of giant company called Gazer Konzern and the boss of mega-crime organization; Nightmare. He sold his soul to evil Darkstar and intends to control the whole universe. Stargazer possesses a power to destroy the mind of a person from afar. Later it is revealed that he is Millie's grandfather and the brother of Alice, Kain's Grandma.
Darkseeder:
A young-looking guy brainwashed and possessed by Darkstar. He commands Glen and Carly at Nightmare. He is the clone of Stargazer. However, he pretends to be obedient to the boss only to use the crime organization. He injured his shoulder in the battle with Alice 10 years ago. Since then, he has been sleeping for 87016 hours in a capsule. He runs Goln-Nova, one of the legendary Lost Ships.
Carly:
An assassin of Nightmare who admires Darkseeder and wants to show her loyalty by destroying Kain. Carly's hobby is hunting. She is good at many types of weapons. She is given Ragdo-Mezekis, one of the Lost Ships.
Glen:
Director of 2nd business department of Gazer Konzern and the assassin of Nightmare. Glen tries to kill Kain with various tactics but never succeeds. The poor old man is forced to assimilate to Nezard, one of the Lost Ships.
Episode Synopsis
please click episode number to read episode.
Episode 1 - 13

Episode 1: Blast! The Psycho Blade!

Somewhere in outer space: Kain and Canary, on a mission, sneak into a huge artificial satellite of the crime organization "Dugual Connection". An auction is being held for stolen arts, illegal weapons, bionic creatures and any and all of the stolen goods one can imagine. Kain and Canary find Millie, an amateur investigator, working 'undercover.' They advise her to go home. Kain is stopped by the bouncers who make fun of Kain's coat. Kain gets angry and they begin to fight. Canary suddenly disappears. Millie is appalled at Kain's outrageous fighting... She thought he was an investigator for the Interstellar Police. When Millie is trapped and caught by the Crime Organization, a high-speed space ship attacks the satellite. It silences all weapons of the satellite and crashes through the outer wall.....the space ship is actually a morphed Canary, who has come to rescue Kain. Kain frees Millie and he destroys a hideous bio-monster using his powerful Psycho Blade. The trio return to Sword Breaker, mission accomplished. Commander Raily and the Interstellar Police arrive at the satellite just after Kain and company have departed. Commander Raily knows it was Kain who devastated the crime organization. Meanwhile, Canary complains that the job brought no profit ...she suggests they reduce the budget for food and oxygen for the time being.... Kain begs her not to!

Episode 2: Zing! The Sword Breaker

Kain and Canary are staying at the Space Dock while their space ship, Sword Breaker, is undergoing repairs. Millie asks Kain to hire her as his assistant. Kain turns down her request. Meanwhile, Commander Raily of the Interstellar Police phones Kain. He refers to what happened at the satellite of the Crime Organization and forces Kain to accept a most urgent job.....a berserk computer has caused a mammoth space cruiser to go out of controlŠ.Kain must stop the cruiser!! Kain finds it is not easy to get in the runaway cruiser. Suddenly Millie, who had stowed away in Kain's ship, pops out and begins to shoot missiles. Thanks to her outstanding shooting, Kain is able to board the runaway cruiser. The runaway ship is on a collision course with the Space Dock and he finds it is impossible to change the ship's course or to stop it! Canary powers up Sword Breaker and manages to change the course of the runaway cruiser. (Millie is stunned by the incredible strength of Sword Breaker.) All of a sudden a satellite appears in front of the cruiser. Too late to change the course, Kain fires "Plasma Blast" and blows a huge hole through the satellite and they are able to pass safely. Millie suspects that Sword Breaker might be the legendary "Lost Ship," Kain's inheritance from a very old civilization. Kain reluctantly agrees to hire Millie as his assistant after she learns of the secret of his ship.

Episode 3: Shock! A Bogus Witness.

Kain hired a trouble maker! Millie is good at cooking, but her problem is in the preparation of the meals ... breaking glassware, plates, explosions, etc.... the mornings on the ship always start out with a bang! Aboard Sword Breaker, Kain and crew are on their way to a space port to meet Commander Raily about a job. Raily likes Millie at first glance and is so taken with her, he almost forgets why he is meeting with Kain. He asks Kain to safely transport the witness of a crime to the planet where the trial is to be held. Kain rejects the job, but Millie signs the contract without Kain's approval! He is then forced to take the job because if he doesn't, he will have to pay a huge penalty. When Sword Breaker lands on the planet, Millie drives off with the witness. Kain follows but their car is blocked by pirates.....Kain, Millie and the witness are cornered! Without warning, the witness paralyzes the pirates with strong electromagnetic waves.....the witness is actually a morphed Canary! Soon after, the trio learns they were just decoys and the true witness has already been safely escorted to the court by the police. Kain takes out his anger on the pirates and pummels them.

Episode 4: Fascinating! Beauty on the Beach.

Despite Canary's protest, Kain agrees to let Millie enter a beauty contest held in the famous beach resort of Sunzania. Should she win the contest, Millie promises to split the prize money with Kain. While Kain and Millie are strolling on the beach, all of a sudden the security system goes haywire and a robot guard chases Millie. Kain destroys the guard just before Millie is blown away. Meanwhile, a mysterious woman watches Kain in the crowd. At night, Kain and Millie take another walk on the beach front. Before they know it, they are attacked by a group of killers and Kain and Millie become separated. Suddenly, a bewitching woman appears in front of Kain. She is Carla, a boss of the killer crime organization "Nitemare." She is a merciless hunter and she attacks viciously and swiftly with a whip. Kain backs off. Millie attempts to come to Kain's rescue, but Carla fights off Millie. Kain accelerates his attack with the power of the Psycho Blade and knocks Carla's whip away at lightning speed. Carla retreats, promising she will come back soon and destroy him. Because of the attack, the beauty contest is canceled, so any hope of prize money is dashed. Back on Sword Breaker, Canary and Millie get into their usual quarrel. "Get off the ship, Millie! You're fired!"..... "I could've won if the contest was held!" ... Kain plugs his ears with his fingers........

Episode 5: Boom! Plasma Blast

As Kain watches beautiful stars on his display screen, Canary is busy searching for new weapons in the shopping catalogue as she wants to buy a new beam-missile......and the kitchen is erupting as Millie is attempting to cook.......the usual start in the morning!! The visi-phone lights up and an old man comes up on the screen. He offers Kain a job to handle the security for a military weapons factory. Canary is happy at the prospect of visiting a weapons factory, but Millie complains about having to go to a deserted planet. In the meantime, at the crime organization "Nitemare", the old man who called Kain talks to a 'Nitemare' boss. The old man's name is Roy Glen. Glen wants to command the mission at the factory. The trio arrive at the factory via shuttle pod. Kain and Millie head for the caretaker's office while Canary goes into the factory to find weapons. While Canary is moving some missiles to the shuttle, Kain and Millie climb the steps to the top floor and open the door. The old man, Glen, who appeared on the visi-phone, is waiting for them......and at Glen's signal, a group of armed men appear..... this is a trap! The battle begins....Kain and Millie are outnumbered! Kain wants to take out Glen with the Psycho Blade, but Glen disappears. Suddenly, thundering explosions get closer and Canary appears in the dust to rescue Kain and Millie. Kain discovers that Canary has blasted the only retreat.... the fire escape. They are stranded in the factory! Meanwhile up in outer space, several battleships head for the Sword Breaker. Canary screams, "No! Stop. Don't touch it!" and she fades out....Back on Sword Breaker, Canary randomly fires beam cannons and missiles at the ships. But, the number of enemy ships increase. Suddenly Canary gets a bright idea. -- Sword Breaker lands on the building, It picks up Kain and Millie and then ascends swiftly. Kain prepares Plasma Blast and fires it at the closing battleships. The enemy ships are blown away instantly. Kain and Millie go back to the factory. They see Canary taking missiles into their ship. She says they have right to take them as wages for the job. Ooops! She stumbles and falls down onto a pile of mislies with explosives in her armsŠ. A tremendous explosion occurs!

Episode 6: Crash! Future Nurses!

Highball is a "female only" nursing school ship. Kain, disguised as a woman, and Millie are among the students on a mission to protect the two major student groups who are in conflict with each other. On the day of the school's graduation performance exam, one of the students is injured as a result of the two fighting groups. That provokes Kain into lecturing them, which moves the students and helps them regain the spirit of fellowship.

Episode 7: Checkmate! A Killer from Nitemare!

Upon taking the job to search for a missing person, the trio arrive at planet Gambit. They quarrel over some minor thing and end up in a major quarrel with Kain and Millie on one side versus Canary on the other. The army of the killers from Nitemare attack Kain and MillieŠ. then attack Canary just when she finds the missing person. Canary is forced to deal with the tough and merciless killers by herself. Kain and Millie rush over to help her, which eventually brings victory and harmony to the trio.

Episode 8: Smashing! ŒLA FEMME' Nina!

Nina, from the Universal Guardian, and the trio arrive at a space port to escort the Minister of the Trevin kingdom. Because of a unique custom of the kingdom, they are forced to ride in a public space ship. All of a sudden, terrorists disguised in chicken costumes hijack the ship! The trio knock out some of the terrorists but get captured before finishing them off. However, Nina's courage under fire creates a chance for Kain to use his Psycho-Blade. Kain saves themŠ.another mission accomplished!

Episode 9: Panic! The Bathroom's Gone!

The trio receives an SOS call from a ghost ship in the asteroid belt, known as "a graveyard for space ships." They discover an unknown crystal inside the ship and bring it back to Sword Breaker. They discover the crystal, a super weapon from an ancient civilization, replaces space like a puzzle. Kain and Millie can't find the bathroom any where!! The crystal has made the ship a puzzle!! Just when they are about to give up, Millie finds a disk in a strange room. It plays music like a music box, and its melody leads Kain's Psycho-Blade to the crystal.

Episode 10: Slam Dunk! Confrontation on the immigration ship

On a giant immigration ship, the trio take on a job to guard the energy resources for planet reclamation. A small group of children on the ship ask Kain to be their basketball coach. They have a game coming up with their older rivals to see who will control the basketball court. The thugs after the energy resources also attempt to seize the court because the ship's main control room is buried underneath it. When Kain and the children win their respective battles, the ship is about to arrive at her destination planet after a long voyage.

Episode 11: Farewell, My Friend.

The trio go to planet Regun for a job to guard La Gould's cargo boats. They run into their old friend Jesse, who came to do the same job. Kain and Jesse make a bet at a bar -- If Kain loses they switch the cargo boats they are to guard. Meanwhile, a large-scale conspiracy has been taking place between La Gould, the space bandits and Nitemare. Kain and crew fight off the bandits who attack the boats they are guardingŠ. but an unidentified enemy ship attacks Jesse and sinks his ship.

Episode 12: 'Death-Cloud,' the Enemy Battleship!

The trio attempt to discover the truth about what happened to Jesse. They investigate a woman named Merina, who is angry with La Gould. They learn that La Gould has been hiring the bandits to attack his own cargo boats for insurance money and that Merina's boyfriend was killed in an attack. The trio and the intergalactic police rush to the bandit's hideout. Suddenly "Death Cloud", a battle ship, gets in their way. After the intense battle, Sword Breaker's Plasma Blast gives a deadly blow to the enemy and the trio win.

Episode 13: Nightmare! The One Who Disperses Evil in the Universe.

Kain and crew arrive at green planet E-17. It is the planet where Kain grew up and his grandmother Alice is buried. Alice's tomb and her house have been peacefully kept by Alice's old partner Jill. Lingering at his grandmother's tomb, Kain remembers the old days. Unexpectedly, "The One Who Disperses Evil in the Universe" appears in front of him. Kain is frightened and cannot do anything.
Episode 14 - 26

Episode 14: Blazing! You've Got to Get over your Fear!

Kain, depressed from his encounter with "The One Who Disperses Evil in the Universe", runs into Atlas, his old friend, at a bar in a seedy section of town. Together they decide to take a job at an industrial waste plant on planet Gass. The two have a bad memory about the place while on Gas three years ago, they failed an assignment and Atlas was seriously injured. Planet Gass, polluted ocean and air, and an explosion.. the plant is out of control. Atlas confesses he has come back to Gas for one reason and one reason only... to overcome the fear he has of the site. His words inspire Kain, and together they succeed in their mission and safely escape from the plant.

Episode 15: Incredible! The Attack through the Material Transporter!

Kain and crew sneak onto planet Lufer to stop the development of the "Material Transporter." They run to the space port under ceaseless attack from Carly and other killers from Nitemare. Meanwhile, up in space, Glen has completed the production of the Transporter and his fleet attacks Sword Breaker. The trio manage to fight off the enemy, but now they feel the real threat of "The One Who Disperses Evil in the Universe." It has started making its move.

Episode 16: Determination! Millie comes back to fight on!

The trio stop at a space port to stock up on supplies. Millie again gets into a petty quarrel with Kain and Canary. She finally declares she's out and not coming back to the ship. Millie gets off the ship, but she has no place to go nor go back to. Millie realizes that Kain and Canary do not want Millie to be involved in the great dangers that lie ahead. Understanding their intentions, Millie comes back to the ship. She shows her determination to be one of them, and Kain and Canary welcome Millie's return to the Sword Breaker.

Episode 17: Cornered! Raily steals a legendary Lost Ship

Investigation Bureau of Interstellar Police finds Inspector Raily Claymore is selling the confidential information. Just then, breaking news that one of the legendary Lost ships was found, is flashed on the interstellar-net. Kain arrives at the site first. He is attacked by Carly the lady assassin of Nightmare. Raily sneaks into the lost ship called Ragd-Mezekis and starts firing at the fleet of Interstellar Police. Police thinks it is Kain's assault and makes an open search for Kain and his space-mates throughout the universe.

Episode 18: Hold breath! We are wanted everywhere!

Kain and tow girls entered into a spaceport, disguising the name of ship as "Space One." But, they are traced when Millie takes out money with her bank card. Sword-Bleaker bursts out into space. In the mean time at the headquarter of Nightmare. old Glen is forced assimilate into Nezard, one of the Lost Ships possessed by the criminals. Then, Nightmare decides that to destroy Kain and his Sword-Breaker is the matter of first priority. Darkseeder blasts out on Goln-Nova, another Lost Ship.

Episode 19: Dead or Brainwashed! Kain confronts Darkseeder.

Goln-Nova easily bounces back the fierce attacks of Kain's Sword-Breaker. Darkseeder forces himself into Kain's mind with Psycho System. Kain is under tremendous pressure. Falling into the dark side or being dead. Canary dives in the psycho world to help Kain. Sword-Breaker narrowly escapes into a black hole immerged by the blast of Leap-Rail Gun in zero distance. Kain leaves Millie behind for her safety.

Episode 20: Horrendous! The enemy's all out attack!

Judging the time has come, Stargazer orders his battleships all-out attack. The fleets of Nightmare begin revolts in many places of Galaxy. Kain's Sword-Breaker is still under repair and has only 75% of full force. He can not counter attack against Nezard, but, just to run amok. Then, Ragdo-Mezekis joins Nezard in pursuit of Sword-Breaker. Can our heroes run away from their gigabyte attack?

Episode 21: Raged! An ice planet is in flame!

Kain chooses an ice planet to repair Sword-Breaker 100%. Soon, Nightmare detects his ship and Nezard and Goln-Nova appear. Kain gets outraged when Darkseeder calls him "an underdog." The rage and hatred voltages up Kain's psycho energy tremendously. It destroy Nezard in a blink of eye. Darkseeder goes away with mysterious smile on his lips.

Episode 22: Stunned! Kain learns the fearful secret of the Lost Ships.

Kain can not control his psycho energy emphasized by rage and hatred. Canary asks him to take a rest. In the mean time, Ragdo-Mezakis learns Raily wants to destroy all the Lost Ships. It start to rebel against Raily who escapes from the ship in a nick of time. Raily is rescued by a freight ship where he meets Nina and Millie. Millie is stunned when Raily tells her that the Lost ships eat up the master of ship. Kain finds through Canary's memory circuit that Alice, grandmother of Kain, was absorbed into Sword-Breaker itself by the power of Psychord Final. Then, Canary pinpoints Nightmare's headquarter.

Episode 23: Destruction! A demoniac enemy challenges Kain.

"At the headquarter of Nightmare, Carly is given Ragdo-Mezekis. Using small palnets and huge boulders as the shield Sword-Breaker approaches Nightmare' headquarter. One of the planets is exploded. It is a trap of Carly who induces Sword-Breaker. Carly sennds a message that she would destroy other planets unless Sword-Breaker comes out of hideout. Kain makes up his mind to smash Ragdo-Mezekis. Carly agrees to assimilate with Ragdo-Mezekis to defeat Sword-Breaker.

Episode 24: Blasting! The fall of beautiful assassin.

Assimilated with Carly, Ragdo-Mezekis transforms itself into a giant robot with the lightning whip. Sword-Breaker's bridge is battered by the whip. Kain goes into Alice's bridge and starts the Psychord Final. Canary is in panic as it is impossible to push the release switch for failure of material reproduction apparatus. Millie and Nina helps her to release Psychord Final at the last moment. Sword-Breaker blasts pure energy of Psychord Final and destroys Ragdo-Mezakis.

Episode 25: Daredevil! Kain breaks into Nightmare headquarter by himself!

Breaking the barrier covering Nightmare's headquarter with the dimension re-shaper, Kain goes inside. He sees Darkseeder is waiting for him. Darkseeder has already got rid of Stargazer for he no longer needs the boss of fallen organization. In the mean time, Raily comes up to Sword-Breaker. He warns the girls that Darkstar will revive if the negative energy of Darkseeder collides with Kain's. Darkseeder need to pull our Kain's negative energy. So, he uses mysterious power to induce Millie.

Episode 26: Mind-bobbling! Duel between darkness and light!

Millie, hypnotized by Darkseeder, fires at Kain. Darkseeder plots to stir up Kain's negative energy; rage and hatred. No, Kain has no negative energy as all he wishes is to save the universe, the world where Millie is living. Kain defeats Darkseeder and challenges Darkstar to the last battle..!! 6 month later, Millie is waiting for Kain's return in a white house. She senses something and looks up in the sky. A familiar space ship is coming down.
25 minutes X 26 episodes
Produced By: TV TOKYO & ENOKI FILMS CO., LTD.

© 1998 HAJIME KAWAZAKA/KUNIKO/YOSHINAKA/KADOKAWA SHOTEN/TV TOKYO/SOFTEX
ALL RIGHTS RESERVED