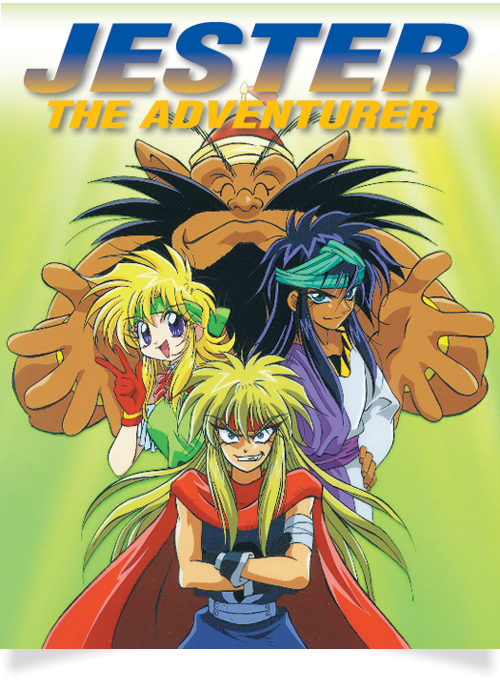 GOKUDO / JESTER THE ADVENTURER
A hair raising adventure! A hilarious comedy! And an outrageous hero! Jester is a hot-blooded guy. Unpredictable and Invincible! He has no conscience yet somehow, whatever he does turns out right!!
Introduction
Jester is an unusual hero with an amazing destiny. He is an incredible adventurer -- reckless, greedy and ambitious. His dream is to capture all the treasures of the world. he was born as the crown prince of the Kingdom of Esharott. However he was abandoned as the result of the trickery that hte Satan of the Darkside Empire played on his father. Mora, the queen of the Darkside pitied Jester. Disguised as an old fortune-teller, she saves Jester and with her powerful magic, turns him into two people. One is Jester himself and the other a guy named Justice. The two young men get together to fight against the Satan. Jester swings his Sword of Fire and Justice slashes with the Sword of Ice. After tremendous battles between the good and the evil. Jester and Justice prevail. They destroy the clone "King" controlled by Satan and then they throw Satan out of this world. Jester has the natural birthright to the throne, but he is a rambling adventurer with no desire to settle in one place. Jester passes the royal scepter to Justice and sets out on a quest for adventure. roubett, a real tomboy looking for exitement, tags along.

A young man named Prince joins them. Prince is the son of Mora. By birthright he is the successor of the Darkside Empire. He has been banished by his mother for the many mistakes he has made. Mora orders Prince to join Jester on his adventures to learn the ways of the world. Thus the hilarious journey of the wacky trio begins...
Characters
Jester:
An ambitious and reckless adventurer seeking fortune. Jester's sword possesses power to blast blazing fire. He is a most unusual hero. He does not hesitation to betray his friends for money. He does not care what is right or what is wrong. Yet, whatever he does turns out to be a "good thing."
Roubett:
A sparkling tomboy. The only daughter of powerful Count. Roubett likes adventurous Jester and tags along with him for thrills and excitement. She is skilled in handling weapons. Her weapon is a bow and arrows both of which have magic power.
Prince Nearly:
He is the son of Mora, the fortune-teller and a prince of the Darkside Empire. He is handsome and sweet. He is deprived of the qualifications necessary to be the successor of the Darkside because of his mistakes in the human world. Mora orders him to travel with Jester and train himself to become a better ruler. His incurable weakness is "girls."
Mora:
She disguises herself as an old fortune-teller. Mora's true identity is the queen of the Darkside Empire and the mother of the Prince. She pities the fate of Jester and helps him out of misfortune. She likes Jester's guts and ambition.
Jin:
A giant spirit coming out of Mora's stone. He becomes Jester's servant as Jester released him from the stone.
Other supporting characters
Aasaga:
The beautiful daughter of the owner of Jester's hotel. Being lead by an unexpected fate, she will be the Queen of Esharott
Justice:
Justice is the other half of Jester. An honest and brave guy. Jester and Justice fight Satan and destroy its cunning plots. Jester aks him to be the new king of Esharott.
Episode Synopsis
please click episode number to read episode.
Episode 1 - 13

Episode 1: I am transformed into a Girl! What a Surprise!

Characters: Jester (man), Jester (girl), Roubett, Aasaga, Jin (man), Jin (girl), Mora (an old woman)

My name is Jester. I am a master swordsman and I love adventure. An old fortune-telling woman tells me that the King wants to kill me. I steal her purse and open it. There is only a stone inside. It is not an ordinary stone though. A giant spirit named Jin comes out of the stone. He transforms me into a young lady before I can even ask why. I am captured and thrown into a jail in a castle. "What is going on?"

Episode 2: I see many Brainless Guests Jumping into the Story. What a Nuisance!

Characters: Jester, Roubett, Aasaga, Jin, Justice, Mora, Eemiz, and King

I escape from jail with Jin and three other girls - Aasaga is the daughter of the owner of a hotel. Roubett is a princess of Count La Reit. Mora is an old fortune telling woman. On the way out of the castle, we rescue a handsome guy named Justice from a deep pitfall. Against my sincere intent I am dragged into a plan to destroy the King. "Hey, stop putting me into ridiculous plots, guys!"

Episode 3: I Challenge the King as Last. What a Show-down!

Characters: Jester, Roubett, Aasaga, Jin, Mora, King, Minister-R, Minister-L

My goodness! I get back to myself and I am excited when the old fortuneteller tells me the story of my birth and the sacred sword. I am the prince of this country! If I destroy the King all the treasures will be mine. Two ministers of the King change into enormous dragons and attack us. Then, my sword and Justice's show their magical powers. "We're invincible with the power of our swords! Let's kick the King out of the country. I'll get the treasures!" So, we accomplished our mission and I become the king of Esharott Kingdom. But, soon I find it's no fun! I resign and leave the throne to Justice. Back to free life, I set out for the next adventure. Roubett tags along with me

Episode 4: I Join a Race for Bridegrooms of 3 Princesses. What A Greed!

Characters: Jester, Roubett, Aasaga, Jin, Princess Coco, Issar, and Dumpling King, Yaasagar.

Arriving in Palmcott Kingdom, I am kicked into a deep ravine by her. I am revived thanks to the magic of Princess Coco. She gives me a mirror. I owe her my life. I can not turn down her request that I join the royal race as a candidate for grooms of 3 princesses. The winner will be awarded with the most powerful magic, too. "All right! I'm gonna win!" The race is to pass the desert full of monsters, get into the tombs of the kings guarded by the sacred beasts and get the divine image and bring it back to Palmcott Castle. The participants are a mysterious knight riding a unicorn and Yaasagar, the magician of the royal family. They say the fiancé of Princess Coco has not show up yet. I set out for the quest of finding the divine image, tagged along with not only Roubett but also a boy called Issar, an apprentice of sorcery. I am getting into trouble straightway - attacked by Dumpling King who I skipped the check to before, Yaasagar's evil magic and so on.

Episode 5: I Receive Unreasonable Riddles of Sphinx. What a Creature!

Characters: Jester, Roubett, Jin, Princess Coco, Issar, Dumpling King, Yaasagar, Unicorn, Ikkyu.

When I am fighting with Yaasagar, a man-made monster, Sand-Orm appears and turns me to half-stone. Yaasagar and Issar destroy it before I become a complete stone statue. Then, the white knight riding on the unicorn challenges me. Our battle lasts until dawn. The Unicorn says (as the White Knight can't speak because of a spell.) hundreds of synthetic monsters come out at sunset. But, the first monster that comes out is the Dumpling King again. Then, Yaasagar jumps at me. He says all the monstrous creatures were replaced with B-class synthetic monsters. It means the magic is getting twisted in this country. We arrive at the tombs of the Kings, noticing a shining red-stone on the top of a pyramid. The riddle of Sphinx is to bring 'the dewdrop of the moon.' What is it? Yaasagar calls to the demon world for help. Then, a boy called Ikkyu pops out. He demands a reward to get the dewdrop of the moon. He wants to eat a human spirit. I point at Issar. I remember the Unicorn said "the star of sunrise." I ask Princess Coco through the mirror about this stone. As I predict, it is a jewel on her forehead. Suddenly she makes a weird face.

Episode 6: I Never Believe Women! What a Trouble!

Characters: Jester, Roubett, Aasaga, Jin, Unicorn, Princess Coco, Issar, Dumpling King, Yaasagar, Ikkyu, Sphinx

Princess Coco asks me to help get back the guardian deity of this country. It disappeared because of unknown magic and the monsters, which are the main tourist attraction, are replaced with fakes. Ikkyu brings the dewdrop of the moon and we enter the tombs of the kings. It is the hideout of the Zombies. Dumpling King is selling fried dumplings! Then, Princess Coco tells me her true fiancé is Issar and she does not love me. Upset, I have Issar's spirit eaten by Ikkyu. I am saved by the White Knight before I am slashed into dumpling material. I am stunned to know the White Knight is Roubett herself. Well, she is no longer helpful when a giant bat attacks us. She just flees. The huge bat's fangs corner me.

Episode 7: I am Startled at the True Face of the Third Man! What a Shock!

Characters: Jester, Roubett, Jin, Issar, Princess Coco, and Unicorn

I manage to tame the bat and ride on its back to the depth of the cavern. There, I see my old friend Roubett and Jin in a transformation of the Guard Dragon. Jin has got a part time job here as his domain and Palmcott's have some kind of family ties. Quit the joke! However, I can get to the shrine guarded by the soldiers. The goddess is sealed by an unknown power. They say that power is I! Princess Coco jumps in and attacks me for revenge of her fiancé. Jin realizes the situation and makes Issar spit out Ikkyu's spirit. He saves me. We enter the treasure chamber where I find my sacred sword. I break my promise just to take out my sword. I take an ornamented box while Roubett steals Solomon's ring that gives the wearer the power to speak with animals. Talking about the race to be a king, I decided I am out and Yaasagar retires, too. Where is the candidate for Princess Elma's bridegroom? I suspect the Unicorn. I know Mora, Satan's wife, has a son named Nearly. He really is a devil to women! Apparently he disguised the Unicorn to enter the race. He disappeared and so did the sacred image on the forehead of Goddess!

Episode 8: I See the Evil Smile falling upon the Country. What a Disgust!

Characters: Jester, Roubett, Jin, Issar, Princess Coco, Prince Nearly, Ikkyu, Yaasagar, and Dumpling King, Mora.

In the castle of Palmcott, Princess Elma introduces White Knight to Yaasagar, Princess Coco and Princess Kelna. White Knight destroys the sacred image and shouts; "I sealed the Goddess. I rule this country from now on!" He blows away the castle and the capital city. He says that he is the prince of the Darkside, which means he is the son of Mora the old fortune-teller. I am pleaded to save the Goddess who narrowly escapes the magic barrier and joins me. I run after the prince with Goddess, Roubett and Jin. We find this affected pretending-to-be-lady-killer in the rose garden. Prince attacks us with a Giant robot. I am told if I kiss the Goddess, her power is released. No choice. I kiss her. Suddenly the Goddess shows her true shape. Would you believe it is Mora, the old woman! BAhhh!! She comes up to punish her son for his excessive pranks. Nearly is downgraded to the first level of sorcery. Mora apologizes tot he King for her son's evil deeds. She then asks me to take him with me for training.

Episode 9: I go down to the Castle of the Dragon King. What a Misfortune!

Characters: Jester, Roubett, Jin, Prince Nearly, and Pegasus.

I become an old man when I open the box that I brought from the treasure chamber! Prince Nearly tells me this box belongs to Princess Otto-Hime, the daughter of Dragon King. This spell can not be removed without this king's help. Jin guides us to the country called 'InAho Kingdom' where they deify the dragon. At a beach I meet a turtle. She is a court lady named Tan-yi working in the castle of Dragon King. I get into a quarrel with her, but I am captured easily, as I am a weak old man now. When I am taken to the Dragon King in the castle at the bottom of the sea, I throw the box to him, demanding that he turns me back to the way I used to be. The king does so with one condition -- that I will bring back the stolen jewel. If I will not be back in a week, I will be an old man again. The culprit is the king's sister who is the goddess of the sun. I want to go at once, but Nearly pleads to stay to meet Princess Otto-Hime.

Episode 10: A Violent Girl makes sport of me! What a Disgrace!

Characters: Jester, Roubett, Jin, Prince Nearly, Pegasus, Dragon King, Princess Otto-hime, Nano-sama, Tanpi.

Here comes Princess Otto-Hime! She is the incarnation of an incredibly ugly creature! She falls in love with Nearly. So, this stupid lady-killer has to stay with the Princess in the castle. It is his fault anyway. In the country of Fire, terrible weather waits for us. Folks say Goddess of the sun; Nano-sama is not happy. She hides behind the rock gate and it stays dark until she is out. I try to push the gate with all my strength. Suddenly I break wind. My fart stinks terribly and it makes the Goddess of the sun hurry out of the cavern. It gets light immediately. To my surprise, the sister of Dragon King is a little girl. She laments that she used to be the guardian deity of 'InAho" country, but she fled from the Shakamummies ruling over her country. Roubett talks to the sparrows with the power of Solomon's ring and finds the stolen jewel is in the capital city.

Episode 11: I find a close Connection between Evil Spirits and Shakamummies. What a Fate!

Characters: Jester, Roubett, Prince Nearly, Pegasus, Jin, Nano-sama, Tanpi, Indra, Alpha, and Omega.

Our group including Nano-sama, the Goddess of the Sun, is attacked by a troop of big poisonous spiders near the capital city. Narrowly slashing them away, we get to the beach where we find a mermaid caught in the fishermen's net. It is Prince Nearly fleeing from Princess Otto-Hime. The villagers are frightened by a series of strange events recently. There is a reason why NUES (National Union of Evil Spirits) and the FOSM (Federation of Shakamummies) are fighting. Two young guys proposed to a beautiful princess of the group which Jin belongs, one is a NUES and the other is FOSM. She agrees to marry the guy from NUES. Thus, the young man from FOSM loathes her and NUES and the hatred between two powers begins. One thing that almost knocks me down is that the beautiful princess is the mother of Prince Nearly - the old woman Mora herself!! There are two princes in the royal family of InAho; Prince Hanayo and Prince Tokiyo. Prince Tokiyo is possessed by an evil fox and is seriously ill. On the way to the castle, two Shakamummy warriors attack us.

Episode 12: A Battle for the Sacred Jewel among Gods, Demons and Shakamummies. What a Commotion!

Characters: Jester, Roubett, Jin, Prince Nearly, Pegasus, Tanpi, White Fox, Alpha, Omega, Dragon King, Prince Hanayo, Prince Tokiyo

Shakamummy warriors put us to sleep and kidnap Goddess Nano-sama. When we get to the capital of InAho, Prince Nearly disguises himself as a miracle doctor. He is soon invited to the castle where Prince Hanayo waits for us. That night, White Fox appears and takes us to Prince Tokiyo. Prince Tokiyo is the most handsome boy in the world. We find the sacred jewel beside him. I ask Prince Tokiyo to give it back to Dragon King. Just then, Prince Hanayo jumps in to attack us. It is the start of a confusing fight. Our guide, a young man of InAho, turns out to be Dragon King. Then Prince Hanayo reveals his true identity. He is God Indora, the boss of Shakamummies. Everybody goes into a devastating fight. Go on! Well, I sneak out with the sacred jewel….!

Episode 13: What will InAho Kingdom be Tomorrow? What a Turnout!

Characters: Jester, Roubett, Jin, Prince Nearly, Pegasus, Dragon King, Nano-sama, Alpha, Omega, Prince Hanayo

While I am running away from Dragon King and God Indora, Jin rescues Goddess Nano-sama from the Shakamummies. I try to use my sacred sword. But, it has become too heavy. Suddenly I realize I am becoming an old man again! When God Indora knocks me down, the sacred jewel rolls out of my pocket. Goddess Nano-sama tries to take it from me. Then, the stone breaks in two. A different dimension begins to spread out. The sacred jewel is the apparatus that keeps the Celestial Heavens, Gods and Shakamummies in this world. Now, it is broken and this country will be a place without Gods and Shakamummy (Buddha.) The invading space swirls and Gods and Shakamummies are sucked in. Eh? What happens to me? There are no gods and Shakamummies. The spell disappears, too. I am back to normal, of course!
Episode 14 - 26

Episode 14: A who is who- what is what Story. What a Nightmare!

Characters: Jester, Roubett, Tay, Ikkyu, Peach Boy, Jin, Rayouka, and Shikinka.

InAho Kingdom becomes quiet and peaceful. Roubett, Jin, Prince Nearly and I meet a small kid Peach Boy, accompanied with a dog, a monkey and a pheasant. This kid is stupid. He says he will destroy us! No kidding! Just then, a thunder bolt strikes us and I lose conscience. When I wake up, I am laying down in a strange looking room. This place is definitely not InAho Kingdom. I see Ikkyu and his employer, a man called Tay. He is the owner of this hotel. I jump to the ceiling when I see myself in the mirror. I have become Roubett. I demand Ikkyu to turn me back into my real self. Tay put a spell on me - 'the art of paralyzing'! He says I look like a monstrous monkey who attacks towns and villages and burns them down. He thinks we are probably one in the same. My sacred sword of Fire burns the towns and villages. I ask Tay to take me to this monkey. By the way, the name of this country is Chingentzai next to InAho Kingdom. Why I'm here?! Meanwhile, a strange thing happens to Roubett, too. She becomes that stupid-looking Jin. Panicked, she uses Jin's scroll of magic. It does not work. Roubett changes into a weird pink monster!! … What about Jin? He has become Prince Nearly. He meets two beautiful sisters; Shikinka and Rayouka. They invite him to their house and made dinner for him. While eating, Jin falls asleep. In the Monkey Mountain, Prince Nearly has become the boss of the monkey clan. Passing a village, Tay and I are asked to kill the monster. It is a pink monster murmuring as if it is pleading to us for something.

Episode 15: First shape Change!. Then, size Change! What a Misery!

Characters: Jester, Roubett, Jin, Tay, Panda Hermit, Rayouka, and Shikinka

I call up Ikkyu, who is sleeping in Tay's magic gourd, to ask his interpretation of the pink monster. Instead of Ikkyu, Panda Hermit, the immortal sorcerer comes out. Panda Hermit can not understand what the pink monster says and jumps into the gourd when he is asked about the boss of the monkey clan. The pink monster kidnaps me and runs into the mountains where Rayouka and Shikinka live. The sisters welcome us. While listening to their music, I fall asleep. When I wake, I find Jin who explains that the pink monster is the weird transformation of Roubett. Poor Roubett! The problem is our size. The sisters have shrunk us to mini size while we are sleeping. We are their pets. I ask Panda Hermit for help. He takes out the monster-detecting mirror. It absorbs a monster when the reflection appears. Nothing happens to the sisters. Instead, the house changes into a pulpy peach. It is a giant ghastly apparition of the peach. It used to be the sisters' pet called 'Peachan.' The hungry Peachan runs after us. Rayouka offers a ride to us on her magic aircraft called Jet Cloud. But, Peachan never gives up. Finally it is sucked into the magic mirror. However, we are still barely the size of dolls! The sisters say, in order to get back to normal size, we have to ask the Grand Master of the immortals in the Horai Mountain. We flurry there at once!

Episode 16: Where is my poor Body? What a Mystery!

Characters: Jester, Roubett, Panda Hermit, Ikkyu, Jin, Dumpling King, Rayouka and Shikinka.

The Jet Cloud falls into the sorcerers' hot spring. Thanks to the shock of fall, we are back to normal size and Roubett has gotten out of the shape of the pink monster. But, the body change stays the same. We dress Roubett into the shape of the female Jin! We have to go to the Grand Master's place. In order to go, we have to see Sorcerer Jikil in the cavern but there is no sign of him. We find Ikkyu there. He gives us a message from the Queen of Darkness who, as you know, is that old woman Mora. To regain our own bodies, all of us get together in one place. Then, a strange guy jumps in. His face and body is just like mine. Panda Hermit says the real boss monkey doesn't have such a stupid looking face!? Panda Hermit tells us that a monkey got into a magic gourd, saying it is the path to Horai Mountain. We follow the same route. Passing through a warp way, we fall on to Horai Mountain. It does not look like a divine place. Look! The Dumpling King opens the shop! Panda Hermit says the other name of this place is 'hell'! Jin in Prince Nearly's body is arrested as the Prince is on the list of "Wanted Criminals." I have to find Prince Nearly first. I find the Night Demon Palace through Panda Hermit's crystal ball. The Night Demon King, the caretaker of Horai Mountain lives there. I am shocked to see the son of the king. It is Tay the magician. And Rayouka says he is her fiancé! What's going on here? We disguise ourselves as raveling entertainers for the soldiers' comfort so that we can get into the yard of Night Demon Palace.

Episode 17: The Attraction of the Fascinating Chingentzai Sisters. What a Crown!

Characters: Jester, Roubett, Ikkyu, sorcerer Jikil, Shikinka, Rayouka, Panda Hermit, Jester-Monkey, Garuda, and Joka.

Our show; the fascinating Chingentzai Sisters, is a complete disaster. We are chased by angry soldiers and hide in the small shrine of Joka, the spirit of trees. I find a basin full of water. Rayouka tells me not to drink it as the water is the extract squeezed from nuts which only ripen every 900 years. Roubett stops me too, as I am in her body. Suddenly a giant bird descends toward me. Sorcerer Jikil rescues me. The big bird, Garuda, is the pet of a villain named Sanzoh. According to Jikil, the boss monkey stole and ate the peaches of immortality. He ran amuck all over the mountain and ended up sealed in a rock. Then, he was set free again when a shooting star hit the rock. 'That shooting star was Prince Nearly' says Roubett. There is a rumor that Sanzoh is plotting something evil, as he has assembled many monsters recently. But, we have to find the boss monkey - Prince Nearly quickly. Jikil ties a banana at the end of string and puts it into the basin. The string is pulled immediately. What is angled is not the boss monkey, but Panda Hermit. He says he was talking to the boss monkey. He suggests using the most favorite food of the boss monkey which is not banana, but Roubett. That means me because I am in her body. Oh, no!

Episode 18: What is the True Identity of the Boss Monkey in my Body? What a Struggle!

Characters: Jester, Roubett, Prince Nearly, Jin, Ikkyu, Shikinka, Rayouka, Panda Hermit, Sorcerer Jikil, Sanzoh, and Narnya.

The body of Roubett - that's me! - is tied with string and is thrown into the basin. I fall onto Monkey Mountain and meet Prince Nearly in the body of a monkey who is abused by the female boss monkey. I put him on my back and tug on the string. The people up there pull the string to get us out of Monkey Mountain. There is a question, though. Prince-monkey is Prince Nearly, I am Roubett, and Roubett is Jin. Then, where is my body? The monkey who looks like me is definitely not. I am not a monkey. But, the monkey like me finally opens his mouth. "I am Priest Sanzoh. I heard an incident happened in the Kingdom of Inaho and brought you all here. This is an android fashioned after Jester's movements. "Where is my body?" "I've got it all right. You will go to the hell for enjoying these ultimate tortures." Before he finished his words, lightning flares and we all fall straight down to the hell. We are dragged through Needle Mountain and the freezing waters of the burning sea. And left in the Takramakin Desert. This desert is under a strong spell and no transformation powers work here. Thus, Jikil turns back into a turtle. Rayouka and Shikinka are back to snakes. Then, Jin in Prince Nearly's body flies in on the back of Pegasus. He is in a crazy state. We have to get out of here otherwise we will be stupid like him! Suddenly a beautiful girl appears on the back of horse. She ignores us totally and talks to Jin. "I found you at last, Jade."

Episode 19: The World is Full of Love and Love! What a Melodrama!

Characters: Jester, Roubett, Jin, Prince Nearly, Ikkyu, Shikinka, Rayouka, Panda Hermit, Jester-Monkey, Tay, Jikil, Narnya, Sanzoh.

I say to Narnya, "Hey! His name isn't Jade". The sorcerer Jikil knows that this girl is a maiden serving the Empress Dowager of the Celestial Heavens. Her mantle of white tiger's fur prevents us from going crazy. All of us except Jin try to grab it, but Narnya takes only Jin out of the desert. When everybody gets out, Narnya says she helped us out because we are Jin's friends. A long time ago, Jin saved Narnya from a Shakamummy jail guard and she has loved him ever since. She decides to take Jin to the Empress Dowager in Kun-Lun Mountain. Suddenly Panda Hermit has got a stomachache and gives birth to a baby. We see his belly swelling up fast. Maybe it is because he ate a blue egg for lunch. Then, a boy is coming out to this world….!

Episode 20: Who is He? What is he? Whose Baby is He? … What a Birth!

Characters: Jester, Roubett, Jin, Prince Nearly, Ikkyu, Panda Hermit, Rayouka, Shikinka, Sorcerer Jikil, Tay, Narnya, The boss monkey (Goku) and Night Demon King.

I'm astonished to see the face of the baby. He looks exactly like me. The baby pesters Roubett for milk. "Hey, Sister! Give me your milk!" YeAh! It is sure he is I! The baby monkey says he was a boy of 16 or 17 before he was sucked into an egg. We make it to the mansion of Empress Dowager. When Jin arrives, everybody gets together. We all change back into our selves with the help of Empress Dowager. But, Jin is missing. Empress Dowager tells us that Sanzoh captured him and Narnya. Sanzoh desired to possess the power to overcome the Shakamummies. He made Horai Mountain into hell and induced us. Empress Dowager tried to stop him with her divine power. The result was catastrophic. Our souls were torn apart from our bodies. I get angry! We are victims of their feud. I jump at Empress Dowager with my sword, but Tay intervenes. He says it is not Empress Dowager's plot. His father was also sucked into an egg by Sanzoh. Sanzoh is an evil villain. That night, Empress Dowager comes up to see the monkey baby. She gives it the key to start the doomsday machine. It is a machine that summons a Buddha named Maetreya who is supposed to come up to save the world 5 billion 670 million years later. It is in the Night Demon Palace occupied by Sanzoh. Empress Dowager asks the baby to start it. He dashes out on the Jet-Cloud. We follow him… on foot!

Episode 21: Sanzoh Creates a Mess and Confusion! What a Battle!

Characters: Jester, Roubett, Ikkyu, Rayouka, Shikinka, Prince Nearly, Sagojoe, Hakkay, Tay, The monkey baby (Goku), Night Demon King etc.

We perform 'The Chingentzai Sisters" again and are successfully invited by Sanzoh. He says the maker of the Jester-monkey android is Empress Dowager and he protects the Night Demon King from Empress Dowager's assassins. He shows us Narnya and Jin in jail. I don't know which side I should believe. Then, Sanzoh takes out the beads and throws them to us. Tay is hit by one of them and changes into an egg. Roubett is trapped in an egg, too. I pick up her egg. The baby monkey (Goku) finds the doomsday machine. When we open a suspicious room, it is filled with eggs. I throw some of them at Sanzoh's warriors. The eggs crack and monsters jump out. They attack Sanzho's warriors. I kick one of the eggs by accident. The Night Demon King appears from it. I look for the doomsday machine and put the key into the hole at the foot of the statue on the back. Just then, the ground shambles and everything starts collapsing. The statue emits a dazzling light. Before Sanzoh is sucked into the light, he shouts that the doomsday machine is the ultimate weapon to realize complete equality. I am pulled into the light, too.

Episode 22: What is Happiness? ... What a Question!

Characters: Jester, Roubett, Jin, Prince Nearly, Ikkyu, The baby monkey, Rayouka, Shikinka, Narnya, Tay, Empress Dowager, Maetreya, Sanzoh, Dumpling King and others.

Empress Dowager sees the doomsday machine at the Night Demon Palace. There is no gravity inside of the machine. Jester, Ikkyu, Baby Monkey and Sanzoh are floating. An egg-shaped capsule appears. A boy curls himself up. It is Maetreya. I shout at him. " If you control the doomsday machine, make me happy!" Maetreya is wondering what his ferocious power is needed for. It is not the time to study philosophy, Kid! He says I exist to save the world. I reply to him. I do not want him to save me. I can fend for myself. I ask him why he does not become a human being and he gets into my body. Sanzoh captures the capsule and starts running the machine. We escape from the non-gravity space. The face the of statue becomes Sanzoh's and it roars to destroy the entire world. The voice of Empress Dowager is echoed. "I trust you, Jester and Maetreya." Then, Joka, the God of Creation in Chingentzai turns into a giant snake. He puts me and Maetreya (inside of me) on his head and attacks Sanzoh. Sanzoh destroys the entire country. However, Maetreya's power overcomes his strength. Sanzoh is blown out of this world to the outer universe by Maetreya's raging energy. Sanzoh disappears and I have a quick breather. But not so long as Narnya suddenly attacks me! Why?

Episode 23: I want to get back my own Body. What Endurance!

Characters: Jester, Roubett, Prince Nearly-Boss Monkey, Jin, Sanzoh, Ikkyu, Rayouka, Shikinka, Narnya, Tay, Empress Dowager, Mora, Joka, Pegasus, Panda Hermit, Jikil and Maetreya.

The reason why Narnya attacks me is she wants to be a human so she can marry Jin. Her true identity is a tiger. So, she wants Roubett's body, which possesses my soul. She stabbed Jin when he tries to save me. Jin says "Love changes a man to a demon or an angel. Your honest heart helped me to recover my right mind." What an emotional confession this is! An odd sphere falls down from the sky. The android Jester gets out of it. It says, "my dream was broken because of you." Is this Sanzoh's voice? The Jester-monkey android is getting bigger and bigger. It holds the Baby Monkey hostage. Narnya turns back into a tiger and rescues the baby. She is badly hurt. Then Sanzoh possesses Narnya. I can not slash Narnya. A flashing light hits Narnya and Sanzoh is ejected and gone. Sanzoh sneaks back through a gap between this world and another universe. The gap is sealed by Joka and this incident is over at last. The replacement of our souls and bodies was a scheme by Mora, the old woman. Empress Dowager is actually Mora herself. She wanted to control this world and she used us to sweep out all the gods and Shakamummies. Mora allows everyone to recover his or her bodies except me. I become the baby this time and can not get back to myself. I have to drink water from the elixir pond in the country called 'Yam.' So, we set out for a new trip. Roubett takes care of me including changing my diapers.!

Episode 24: I will get back in Full Power! … What a Bathing!

Characters: Jester, Roubett, Jin, Prince Nearly, Narnya, Shikinka, Kar, Kikue, Backer, Negana-Luna, Lee-Ho, Ryu-Gee

'Yam' used to be the country of the God of the Moon. A group believing the God of Fire, led by the man called Backer, drew from its power. They confined Kikue, a maiden speaking the words of the God Negana-Luna and changed the elixir fountain into a spring of Fire. There is a saying among them - if a flying thing or a crawling thing or a fire-blowing thing would Kary a baby from the Heavens, Negana-Luna will wake up and they will be struck by the curse of the God. When we fly into Yam, we ware attacked by the arrows shot by the Ryu-Gee group who is afraid of flying things. Roubett and I (still a baby) fall from Jin's back. Just then, a girl, Lee-Ho, flies in and picks us up in the air. The girl calls me 'the Heaven's baby." We use the unconscious Roubett as a maiden to call up Kikue, the divine maiden. I slash Backer and his soldiers who guard the altar. We see four sacred powers beaming from the purple crystal ball on the altar. We prepare the four objects suggested by the crystal - a flying thing/ Pegasus, a snake/ Shikinka, a crawling thing/ Narnya the tiger, and a fire-blowing thing/ Jin the dragon. When I gaze at the ball, I see a sword. So, I take my sword. We concentrate and unite our minds. A light springs out of the top of the sword. It reaches the moon. The swirling light comes back from the moon and hits Roubett. Her eyes glow blue and the burning pond changes to a fountain of blue water. I dive in and drink the water. The light wraps my body and I get back to my real self as I used to be! Suddenly, the altar bursts and Kikue appears. She says, "I won't give you the fountain. Get out of here, Negana-Luna. The dreams of the people in this country are mine." A moment later, Roubett possessed by the God of the Moon turns to blue and the moon light strikes Kikue. It's mask cracks into two and an aura comes out of the forehead. The aura assaults us with tremendous power. It changes into an alligator with wings. He is Ryu-Gee. The sun starts rising. It is his power source. We have to destroy him before he amasses the power. But I am so stupid. I am gulped by Ryu-Gee!

Episode 25: Is it a Dream? Or, is it really happening? . What a experience!

Characters: Jester, Roubett, Jin, Prince Nearly, Narnya, Shikinka, Pegasus, Ikkyu, Kikue, Lee-Ho, Ryu-Gee and Mora.

Ryu-Gee, the alligator soars up toward the sun. I am in a dream where I face Ryu-Gee. He says he has taken me into his dream. Meanwhile, Roubett learns from Kikue that Negana-Luna and Ryu-Gee are life forms from the dream world. They live on human emotions. In the dream dimension, I face all the people I met before - Sanzoh, Mora, Dumpling King etc. They tell me that I have been suffering from loss for a long time and that if I unite with the God, everything will go well cries, "No way! I want to live on my own strength!" Suddenly she wakes up and sees that people are watching her. I am in a half-trance. But, just when Ryu-Gee blows his aura on me, I regain myself. I shout, "I will decide how to live myself!" I swing my sword wildly. Roubett tells her friends that she came back when she told Negana-Luna of her belief of living a life. There is a sign of Negana-Luna's maiden on her butt. I am fighting Ryu-Gee. The God of Fire can not break my strong will. He penetrates into my forehead, saying he is going to melt into my conscience. It means I possess the power of God! Just then, I wake up with a cough! I'm in the fountain of life. The God of the Moon resides in Roubett and the God of Fire stays in me. Thus, the war in Yam is over. Pegasus and Jin as a dragon are flying for a new adventure with everybody else on their back. Caboom!! The lightning strikes and paralyzes us. We fall from the sky into the castle of Esharott! Ikkyu appears and tells us someone is waiting for us. It is Mora, the old fortune-telling woman. She says there is a small problem.!

Episode 26: Nobody can stop me any more. Just farewell! What a conclusion!

Characters: Jester, Roubett, Jin, Prince Nearly, Narnya, Mora, Justice, Aasaga, Ikkyu, Shikinka, Pegasus, God Indra etc.

Mora says that she wants to set up eternal harmony between the human world and her Darkside, the Demon world. She needs to get rid of all the Gods for this purpose. She secretly put this role on Jester. I don't like this old woman. So, I shoot fire at her with my sword. "Don't show me your face any more! It's goodbye!" Mora gets upset. "Looks like you're serious. I will show you my true strength! Look at this beauty the entire universe knelt down to!" Mora transforms herself into Venus dressed gorgeously. "The world grows and harmonizes under my rule!", says Venus alias Mora. OK. Come on! My sword is red hot and I am covered with the red aura of Ryu-Gee. Roubett shoots an arrow, but it vanishes when Venus blows a kiss to it. Roubett takes a dagger and the two of us take a position. Then, a raging energy comes down from the sky; A gigantic saucer floats down out of a tremendous explosion. It is God Indra. He looks at Venus with amorous eyes. "I have been in love with you. If you marry me, I will forgive what you have done to the Gods." Venus replies 'Yes, my darling'! God Indra says, "I will offer you Jester's life as proof of my love." He changes the saucer into armor and attacks me. All my friends try to help me. But they are knocked down by his outrageous blows. The capital city is engulfed in fire. I suffer from heavy damage, too. Roubett pleads with Prince Nearly for help. Venus talks to him, "My boy Nearly. It's wonderful! A new century of Demons and Shakamummies!" Something cracks in Gnarl's head. "I'm not happy. I won't listen to anybody. I throw my magic away!" He brings up a magic robot and jumps at God India. All others get in the battle. Venus is touched at this. "Oh, the young bird is ready to leave the nest!" God Indra can not resist our all-together attack. His armor melts away. The naked God is hammered away and vanishes into thin air. Venus becomes a miserable lady. Soon she turns back to Mora. She says she likes me ever better! No thanks! Then, she disappears. We are hunted by the people of Esharott. They think we destroyed the town. We manage to get out of town. I jump on the back of Pegasus. Roubett follows me. Prince Nearly runs after us. I tells both of them, "Nobody can stop me any more!"
Produced By: TV TOKYO and TV TOKYO SOFTWARE
Director: Kunihisa Sugishima
Story & Series Structure: Sumihiro Tomioka and Masamichi Sugawara
Original Story& Illustrations: Usagi Nakamura
Screenplay: Koji Miura and Kouichi Mizuide
Character Design: Miho Shimokasa
©1999 USAGI NAKAMURA/TAKERU KIRISHIMA/KADOKAWASHOTEN/TV TOKYO/SOFTX
ALL RIGHTS RESERVED