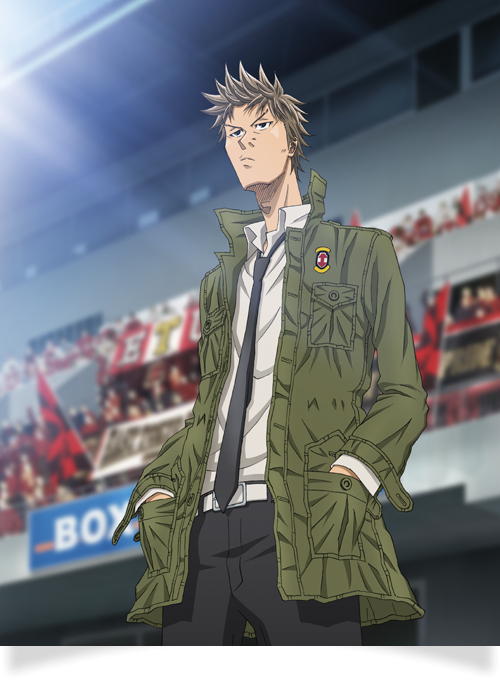 GIANT KILLING
Soccer Action Anime based on the Hit Manga
Story
A new manager (coach) is introduced to the down on their luck players of ETU (East Tokyo United), a professional soccer team which has been struggling at the bottom of the premier league. If their game does not improve, they are doomed to fall to a lower division next season.

Takeshi Tastumi, aka "TT" is this new, outlandish manager. He used to be a legendary star player with ETU but abandoned the team in Japan during his prime to make it big in Europe.

Now back in Japan, TT has taken on the challenge of managing his old team, ETU, Tokyo with the goal of restoring ETU to its former glory. Immediately he feels rebellion and distrust among the players. He has to lead the team to victory against the strong, league-leading teams. The training tactics he uses surprises the players and causes more doubt. Can TT prove his outstanding leadership to his team and the fans as well…?

In a pre-season match, ETU's opponent is Tokyo Victory, the league champion of the previous year. TT leaves Tokyo Victory in total disbelieve with his uncelebrated talented rookies. TT's game plan is unpredictable and hard to defend against.

This series is based on and adapted from the original serial comic books entitled "Giant Killing" written and created by Masaya Tsunamoto and Tsujitomo, and published by Kodansha.
Characters
Takeshi Tatsumi (TT):
ETU's new manager (coach). He used to be a star player of this team a long time ago. Also a former member of Japanese national team. As the coach (manager) of a team in England, he made tremendous records in a short period of time. He led an amateur club in the 5 th division into one of the 32 nd strongest teams in the FA CUP. The owners of a "struggling at the bottom" of the premier league hire him hoping for a change of luck. He looks like a quiet and decent gentleman, but the game plans he sets up always surprise everybody including his own players. Let's call him " TT ."
Daisuke Tsubaki:
A rookie MF (Middle Fielder) joined ETU this season. He is a totally unknown rookie. Although he is gifted with outstanding speed and stamina, he often has trouble showing his true strength as he tends to fold under the pressure. His number is 7.
Shigeyuki Murakoshi:
Shige is the captain of team and is called Mr. UTE. He controls the game for ETU. He is literally the central figure of ETU with his determination and fighting spirit. He accepted the offer from ETU as he admires TT's flamboyant techniques.
Luigi Yoshida:
Everybody calls him "Gino" but he wants to be called "Prince." He sticks to playing in his own style. Although he posses outstanding senses to play as a mid fielder, he has not made good results.
Kosei Goto:
Goto is ETU's general Manager. He used to be TT's teammate in the old days. He trusts TT's talent to turn the team into an aggressive one and recommends ETU's executives to hire him. He has great anticipation for ETU's future under the new manager, TT..
Yuri Nagata:
The one and only publicity manager of ETU. Her father is the chairman of ETU and her uncle is the vice chairman. She has been supporting ETU since her childhood days. She tries to be of help to TT.
Episode Synopsis
please click episode number to read episode.
Episode 1 - 10

Episode 1:

Takeshi Tatsumi, aka TT, is well known for his achievement of leading one of the small amateur teams of the 5 th division to the level of 32 nd strongest team in the FA CUP. TT takes the job of new manager (coach) of ETU ( East Tokyo United), a team in the bottom of the rankings of the premier league in Japan. On the first day of training, TT chooses the candidates for the regulars using the players' times from running the 30 meter dash. The players and the staff are startled!

Episode 2:

TT arranges a match between the new regulars and the veteran players lead by Captain Shige Murakoshi. The candidates, consist mainly of young substitutes or benchwarmers, attack their opponents at weak points, following TT's instructions. A couple of days later, TT makes a shocking announcement in a press conference. Captain Shige Murakoshi explodes at this outrageous plan.

Episode 3:

On the field on the first day of training camp, all the players anticipate a bubbly speech by their new manager (coach), Takeshi Tatsumi aka TT. His words are brief and he quickly moves onto giving today's training program to the players - 'self-training'! TT confuses the players even more by handing out only one ball for the whole team. The players have several different training menus and thus start to quarrel and fight amongst themselves. Then, a player known as the "Prince" makes a late arrival.

Episode 4:

The newly created ETU has a pre-season match against the champion team from last year, Tokyo Victory. The players of Tokyo Victory have their cautious eyes on Gino who has the Captain mark on his arm and also on a new regular, Tsubaki. Nobody knows much about this young man. TT baffles Tokyo Victory with his tactics and Tsubaki's unexpected skill. TT explains the secrets of Tsubaki's good play to the front staff.

Episode 5:

In the second half of the match with Tokyo Victory, Tsubaki's mistake gives the opponent a goal. TT tries to encourage him nonetheless, telling him "Don't worry about the foul. Don't be discouraged." TT replaces the forward with a more aggressive player hoping to break in to Tokyo Victory's zone. Tsubaki hustles to attack the opponent again but, puts his own team in trouble instead. Murakoshi tries to figure out the best way to counter attack using his own ability as a player.

Episode 6:

The League press conference begins. Although everybody else is dressed up, TT's attire is very casual again. He exchanges greetings with Manager Fuwa of the Nagoya Grampas and Manger Darfur of the Osaka Gunners, the team holding a 2 nd place in the Premier League ranking last season. When the ceremony begins, TT makes an explosive speech again just as Goto, a front staff, and Yuri had suspected. However, a strange Frenchman seems to like his speech and takes TT out of the conference room…

Episode 7:

ETU's opponent from the first match of the Premier League is Javelin Iwata. After ETU allows Iwata to make the first goal, the game becomes one-sided in favor of Iwata. Fujisawa, a freelance reporter, poses a question to TT. TT replies in a dignified attitude despite the defeat and shocks everyone around him. However, TT's team fails to produce good results in the next match with Sun Arrow Hiroshima.

Episode 8:

Matsubara feels uneasy when he hears a rumor that Kuroda might move to another team. TT declares that the players for the next match will be selected by a 'Soccer-Tennis game' among the players. While the players express their complaints and frustration, center back defender Kuroda decides to boycott the training. Defender Sugie follows Kuroda and confesses to him about the serious mistake in the first 2 matches that they did not notice.

Episode 9:

ETU suffers 4 consecutive losses since TT became the manager (coach) of the team. ETU's fans are disappointed and frustrated. Outraged by ETU's miserable defeats, fans surround the Team Bus and demand TT's apology. When Murakoshi, the Assistant Manager, tries to subdue the angry fans, TT holds him and steps out in front of the fans. It appears he had something special for the next match against Nagoya Granpales…

Episode 10:

ETU's supporters demand TT's resignation. Under such a desperate situation, TT has to face off with Nagoya Granpales lead by Fuwa, the former ETU's manager. Nagoya Granpales has been enjoying the winning streak so far thanks to the pragmatic Fuwa strategy. He hires expensive foreign players to strengthen his team. At the beginning of the match, Nagoya Granpales gives tremendous pressure against ETU's defense with the flamboyant pass work of a Brazilian trio. Yet, TT prepares a new tactic to surprise everybody…
Format: 26 half-hour episodes
Genre: Drama
ORIGINAL STORY BY TSUJITOMO AND MASAYA TSUNAMOTO
PRODUCED BY SOGOVISION

© 2010 TSUJITOMO AND MASAYA TSUNAMOTO, KODANSHA/NHK, SOGOVISON
ALL RIGHTS RESERVED