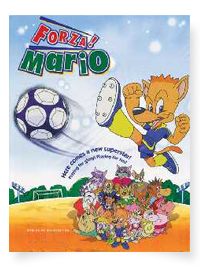 FORZA! MARIO
Introduction
"FORZA! MARIO" is an exciting story of a little boy who dreams of being a star player in major league soceer. Our little hero will relentlessly challenge any hardships. While struggling through them, he'll learn the fun of the game, patience, sportsmanship, teamwork and friendship. All the characters appearing in the series are uniquely illustrated animals.
Story
A young boy, Mario, loves to play soccer. He comes to a town, wishing to join his favorite team in order to attain his lofty goal, "I'll play on one of the top soccer teams in the world one day!". However, the team is on the verge of elimination by a big Sport Academy that has been built in the neighborhood and manages a soccer team called the "Club No. 1". It recruits elite players and trains them under a first class coach.
Mario gathers friends and unknown players to restore the broken team. Mario and his new teammates are determined to practice hard and challenge the elite team. But, Mario is not so hungry for the victory. He knows that winning the game is not everything. It is not soccer if they don't play for fun! Mario and his teammates are after 'happy soccer,' 'thinking soccer' and 'fantastic soccer' even though they stumble with difficulties and suffer from mistakes.
Characters
Mario:
Mario loves soccer more than anybody does. His dream is to become a professional player. He comes to town to get advise and training from Old Sen-No-Joe.
Sen-No-Joe:
An easy-going old man. He used to be a great coach, but since his team disappeared, he lost interest and energy for soccer… until he finds Mario.
Nana:
Granddaughter of Sen-No-Joe and Madonna of the team. Nana is bright and strong-minded. She helps manage the team.
Joe:
A 'cool' and affected sportsman. He is the record holder of the short track run.
Rey:
A happy-go-round and nose-poking girl. Rey is a cheerleader for the team.
Kaizer:
The captain of "Club No.1." Kaizer is a first-class player and the son of the club owner.
And many other attractive characters who love soccer games!
Format:26 episodes X 25 minutes approx.
Produced By: NAS

© 2001 SUNNY SIDEUP/TV TOKYO /NAS
ALL RIGHTS RESERVED