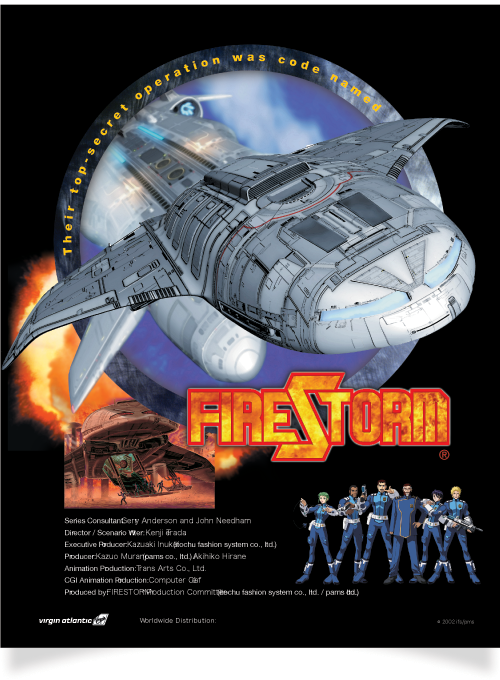 FIRESTORM
Story
By the end of the twenty-first century, the world was enjoying a period of extended peace.
The major nations were no longer threatening each other with nuclear annihilation and the smaller, more volatile nations had resolved their border disputes and petty squabbles.
However, one thing was spoiling this idyllic time. A new breed of criminal was operating worldwide with little or no opposition. It seemed that their aim was to make themselves as rich and powerful as possible.
These gangsters used every known form of extortion. Piracy, blackmail and bombings became everyday events all over the world. Their target were rich nations who invariably gave in to the criminal demands raher than see major damage inflicted on their country's buildings and communication and transport networks.
The billions of dollars the gangsters accumulated funded the construction of secret bases around the world and the purchase of sophisticated weaponry and equipment.
The gangsters called themselves BLACK ORCHID and became ever stronger as attempts to combat them met with little or no success.
The world's major nations decided that they would create a new crime fighting organisation called STORM FORCE to destroy BLACK ORCHID.
This top secret operation was code named "FIRE STORM".
Personnel were recruited from all over the world. Some had military backgrounds, some had academic backgrounds but all of them were best in the world at their own particular skill and dedicated to ending the threat from BLACK ORCHID.
All the recruits underwent the most rigorous training before being assigned to one of nine fighting groups which made up STORM FORCE. Each group was based on a huge submarine cruiser which housed intelligence gathering equipment, aircraft and attack submarines.
Secrecy was deemed to be the main weapon of new crime fighting force and this required that the submarine cruisers concealed themselves in the ocean depth while they listened to the world's communications frequencies searching for radio video transmissions from BLACK ORCHID that would reveal their whereabouts and intentions.
STORM FORCE met with some success during the first months of OPERATION FIRESTORM but BACK ORCHID proved to be a fearsome adversary.
It was a mission involving STORM FORCE 9 – the five strong team that had proved themselves to be STORM FORCE's elite - that was to discover the true strength of BLACK ORCHID and reveal the real reason for the spread of this new kind of crime throughout the world.
It was a discovery that shook the whole of STORM FORCE and terrified goverments who wre told about it. It was of such cataclysmic proportions that an immediate security blackout ensured no one who wasn't in the highest levels of government learned anything.
It began with a STORM FORCE 9 intelligence gathering mission in Siberia. They had a suspected BLACK ORCHID hideout under surveillance using their long range listening equipment. They monitored a conversation which revealed that an attempt was going to be made to put a "love potion" into the City of Chicago's water supply in an attempt to render the city's population subservient to BLACK ORCHID.
They also discovered that BLACK ORCHID were to enlist someone to put a vial of the potion into the city's reservoir and then immediately kill him. This would ensure that BLACK ORCHID could not be traced.
On the appointed day STORM FORCE 9, in disguise and using equipment specialy designed and built for the mission, positioned themselves at the reservoir. Sam Scott, STORM FORCE 9's Commender, heard a shot ring out. The shot that meant that the vial containing the potion had been thrown into the reservoir and the person who had done it had been killed.
The special equipment the team had brought with them pinpointed the source of the shot. Sam Scott entered the coordinates into his rifle and fired. While one of the team recovered the vial, the others raced over to the body that had been felled by the bullet from Scott's gun.
What they saw chilled them to the bone. They could hardly believe their eyes. The flesh on the face of the dead gunman began to melt. As it dripped away, the face of an alien being was revealed. The group stood in stunned silence.
They had made the awesome discovery that the members of BLACK ORCHID were not human. They were from another planet in another solar system.
BLACK ORCHID had been sent by their own planet in order to destabilize Earth in preparation for a major invasion in the years to come. They used only the weapons available to them on Earth in the belief that they would be detected if they used their own sophisticated weaponry.
Now that BLACK ORCHID had been revealed as aliens, they could now use their own weaponry and could soon become an even more dreaded enemy than they had been previously.
It is the year 2104 and STORM FORCE is no longer merely fighting gangsters.
It is fighting for the very survival of planet Earth.
Episode Synopsis
please click episode number to read episode.
Episode 1 - 13

Episode 1: S torm .F orce .9

Storm Force, organized by world nations to fight a growing crime organization, Black Orchid, updates their standard fighter jets. The engineer involved in development of the new fighter jet, Nagisa Kisaragi, leads other pilots to scramble to a base under attack by Black Thunder, an improved version of a fighter jet originally stolen from Storm Force. Nagisa loses her friends in a battle against a strong enemy, Blood, then disobeys her commander's order to abort the mission and destroys the enemy in the end. To punish her, the commander transfers her to become the last member of the strongest force, Storm Force 9.

Episode 2: TIME BOMB

The criminal organization Black Orchid threatens to blow up the Channel Tunnel unless the British government pays them ten billion dollars. Storm Force 9 thwart the plan, blowing up the yacht with gangster Carlo Morelli on board before he can detonate the explosives he has placed. Morelli has scampered from the yacht and displays extraordinary swimming abilities. We see that his eyes have changed to look like those of a shark.

Episode 3: BLACK ORCHID

Black Orchid plans to put a love potion into the drinking water supply of the City of Chicago. This potion will make whoever drinks it subservient to the demands of Black Orchid. Storm Force 9 finds Black Orchid's hideout where it is planning the operation and overhear what they intend to do. Back on Ocean Storm a high tech vehicle disguised as cookies van is designed and built by the Automated Construction Plant. The van contains sophisticated listening equipment which enables Storm Force 9 to pinpoint Black Orchid's men and retrieve the potion. In doing so they discover that Black Orchid are not merely gangsters but an extra terrestrial life from disguised as humans.

Episode 4: MORELLI SPEAKS

Orchid when suddenly the face of Carlo Morelli appears on one of their monitor screens. He explains that his planet is intent on colonizing Earth. He tells them that Black Orchids' orders are to weaken Earth's resistance to the forthcoming invasion. Morelli's transmission is traced to the upper Amazon. Storm Force 9 find the transmitter but realize that they have been enticed into a trap.

Episode 5: BARRACUDA

An alien craft bringing supplies to Black Orchid is intercepted by U.S. jet fighters but the Craft destroys them with ease. The craft lands on a gigantic liquid hydrogen tanker ship which has been taken over by Black Orchid as a base. Realizing that the alien craft is almost invincible, Storm Force 9 build a mini submarine called the Barracuda which is able to drill into the tanker's hull and inject explosives. In a race against time, Storm Force 9 blow up the tanker taking the alien craft with it.

Episode 6: DESTROY ARIZONA

In revenge for the attack on the tanker, Morelli plans to blow up the aircraft carrier USS Arizona. Storm Force 9 are called in to help protect it but cannot discover how Morelli is going to destroy the ship. A slip of the tongue exposes the captain of one of the escort submarines as an alien who has replaced the real captain. Storm Force 9 succeed in destroying the submarine before it can torpedo the Arizona.

Episode 7: OCEAN DINER

Black Orchid releases an alien fish into the waters around Ocean Storm. They seem attracted to the toughened steel alloy from which the submarine's hull is made. The Automated Construction Plant builds a fish of its own made from the same material but containing an explosive. This mechanical fish is named Ocean Diner. The alien fish are lured away from the Ocean Storm by Ocean Diner but when it fails to explode Sam must risk his life by swimming to the mechanical fish to repair the explosive charge. The alien fish attack Sam but he succeeds in his mission and the alien fish are destroyed.

Episode 8: ANTARCTIA

Ocean Storm is damaged in a heroic attempt it launch the Tornado when an alien craft is nearby. It comes to rest deep under the Antarctic ice, unable to surface because the alien craft is waiting just above the ice flow. In desperation Storm Force 9 design and build a bomb using the fuel rods from Ocean Storm's reactor. Using a remote controlled Seafury they take the bomb to the surface where the alien craft attacks and the bomb explodes. The alien craft is destroyed and Ocean Storm is saved.

Episode 9: WINGS

Black Orchid overruns a missile silo and control center built deep underground which houses Star Wars' anti-missile missiles. Storm Force 9 overcome the Black Orchid men guarding the entrance but find that the silo has been sealed with a number of Black Orchid men inside. They intend to fire the missiles at the Star Wars' headquarters so disabling the whole system. Haruyo Naka designs a fleet of tiny aircraft which fire tiny poison missiles and reach the men through the air conditioning system.

Episode 10: THE AIRLINE PILOT

Black Orchid tells Storm Force 9 that have taken Laura Hope's parents hostage. There is no sign of them at their home. In return for their safety Black Orchid wants Laura to design a bomb for them which will be capable of destroying underground military control centers. Laura designs the bomb but find that her parents had been away on holiday and where totally unaware of any threat from Black Orchid.

Episode 11: LASER

In order ton disable the world's communication systems in advance of the invasion, Black Orchid take over a laser cannon which is designed to destroy space junk. Storm Force 9 parachute onto the remote island in the Pacific where the laser is based and design to drill their way into the cannon's generator. Black Orchid are within seconds of firing the laser at an orbiting stellar telescope when Sam realizes that he cannot prevent it. Haruyo flies a Thunderbolt into the laser's path and the other members of Storm Force 9 think that she's dead but later learn to their relief that she flew the aircraft by radio control.

Episode 12: LIGHTNING

Black Orchid comes up with a weapon using the powerful electric charge of lightening and tries to annihilate Storm Force's Thunderbolts! McAllister's old friend, Commander Inuma, loses his man to this weapon on his squad, and gives Storm Force 9's Sam a piece of advice for reconnaissance, which saves his life. Storm Force 9's Chuck comes up with an eraser to cover the weapon, and Wesley uses his dart skill to shoot for the enemy's weapon!

Episode 13: EMERGENCY RED Part-1

Black Orchid's commander comes to the earth to deliver superior alien weapons to Carlo Morelli. Storm Force locates their base in a jungle in Vietnam and attacks the enemy. McAllister is also on the ground operation this time and he arrests the enemy's commander, but Nagisa and Sam are locked inside the enemy's weapon storage.
Episode 14 - 26

Episode 14: EMERGENCY RED Part-2

Sam and Nagisa manage to escape the weapon storage by accident. They are rescued and Thunderbolts successfully destroy the enemy's weapons. However, the enemy hostage, Salo, also escapes from the cell and threatens to blow up Ocean Storm!

Episode 15: SPIDER IN THE BATH

Black Orchid takes over a nuclear power planet to cause meltdown to destroy the earth. Storm Force 9 rush to the site and Chuck's clever device helps the team go through their tight security.

Episode 16: MONSTERS

An adventurer is attacked and killed by a giant rat, and Storm Force 9 rush to the site for investigation. They find a Black Orchid's secret research center in the old mining site, and they ride Chuck's special bikes into the maze. Nagisa gets caught by the enemy and almost gets eaten by the giant rats!

Episode 17: BRAIN STORM

Ocean Storm's chief engineer, Steve, goes on vacation and gets kidnapped by Black Orchid. Black Orchid mind-controls Steve to blow up Tornado. Steve does a great damage to Tornado and also makes his engineer, Gunser, the prime suspect. Steve is now trying to blow up another Tornado!

Episode 18: OASIS

Storm Force catches a strange signal in Sahara Desert and rushes there for investigation. Crew gets trapped in a desert and attacked by Black Orchid's automatic missile launcher!

Episode 19: THE GIRL WHO FELL TO EARTH

Nagisa goes back to her Tokyo home to see her sick mother and gets kidnapped by Black Orchid's robot bird. Black Orchid tries to gather Nagisa's private data which will cause damage to Storm Force 9. The crew rush to rescue her!

Episode 20: VORTEX

Storm Force analyzes data of the alien's space ships and comes up with a hint to fight back. SF9 members practice to shoot down an enemy's space ship in simulation but the lack of accuracy in data causes a problem in their strategy. The aliens come to attack regardless, and Storm Force 9 rush to battle!

Episode 21: ALIEN ATTACK

Carlo Morelli declares invasion on earth in 5 weeks and forces humans to unconditionally surrender. Storm Force swear that they will fight to protect the earth until all members are dead. Storm Force 9 goes through rigorous exercises day and night to prepare for the coming battle.

Episode 22: GET MORELLI!

Storm Force has only 3 weeks before the alien's invasion force arrives on earth, so they decide to trap Morelli. Chuck comes up with a stretch limo-type tank which Morelli would die for. Morelli falls for this trap and SF9 crew arrest him and Ruth Miller.

Episode 23: THE GREAT ESCAPE

Morelli and Miller escape from Ocean Storm by using their psychic power. They are also found to have a great cardiovascular function and a strong skin. They call an alien space ship to attack Ocean Storm, and SF9 crew battle!

Episode 24: PYRAMID

Members of Storm Force 7 are killed when they investigate strange radio signals coming from a pyramid in Egypt. Storm Force 9 are sent to investigate and with the aid of various pieces of equipment built by the Automated Construction Plant they succeed in finding their way to the transmitter hidden deep within the pyramid. James' fascination with magic saves the day when he tricks Black Orchids' men into a trap set by Sam. For some reason Drew McAllister doesn't want the transmitter to be switched off.

Episode 25: INVASION

Stargazer, the orbiting ultra high power inter-stellar telescope, sights the alien invasion fleet consisting of hundreds of craft heading for Earth. It seems that there is no way this number of alien craft can be destroyed. McAllister has a theory that the transmitter in the pyramid is sending a guidance signal to the fleet. A Thunderbolt is converted in the Automated Construction Plant to enable it to fly in space. The transmitter is loaded on board the Thunderbolt in Egypt before Sam and Wesley fly into space and transmit a signal which lures the alien fleet towards the sun and certain destruction.

Episode 26: WE WILL FIGHT TO THE DEATH!

The alien invaders' 20 pathfinders arrive in the earth. SF9 crew must protect Sam and Nagisa on Space Thunderbolt so they can get to the sun to release the transmitter, which will cause the alien's major fleet to crash, and the earth will be saved Carlo Morelli almost must be stopped from getting to the pyramid because if he finds out the transmitter is missing, he will send another signal to the major fleet to attack the earth. SF9 crew battle aliens' super hi-tech space ships and many human pilots sacrifice their lives to save the earth!
Format:26 episodes X 25 minutes approx.
Produced By: FIRESTORM Production Committee

© 2002 ifs/pams