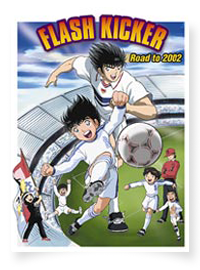 CAPTAIN TSUBASA ~Road to Dream~
Introduction
OUR SOCCER HERO IS COMING BACK!
Captain Tsubasa, who excited soccer fans around the world with his spirit of fair play, courage, friendship and especially his golden shots, is back!
Story
Tsubasa becomes a superstar amongst soccer players in Brazil. He is now planning to play in Europe. At an important must-win game, as the fans cheer him on, Tsubasa looks back at the days when he started his soccer life. His passion to make goals and win the game is as strong as it was during his childhood. He recalls the games and moments that had decisive impact on his life. He remembers Goalkeeper Wakabayashi, Genius striker Hyuga, tenderhearted Misaki and Coach Roberto. He was happy to meet them, enjoyed playing with them, and learned many things from them. The whistle sounds and the game begins. Tsubasa dashes for the ball!
Characters
Tsubasa:
Tsubasa was born to be a soccer player. His love and dedication towards the game is truly great. With his cheerful and positive personality, he overcomes many hardships becoming a world-class star player (Playing in San Paulo, Brazil and Barcelona, Spain).
Genzo:
From early childhood, he has aimed to be the best goalkeeper in the world. He tended to be selfish and brag about his skills before he met and played a couple of games against Tsubasa. Since his first loss to Tsubasa, he has learned to enjoy the game with his other teammates. (Playing in Hamburg, Germany).
Kojiro:
To help his family, Kojiro wants to be a professional player, an ace striker. His devotion to soccer and his persistence to shoot the goal is outstanding. (Moved to Jubentos, Milan, Italy).
Sanae:
An enthusiastic fan of Tsubasa and the leader of the cheering party at their primary school. She loves Tsubasa and keeps supporting him all through Middle School and Jr. College. Later she marries Tsubasa and they have two children.
Roberto:
A third generation Brazilian of Japanese descent. He was an ace striker for a pro-team in San Paulo, but retired due to problems with his vision. He believes in Tsubasa"s outstanding talent and devotes himself to making him a world-class player.
Episode Synopsis
please click episode number to read episode.
Episode 1 - 13

Episode 1: Road to A Dream

Tsubasa, now a successful soccer player in Brazil, is reminiscing the days when he grew passionate toward soccer. Soon after he moves to Nankatsu, he starts in Nankatsu's match against their rival Syutetsu. Syutetsu's goalie, Wakabayashi, completely underestimates Nankatsu, but a stranger, Tsubasa plays superbly. In everyone's astonishment, Nankatsu scores off the iron goalie, Wakabayashi. Then, a mysterious traveling man who's enchanted by Tsubasa's play shows up...

Episode 2: Tsubasa meets Roberto

Roberto Hongo loses his career as a soccer player for an eye injury. He is friends with Tsubas's father who is a captain of a ship, and comes to stay at Tsubasa's house in Japan. Nankatsu members find out he is a great soccer player in Brazil and ask him to coach them. The first thing Roberto teaches them is to "be friends with a soccer ball." The team is stunned to see Roberto's overhead kick performance.

Episode 3: Taro Misaki Is Back

The annual Nankatsu city soccer tournament opens. Tsubasa's Nankatsu elementary school practices hard and plays Wakabayashi's Syutetsu elementary school in the final. Nankatsu plays good defense and shuts out Syutetsu in the first half. Frustrated Wakabayashi makes a stunning long shot in the second half, and Syutetsu starts playing their game. Ishizaki goes out for an injury and Nankatsu almost loses the match. Then, a boy shows up at Nankatsu's bench...

Episode 4: Blazing Kojiro

Nankatsu city forms a representative team for the boy's national soccer championship. While the players are not playing together as a team at the start of practice, a boy jumps in. He is Kojiro Huega, the captain of Saitama's best team, Meiwa FC. Huega shoots a powerful shot to test Genzo Wakabayashi's skill. Misaki, a former teammate of Huega, tells the team of Huega's aggressive personality and how good Meiwa FC is. Tsubasa and Nankatsu FC players get renewed spirits toward the championship.

Episode 5: Captain Tsubasa Is Born!

Nankatsu and Syutetsu combo team, Nankatsu FC, plays their first regional match in Shizuoka. Kisugi, Izawa and Taki don't like Nankatsu players and don't pass them the ball. Wakabayashi gets frustrated and orders them to pass to Tsubasa. They do it reluctantly at first, but as they exchange passes through Tsubasa, Nankatsu FC starts penetrating the defense easily. Nankatsu FC starts playing together and makes it to the final.

Episode 6: The Boy's National Soccer Championship Opens!

The boy's National Soccer Championship begins. Tsubasa's Nankatsu FC faces Hyuga's Meiwa FC in the first match. Wakabayashi is out for injury, and Hyuga says Nankatsu FC is no match for his team. Hyuga's aggressive play dominates the match. Tsubasa struggles to stop him but Hyuga scores.

Episode 7: Ace of Glass

Nankatsu lost their first game but won the rest, and plays the semi-final game against Musashi FC, lead by a great player, Jun Misugi. Misugi dominates the game but Musashi FC's assistant, Yayoi, is worried. When Tsubasa and Misugi struggle for the ball, Tsubasa elbows Misugi's chest and....

Episode 8: Get Up, Jun Misugi!

Tsubasa is shocked to find out about Misugi's heart disease. Misugi plays great, although holding his chest. Tsubasa, though, is so worried about Misugi that he can't play. Tsubasa agonizes but when he realizes that Misugi expects him to play his best, he starts playing his game.

Episode 9: Crash! Tsubasa vs. Hyuga

The boy's national soccer championship final by Meiwa and Nankatsu starts. Wakabayashi comes back and lifts the team's spirits. Meiwa also has a new goalie, Ken Wakashimazu. Wakashimazu uses a karate skill to defend the goal, and Wakabayashi plays hard to defend his. The game goes into an overtime.

Episode 10: Sizzling Final Match!

The boy's national soccer championship final goes into overtime. Nankatsu and Meiwa players do their best fighting fatigue and injury. Tsubasa and Huega also play hard to no avail, and the match goes into injury time. At the last minute, Tsubasa goes for an overhead shot...

Episode 11: Goodbye, Roberto

After Tsubasa wins the boy's national soccer championship, Matsumoto, Toho School's scout, comes to make him an offer. Tsubasa is surprised to find out Huega will play for Toho. He's also shocked to learn that Misaki is leaving for France and Wakabayashi for Germany. Tsubasa feels lonely, and Roberto teaches him a new shot. Roberto tells him he'll need the shot someday, and leaves Tsubasa's house the next day...

Episode 12: Kickoff for Tomorrow

Tsubasa plays his last game for the Brancos, Brazil, and reminisces his old days in the elementary school. Meeting Ishizaki after he transferred school, challenging Wakabayashi for the first time, playing with Misaki who became his partner as the golden duo, playing his rival players such as Hyuga, Misugi, Wakashimazu, in the Boy's National Championship and farewell to Reoberto. Tsubasa continued playing soccer, grew up in the field, and now he feels one with his rivals and friends through soccer.

Episode 13: Fierce Tiger Shot!

Tsubasa's Nankatsu junior high wins the national soccer championship two years in a row, and now they practice to win the third. Huega's Toho loses to Nankatsu two years in a row. Huega has a burning desire to beat Tsubasa, however the gap between Toho coach Kitazume's vision and Huega's is widening. That's when Huega's old coach Kira shows up.
Episode 14 - 26

Episode 14: A Challenge From Jito

Tsubasa's last national junior high school soccer championship opens. Tsubasa's worried about Huega not playing for Toho school. Nankatsu plays their first game against a big guy, Jito's Hirato junior high. Jito charges at Tsubasa for power defense.

Episode 15: Hot Number 10 From A Snow Country

Tsubasa hurts his shoulder in the first game of the championship but goes to the semi-final. Nankatsu plays a tough game against Furano, led by their captain Matsuyama who're determined to break the jinx of northern teams which cannot win the championship. Furano plays as a team rather than dependent on individual skills, and they wear bandannas made by the team assistant Yoshiko. The bandanna she made for Matsuyama also has a special message for him.

Episode 16: Upsetting Doctor's Decision

Tsubasa's shoulder condition worsens after the semi-final game against Furano, and his doctor tells him not to play in the final. Wakabayashi visits him from his team, which happens to be staying in Japan for a training match. Wakabayshi takes Tsubasa to his team doctor, Stein, who's famous in the field of sports medicine. Tsubasa also learns of the high level of Wakabayashi's team. Tsubasa gets the diagnosis.

Episode 17: Tournament Final! Nankatsu vs. Toho

Dr. Stein permits Tsubasa to play half of the final game. Toho's Huega gives a challenge to his coach Kitazume. Huega and his teammates bow to apologize and Kitazume decides to use him as a starter. On the day of the final, Huega rushes out to the field, but Tsubasa is not there.

Episode 18: Driving Shot of Vengeance

At the half time of the championship final, Toho leads Nankatsu by 3 to 0. Tsubasa finally comes in in the second half and encourages Nankatsu players, but Huega is calm. Tsubasa leads the team to score back 3, but Toho adds another score. The time is running out but Tsubasa plays hard despite of his shoulder injury. Tsubasa finally scores in the end and the game goes into overtime.

Episode 19: Come Back! Tsubasa!

Tsubasa scores a game tying shot at the end of the second half of the final game against Toho, but he passes out for his shoulder pain. He wakes up in a doctor's office, determined to play in overtime despite of the doctor's warning. Huega is stunned at Tsubasa's fighting spirit. Both teams play hard. The time is running out...

Episode 20: Go for it! Japan Junior Youth Team!

Tsubasa played well in the national junior high school soccer championship and was selected for Japan junior youth team with his rivals such as Huega. However, Tsubasa cannot join the camp for his shoulder injury. He watches his rivals develop skill in practice, and looks forward to joining the team. But Tsubasa's name is not on the list of the members going to France...

Episode 21: Humiliating Test Match

For the first test match in Europe, Japan junior youth team challenges Wakabayashi's FC Gurenbald. Wakabayashi has now become a great goalkeeper and Japan team cannot score. Also, Shnyder scores a hat trick in the first half. When Japan team's spirit is down, Tsubasa shows up. He came out of his injury and Japan team is excited for the expectation. However, coach Mikami declares he can't use Tsubasa for the gameŠ.

Episode 22: Glorious Number 10

Japan junior youth team was scheduled to play Italy, however, Italy cancels the match after watching Japan lose to Gurenbald. Tsubasa takes it personal and dribbles to the Italy team. He penetrates Italian players and scores the drive shot. He's recovered from injury. In Japan's next game, Tsubasa is standing on the field in the number 10 uniform.

Episode 23: Golden Duo Reunites

Katagiri visits Misaki who has been living in Paris with his father since he left Nankatsu. Katagiri offers him to play for the Japan team, but Misaki has concerns. Tsubasa goes to see him, and the duo reunites. Misaki talks to Tsubasa about his concerns and decides to join the Japan team. Japan team with the Golden Duo enters the International Junior Youth Tournament's opening ceremony.

Episode 24: 'God of Defense' of Italy

Japan plays the International Junior Youth's first match against Italy. Japan plays a tough match against Italy's goalkeeper, Hernandez and gives up a score. However, Misaki goes in as a substitute and Japan ties by Misaki and Tsubasa's combination play. Italy restructures defense under Hernandez' direction and time passes by with no score. At the last minute, Tsubasa's shot is blocked by Hernandez, but Huega rushes to the ball...

Episode 25: Genius Juan Diaz!

Japan vs. Argentine. Japan must win this game to go to the final round, but Argentine's ace, Diaz, scores 3 against Japan. Tsubasa still manages to frustrate Diaz. Tsubasa reorganizes Japan team to score back one by one, and Diaz gets hot. Tsubasa plays with his team but Diaz persists in playing one-on-one with Tsubasa and challenges him....

Episode 26: An Elegant Commander

Japan plays France in the semi-final game. Japan scores first but France's mid-fielder, Pierre, penetrates Japan's defense with his fantastic skill and ties the game. Soda also gets an yellow card for a rumble. Pierre plays superb offense and centers the ball to Napoleon. Soda tries to stop Napoleon and his elbow hits Napoleon's face. The referee throws Soda out of the game for his second yellow card.
Episode 27 - 39

Episode 27: Painful Yellow Card

Tsubasa protests the referee for Soda's yellow card and ends up getting one for himself. France scores a penalty kick and Japan tries to catch up with 10 players. However, the referee gives all close calls to France, and cancels Japan's three goals. France adds another score and the first half is over. The Japan team is frustrated back in the locker room. Tsubasa's worried but remembers Roberto's word of wisdom.

Episode 28: Respectable Penalty - Tie-Breaker

After Soda goes out of the match, Japan plays with 10 players, and Wakashimazu also hurts his right arm. Japan occasionally plays offense in vain. The game goes to a penalty tie-breaker. Huega, Matsuyama, Misaki and Misugi score. Wakashimazu stops France's 5th kicker, Napoleon's shot. Now, Japan's 5th kicker, Tsubasa, stands ready.

Episode 29: Grueling Battle! Japan vs. Germany

Japan beats France and goes to the International Junior Youth's final game against Schneider's Germany. Wakashimazu is out for injury and Wakabayashi plays for Japan for the first time in the tournament. On the other hand, a mysterious goalkeeper Duter Mueller plays for Germany. Tsubasa, Shinda, Izawa and Huega take a shot early in the game but Mueller catches all shots.

Episode 30: A Message From Roberto

It's half time of Japan - Germany game. Japan is down by one. Katagiri gives Tsubasa a message from Roberto, "remember page 52 of the note." During the game, Tsubasa remembers Roberto's words from his soccer note, which is full of useful advice. When he remembers what's on page 52, he gets second wind, and he also finds Roberto in the stadium.

Episode 31: Shine in Glory! Japanese Team!

Huega gets Tsubasa's pass, smashes his Neo Tiger Shot into Germany's goal, and finally puts Japan team on top. However, Kaltz and Schneider's offense penetrates Japan's struggling defense and scores a game tying goal. Japan team is depressed but Tsubasa lifts their spirit. Roberto is happy to see Tsubasa's leadership, but Tsubasa crashes Kaltz and falls down on the field....

Episode 32: To the New Field

Tsubasa wins his third junior high school championship title and leaves for Brazil. He takes a test to join Roberto's FC Brancos. Another applicant, Pepe, is jealous of Tsubasa's brand new pair of shoes. Pepe dreams of having a good life as a soccer player, and cannot accept Tsubasa who came from a rich country. Now, the test starts.

Episode 33: A Soccer Cyborg

Tsubasa joins the Brancos, becomes a regular member of the top team, and plays Carlos Santana of Domingo. He scores first and comments that the ball is his friend, but Santana despises his attitude. Santana controls the ball accurately and scores back. Tsubasa is surprised by Santan's strength but disagrees to his style.

Episode 34: Santana, The Son of God

Santana remembers his childhood during a Brancos and Domingo match. Santana used to be a normal boy who loved soccer but lost his grandparents who had raised him in an accident. A wealthy man, Barla, had known Santana's talent and conspired to have him join his team. Santana resisted but Barla told him that he was an abandoned child and shocked him.

Episode 35: The Shine of Rosario

The soccer cyborg, Santana, threw away everything else but soccer. But as he plays Tsubasa in the game, he loses his machine-like accuracy. Leo, who grew up with Santana, now sees the change in Santana and expects Tsubasa to melt Santana's cold heart. The game is in injury time, and it's the last play. Tsubasa and Santana rush to the loose ball.

Episode 36: The New Dream Land

Tsubasa leaves Brazil to transfer to an European team. Huega announces a transfer to F.C. Piemonte in Italy at the same time. Tsubasa visits Catalunia F.C. in Spain, sees their main stadium and decides to transfer there.

Episode 37: Huega's Challenge for the Future

Huega goes to F.C. Piemonte's home stadium in Italy. He joins the players' individual practice before a camp, and declares he'll aim for the leading scorer. Willem of the Dutch national team stands in his way.

Episode 38: Golden Age of Hope

Tsubasa, Wakabayashi, Huega, Misaki in Europe get offers to be on the Japan national team to play a training match against Holland. They find out all the other candidates are from the world junior youth champion team. However, they hear a rumor that Holland is not pleased with the Japanese selection of the young players...

Episode 39: Shingo Ao Is Here!

A match against Holland is coming up for the Japan national team. A new player, Shingo Ao, joins the team. Wakashimazu finds out that he's just a second goalkeeper to Wakabayashi and leaves the camp. Katagiri tells Wakashimazu a story about Ao who went to Italy all by himself after junior high school.
Episode 40 - 52

Episode 40: The New Japan National Team

The test match between Japan and Holland kicks off. Tsubasa and Huega lead Japan's offense at the beginning, but the Dutch defense blocks it easily. Holland starts dominating. Wakabayashi saves the goal nicely but gives up a score.

Episode 41: Break the Dutch Wall

Japan gave up a goal to Holland in the first half, so they sends in Misugi to stabilize defense and focus on offense in the second half. Japan tries to score many times but can't break the Holland's iron defense. Japan sends in Ao to stir things up.

Episode 42: Restart To The World

After the Holland match, Japan national team members go back to their club teams to retrain themselves for the coming international cup games. Huega goes to Okinawa, Tsubasa to Hawaii. The Holland match made them realize the high world standard.

Episode 43: Catalunya's Eagle

Tsubasa goes back to Spain to join F.C.Catalunya's camp. On the first day, Tsubasa challenges Rivaul to a one-on-one match and gets beaten completely. In Italy, F.C.Piemonte's physical coach, Mazzantini calls Huega a failure as a soccer player for his unbalanced body.

Episode 44: Run To The Opening Match!

On the second day of F.C.Catalunya's camp, the coach sets up a training match. Tsubasa was knocked down by Rivaul the day before, but he gets to play Rivaul again behind two tops in B team. Tsubasa gets knocked down but he keeps challenging.

Episode 45: Harsh Notice

At Catalunya's camp, the coach tests Tsubasa on different positions in A team, and Tsubasa performs well at all positions. At the same time in Piemonte, Huega gets respect by his teammates for his powerful shot. When it is set that Huega will debut as a starting member for his team in the opening match, Tsubasa's coach gives Tsubasa unbelievable notice.

Episode 46: Cross the Bridge of Hope

The coach tells Tsubasa to play for Catalunya B in division 2 instead of the top team. Tsubasa's old teammates gets the news all over the world. Huega tells him to go to Italy but he refuses by saying he can't run away. Tsubasa runs in the streets of Barcelona to fight the pain and renews his hope on a hill looking over the city.

Episode 47: Huega's Italian Debut

Huega plays Piemonte's opening match of the Italian league against A.C.Emilia as a starting member. The match kicks off and Huega cuts in Emilia's defense but defense makes him lose balance. However, he uses wit and lets the other forward, Franchesco, score the first goal for the team. The fans are happy about Huega's first assist but the referee blows a whistle.

Episode 48: Striker in Tears

Huega plays his debut match in the Italian League, but tough & rough defense stops him from taking a shot on goal. He is substituted at the 31 st minute of the first half. He leaves the field in tears and swears to improve his physical balance to be a regular player. On the other hand, Tsubasa plays a Spanish Division Two match with renewed spirits.

Episode 49: Go For 10 Goals, 10 Assists!

Catalunya's coach Eduard requests Tsubasa to score 10 goals and 10 assists in Division Two in a year. Tsubasa tries to do it in a single match, his debut match. He scores 6 goals and 4 assists and impresses the crowd. Huega in Italy and Wakabayashi in Germany support Tsubasa for their friendship and mutual goal to win the International Cup as Japan national team.

Episode 50: Battle Against The Rival

Wakabayashi's Gruenbald plays the German League champion, Schneider's Routburg. Gruenbald scores first by Wakabayashi and Kaltz's clever play, but Routburg's passing tactic leads to Schneider's score. Wakabayashi, Schneider and Kaltz used to be teammates but now they're enemies. Schneider provokes Kaltz to kick him, and Kaltz gets sent out. Wakabayashi tries to tie the game by taking a free kick in the injury time but misses it and Schneider takes advantage to score a game winner.

Episode 51: Dream Pitch

Tsubasa meets coach Eduard's requirement to score 10 goals and10 assists for Catalunya B team and gets to play for the top team. Tsubasa's old rival in Brazil, Santana, transfers to Catalunya's rival, San Jose in the Spanish League. Rivaul gets injured during the match against San Jose, and Tsubasa goes in to play against Santana.

Episode 52: Warriors In The Field

Rivaul is injured and Tsubasa gets his first chance to play in the top team of Catalunya. The opponent's Santana plays superbly but Tsubasa manages to score a goal to tie the game. Huega also gets the last 5 minutes of game time and shows off his training results by scoring a game-winning goal. Wakabayashi also saves his rival, Schneider's shot in the last match of the German League. Japan team now gets together back in Japan to play the International Cup games of their dream.
Format: 52 episodes X half-hour approx.
Produced By: TV TOKYO/ SHUEI-SHA/ AVEX

© 2001 YOICHI TAKAHASHI/SHUEISHA · avex · TV TOKYO
ALL RIGHTS RESERVED