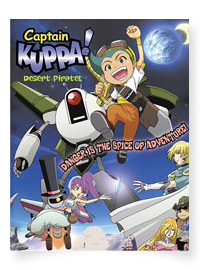 CAPTAIN KUPPA Desert Pirate
Introduction
Some time in the future. The world has completely dried up and the land has turned to desert as far as one can see. There are hardly any rivers and lakes left, all of which are occupied by villains, or inhabited by dangerous animals. Water has become the most valuable commodity in the world. Whoever can control the water will rule the entire world.

Outside of small towns, the vast desert expands. It is filled with monsters and demons. It is a dangerous time to be alive. In the sea of desert that now covers the world, treasures, machines of advanced technology, and robots are buried. Some folks find robots in the ruins and restore them to use as tools.

Our hero Kuppa and his bossy sister Yukke, are treasure hunters in the desert. Treasure hunting is great fun. But, it is very dangerous, too. A villain called Bibimba wants to capture them, saying his unique hobby is "hunting the treasure hunters"!
Characters
Kuppa Age 11:
Kuppa loves adventure. Carrying a huge sword on his back, he runs around the desert with his robot pal, Dram. Although reckless, he is tender to the weak and poor. He never forgives injustice. He rides on Dram in "battle-mode" in an effort to stop villains in their wrong-doings. He fears nothing except one thing - his elder sister, Yukke. Kuppa never wins with his faultfinding sister who always worries about him.
Yukke:
Age 14 - Kuppa's sister. Yukke is an engineering genius. As a treasure hunter, she is Kuppa's most fearful competitor. She is a thrifty girl who knows how to scrape by. Her biggest concern in the world is Kuppa who she thinks is dumb, stupid and reckless.
Dram:
Kuppa's assistant robot. It has a cyber-mind that functions very much like the human mind. It transforms its body into 3 different modes -"Barrel Mode," "Battle Mode" and "Hyper Mode." Dram consumes precious water, as it is its only energy source. So, Kuppa's earnings flow away for water.
Jet:
Yukke's robot-mate Jet is the city boy type. It has very polished manners. Its real name is "Dram-3" but Jet can"t stand that name. It also hates to change its body to Dram-3 as its butt turns into a Plasma cannon.
Bibmba:
The infamous boss of a crime organization called Pulcogi. He controls the water supply. He has a demented hobby of "Hunting the treasure hunters" and sends his bunch of thugs to hunt Kuppa and Yukke.
Samgetan:
A mysterious and handsome guy manipulating a precious stone called "Aqua Luna." He has been observing human history for 3,500 years. Yukke falls in love with him, not knowing his true identity.
Episode Synopsis
please click episode number to read episode.
Episode 1 - 13

Episode 1: Water! Water!

A beautiful water planet - Earth. Samgetan is standing in a jungle. But when he swings his arms, everything disappears into blackness. Then, a desert in the night appears with two raising moons, one is our old moon and the other is a blue moon!
In the scorching desert our hero Kuppa is sailing a sand yacht. Suddenly sand bags fall on him. His sister Yukke snatches a treasure of Pirate Chige from Kuppa and flies away on her balloon.
Angry And frustrated, Kuppa sails on to the huge water pipeline made by the organization called "Pulcogi". This crooked organization sells water to village folks at outrageously high prices. A girl named Namuru tries to destroy the pipeline, as she wants to give a glass of water to her younger brothers. Kuppa, feeling pity for her, goes to a Pulcogi's branch office. Yukke, his sister follows him. There is plenty of water pumped from the fountain into this office. Angry, Kuppa attacks the office. Yukke, using this occasion, sneaks into Pulcogi's treasure room. Then, Namuru, the village girl, destroys the water pumping system. Water is the life-blood of Kuppa's robot, Dram. Thanks to the ample water supply, it becomes powerful enough to demolish the entire power sucking plant and the water runs down into Namuru's village. Yukke finds treasures but all of them are destroyed in the explosion.

Episode 2: Sunken Treasure.

Kuppa and Yukke are looking for the treasure of Captain Jido, the most notorious pirate of some 3500 years ago. Strangely, at the same time, both of them find the treasure map, which was planted by Bibimba, the boss of the Pulcogi Organization. He has the twisted habit of enjoying hunting the treasure hunters! After overcoming many perilous situations, Kuppa and Yukke find Captain Jido's ship. Kuppa wants Jido's diary as he has great respect for this pirate. Then, Wolf and Bear attack him. Cherry, one of the executive officers of Pulcogi, is shooting this ambush scene for Bibimba. To Bibimba's disappointment, Kuppa beats up Wolf and Bear and walks away with the diary in his hand. Yukke finds a golden fountain pen. But, it is a trap again. The ship crumbles instantly and all the treasures are buried in the sand.

Episode 3: Smart Revenge.

Bibimba, the Mafia boss, is outraged at the failure to capture Kuppa. In addition, Nakayama, one of the branch directors, insists that Bibimba should pay the cost of his own hobby from his pocket money. Bibimba asks Samgetan to set up a new trap - at the ruins of an ancient civilization.
First, Yukke and her robot-mate, Jet is lured into the ruin and fall into an underground computer room. But Samgetan helps her and Jet out of the trap. Yukke is attracted to this handsome young man. Kuppa is forced to give a hand to Yukke who wants revenge. Sneaking into the ruins, Kuppa manages to put Bibimba in a cage. Bibimba is saved by his employees - Cherry, Bear and Wolf riding the human-shaped robot. Then, Sweetie Melon, the secretary of Bibimba, pushes the button of a bomb, which was planted by her boss for a time of need. The ruin begins collapsing! Everybody runs for his or her life. Yukke cannot forget Samgetan. Kuppa is happy as he picks up a jewel running out of the ruins.

Episode 4: Unite! Dram and Jet!

Kuppa's robot, Dram and Yukke's robot, Jet never get along with one another. They are always quarreling. Jet mocks Dram, saying Dram is just a country bumpkin. Then, Yukke overhears two robot-mates saying they hid some treasures. Yukke tells Kuppa a plan to make the hostile robots friendly. The plan is that Yukke pretends to be kidnapped and asks the two robots to work together to help her out. (She also is secretly planning to ask the robots to give up their treasures as a ransom and take them all for herself.
However, before she has a chance to set up this plan Bibimba's gang kidnaps her. Without knowing this, Kuppa sends Dram and Jet to her rescue. Yukke tries to escape on a flying machine but she is captured by Bibimba again and is tied onto the mast. He starts to cut the mast with a saw and asks her where she has hidden her treasures. Then, Kuppa, still thinking this is playacting, pretends he is knocked down. Dram and Jet finally unite into a stronger fighting machine - Dram's Hyper Mode with Plasma Cannon.
"I'm The Pirate of Justice, Captain Kuppa!" The Plasma Cannon is fired and blows Bibimba and his gang away! In fact, Kuppa knew Yukke's plan from the beginning. The treasure of Dram and Jet turns out to be just a couple of water tanks.

Episode 5: A Girl Goes For It.

Episode 6: Danger is Waiting.

Episode 7: No Friendship is Better than a Fake One.

Episode 8: No Justice is Done.

Episode 9: Unexpected Letter.

Episode 10: Surprising Disguise.

Episode 11: A Heart is Pumping!

Episode 12: Useless Excuse.

Episode 13: No Falling in Love.
Episode 14 - 23

Episode 14: I'm a Man of The Sea Desert!

Episode 15: 100 Years Digging!

Episode 16: No Courage.

Episode 17: A Secret.

Episode 18: Desperate Situation.

Episode 19: Learn How to Obey.

Episode 20: The Art is Difficult.

Episode 21: No Sympathy is Needed.

Episode 22: Let's Make a Deal!

Episode 23: Have a Little Pleasure!
Format: 26 episodes X half-hour approx.

© 2001 TOSHIO TANIGAMI · SHOGAKU-KAN · SOGO VISION · BEE TRAIN
ALL RIGHTS RESERVED