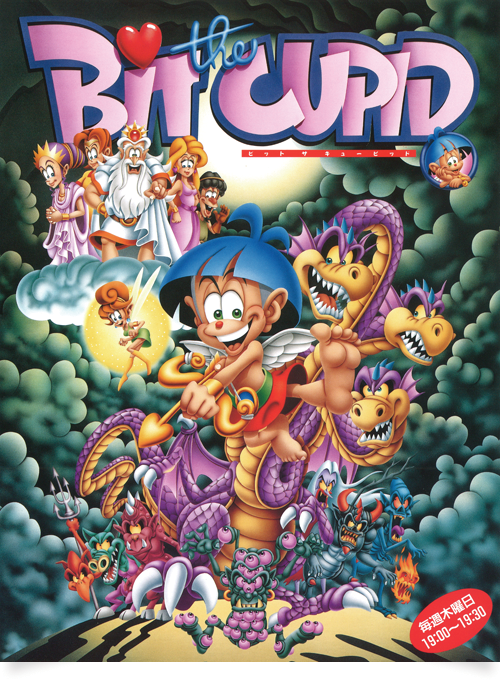 BIT THE CUPID
Introduction
Mt. Olympus soars divinely in the sky..... There lives Zeus, the God of Gods, Apollo, the God of the sun, Athena, the Goddess of wisdom, Venus, the Goddess of love and beauty..... You think they must be very handsome and noble..... Wrong!

The truth is..... They are idle fellows who like taking naps and gobbling feasts.

Loafing on their tusks, slandering others, getting jealous, mongering gossip and so on..... Well, they are just like our humble human beings!

This peaceful and noisy community is struck by an extraordinary incident!

Twinka, a tiny nymph, creates havoc while she is playing with a sacred machine owned by Herpistos, the God of blacksmiths. All of sudden, a strange boy leaps out of a different dimension!!!
Characters
Bit:
Nobody knows where he came from. He shrewdly becomes a friend of Cupid, the son of Venus. He is a small boy saying only simple words like a baby. Yet, wherever he goes, a disaster crops up. His favorite thing is ice-cream.
The bracelet he wears around his left wrist is a type of weapon. It transforms into a big bow in times of need and the shining arrow shot by this bow whizzes anywhere Bit wishes, sometimes destroying an enemy or sometimes stirring up more disasters.
Twinka:
A mischievous animated nymph, tiny like humming bird. She flies around, scattering the powder of light.
Twinka brings Bit into this world out of an unknown universe when she is playing with Hepistos' machine, the "Whatever-maker." Thus, she treats him like he is her younger brother.
Zeus:
The God of all the Gods and Goddess. The almighty God who rules the whole world.
Very handsome and dignified. His appearance gives a sense of justice, tolerance and leadership to anyone. But, appearance does not always reflect the true personality. He is lazy, irresponsible and capricious. He is a typical henpecked husband and what he fears the most is the accusations of Hera, his wife.
Venus:
The most beautiful and amorous Goddess. She is well aware of the wistful eyes of all the Gods. She spends a great deal of her time in make-up and hairdo.
For cupid, Venus is a sweet mother and a good teacher.
Format: 48 episodes X 15 minutes
Produced By: TV TOKYO/ AMUSE

© 1995 SUSUMU MATSUSHITA / TV TOKYO / B2 PRODUCTIONS
ALL RIGHTS RESERVED