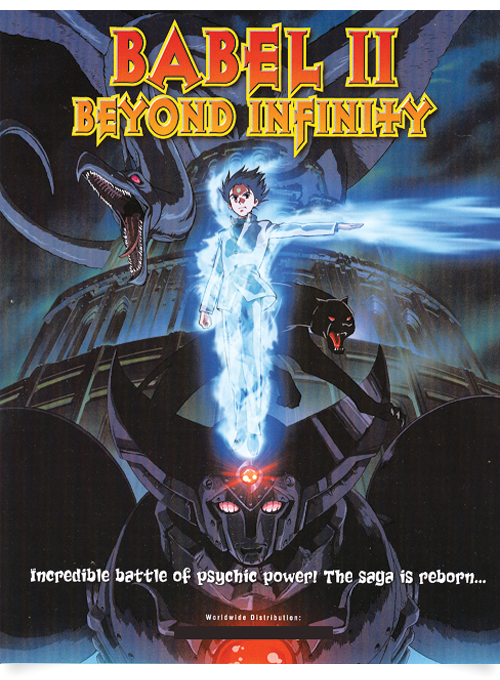 BABEL II Beyond Infinity
Introduction
Babel II- Beyond Infinity" created by Mitsuteru Yokoyama, is one of the most outstanding stories of Japanese comic properties. Mr. Yokoyama is a famous illustrator and author of popular comic books such as "Quest of Three Kingdom" and "Gigantor" both of which were adapted into animated TV series. They were licensed worldwide, in more than 40 countries.

Babel II - Beyond Infinity" is the story of a boy chosen to protect the earth from evil forces. Using tremendous psychic power he begins fierce battle against the villains possessing paranormal force. "Babel II – Beyond Infinity" is a truly entertaining new series with breath-taking, exciting action!
Story
Kouichi is disturbed by a strange nightmare. A mysterious voice starts talking to him while he is sleeping. Then, an old tower in the desert appears in a sandstorm. It is the call from Babel I who lived 5000 years ago. His spirit wanders in the tower of Babel hidden deep in the desert, constantly covered by sandstorms and dense fog. Koichi is the chosen one, as he possesses tremendous psychic power. The spirit of Babel I fears an evil force is scheming to conquer the world and asks Koichi to protect the people and the earth from destruction. Koichi has to fight against the malicious ambition of evil clans possessing tremendous supernatural powers. With the help of Rhodem, the Black Panther, Robross, the monster bird and Poseidon the giant robot, our hero begins the desperate struggle to save the earth!
Characters
Koichi:
Koichi, age 17, grew up at an orphanage. Troubled by strange nightmares, he is awakened as Babel II, the legitimate successor of the blood and heritage of the alien, Babel I.
Yomi:
Yomi is the merchant of death and the emperor of darkness with outstanding psychic power. He owns a huge conglomerate of major industrial and military products networked over many countries. His ambition is to be ruler of all mankind and the earth.
Reika:
A young and beautiful agent of UNIT, United Nations Intelligent Team. Her job is to search and subdue international conflicts, conspiracy and domestic riots before they flare up.
Yumiko:
A high school student and Koichi's girlfriend.
Taizo:
Father of Yumiko. He is the principal of the high school where Koichi and Yumiko attend. Taizo is Koichi's foster parent.
Feres (ryoko):
A school counselor at Koichi's high school. Her true identity is a secret agent of Yomi, sent to watch Koichi's life.
Leon:
A cyborg created by. He transforms himself into plasma emitting high temperature more than 10,000 degrees.
Format: 13 episodes X 25 minutes approx.
Produced By: TV TOKYO MEDIANET/TSUBURAYA EIZO/VEGA ENTERTAINMENT

© MITSUTERU YOKOYAMA ・HIKARI PRODUCTION/PROJECT BABEL II
ALL RIGHTS RESERVED